Dirty Al-Qaeda business in the name of 'Syrian Observatory for Human Rights'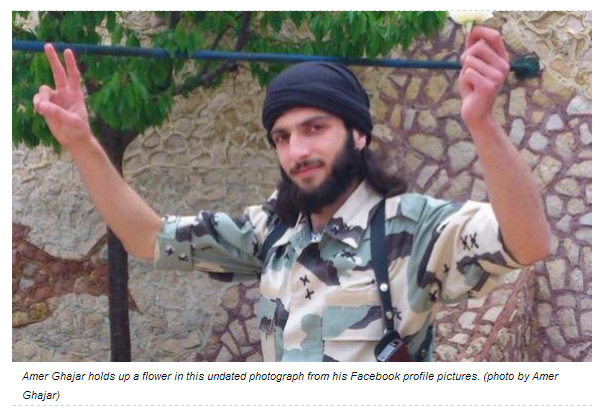 This so called human rights activist, an affiliate of @syriahr (Syrian Observatory of Human Rights SOHR) in Aleppo who was killed recently  https://www.facebook.com/photo.php?fbid=396970620411282 was, in fact, a Wahhabi sectarian monster affiliated with Al-Qaeda: http://www.al-monitor.com/pulse/originals/2013/07/syria-aleppo-alqaeda.html
See this article on Syrian Observatory for Human Rights: A one-man propaganda cell based in the UK for FSA-Nusra terrorists https://lubpak.com/archives/276933
Below you can find the SOHR's statement owning their Al Qaeda human rights activist, and the newspaper article that exposed SOHR's hypocrisy:
(Note: Journalists close to the Syrian regime have attempted to skew the report on Amer. We at the SOHR therefore want to further clarify our relationship with the martyr: when Amer was at university he became friends with people who became later activists in the SOHR. when Amer defected from being a conscript in the Syrian army he joined his friends and became an activists with the SOHR documenting protests and human rights abuses, considering bearing witness and exposing the truth as his route to support the Syrian people. After reporting several atrocious war crimes and massacres, he felt that he wanted to support the Syrian people through bearing arms. He stopped his work as an SOHR activist and became a rebel fighter. But despite his position in the ranks of the armed opposition he was still active in bearing witness and exposing the truth, he was a contact like the hundreds of contacts we have, and he was an honest spirit who reported many war crimes committed by those that fight in the ranks of the rebels. He was killed in battle while aiding the injured.)
Syrian Observatory for Human Rights activist martyred
Our colleague Amer Khajar died on sunday. He was a student of Political Science and a dedicated activist with the SOHR. Amer was one of the first soldiers to defect in Aleppo province in the early months of the Syrian revolution.
He was active in the Syrian Observatory for Human Rights after he defected, he reported tirelessly the protests, events and human rights abuses in the province. He decided to take part in the armed resistance after documenting several massacres committed by the Syrian regular forces in Aleppo city and its countryside.
Despite his place among the ranks of the armed rebels he continued to document and report human rights abuses that were committed by all sides in the conflict. His latest report being the torture and execution of the child Mohammed al-Qatta at the hands of a jihadi group in the Sha'ar neighbourhood of Aleppo.
Amer Khajar died on 21/7/2013 while fighting in the ranks of the Aleppo City Brigade in the Rashdin neighbourhood of Aleppo.
Comments
comments