D.I. Khan Jailbreak: Pakistani media blacks out cold-blooded murder of Shia inmates – by Mahpara Qalandar
The latest jailbreak by the Taliban took place on 29 July in which they helped escape around 250 criminals, most of them their fellow terrorists. That there was prior intelligence of the Taliban attack but the authorities did nothing to preempt them is an academic thing; the PTI and the PML-N are Taliban's best friends. And this is not the topic of this short piece. What is important to note that most of the escapees are killers of the Shias including the dreaded Waleed Akbar. According to the BBC,
"Also released is a sectarian militant, Waleed Akbar, the principle suspect in last year's attacks on Shia mourners in Dera Ismail Khan during the Shia mourning month of Moharram."
http://www.bbc.co.uk/news/world-asia-23493323
More important is the sad fact that before leaving the jail with their friends, the Taliban made sure that they kill the Shia inmates. According to The Telegraph of London,
"In the overnight attack on Dera Ismail Khan's central jail, the militants killed six policemen, six Shi'ite inmates and two civilians during the attack  late last night, according to the town's commissioner Mushtaq Jadoon.
The militants broke open the cells and freed 253 prisoners, including 25 "dangerous terrorists," he added.
One of the Sh'iites was reportedly beheaded in the raid, which has raised serious questions about the Pakistani government's ability to maintain security."
http://www.independent.co.uk/news/world/asia/pakistan-jailbreak-taliban-militants-storm-prison-and-free-hundreds–including-dangerous-terrorists-8737409.html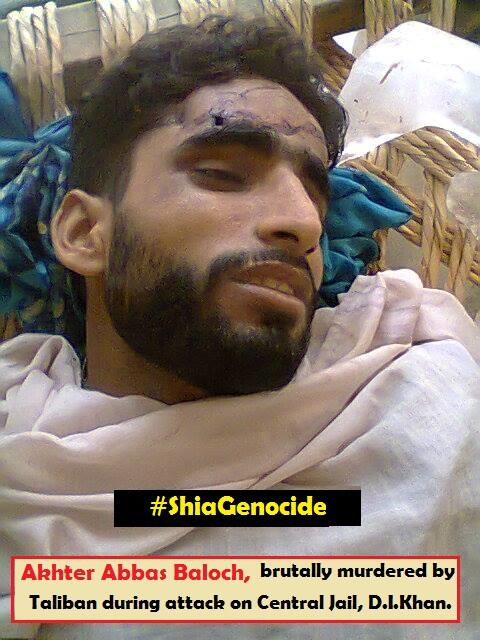 Below are the links to Pakistan's top Urdu and English newspapers which have blacked out the very name of Waleed Akbar and the innocent Shias murdered by the Taliban:
http://dawn.com/news/1032777/pakistani-taliban-free-over-175-inmates-in-di-khan-jailbreak
http://tribune.com.pk/story/583866/jail-stormed-militants-launch-major-attack-on-prison-in-di-khan/
http://www.dunya.com.pk/index.php/dunya-headline/185742_1#.UffhsqyliVA
http://express.com.pk/epaper/PoPupwindow.aspx?newsID=1101917887&Issue=NP_LHE&Date=20130730
http://www.thenews.com.pk/article-111572-Over-230-prisoners-escape-in-DI-Khan-jailbreak
The mainstream media has naturalized the Shias genocide in Pakistan to such an extent that it is not worthy of even reporting. The media is complicit in the crimes against humanity committed by the Taliban/Lashkar-e-Jhangvi by hiding murders of the Shias which take place on daily basis all over Pakistan.
——-
Faisal Awam Ka: Asma Shirazi – This video shows everyone in DI Khan knew Taliban were doing a jail break. Army, police and govt silently stood by for four hours while Taliban-ASWJ terrorists successfully secured their friends from D.I. Khan jail.

Faisla Awam Ka – 30th July 2013 by zemvideos
Comments
comments