Academic debate on Nikah-e-Mutah: ARY News succumbs to bullying and threats by Takfiri terrorists of Sipah Sahaba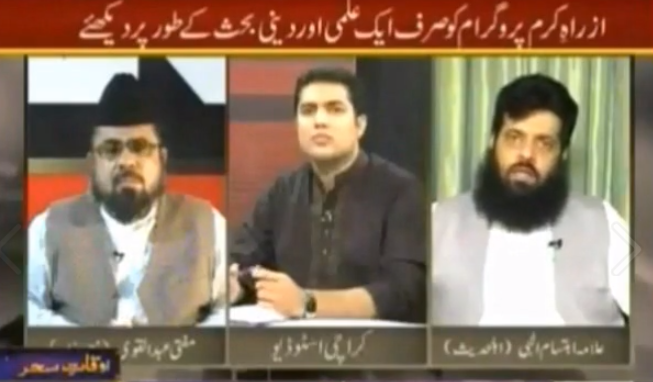 Last week, ARY News presented an extremely informative, academic debate about the Islamic concept of Nikah-e Mutah (Temporary Marriage).
In the debate, Sunni Barelvi, Deobandi, Ahle Hadith (Wahhabi) and Shia Muslims presented their views. Apparently the Ahle Hadith (Wahhabi) cleric Ibtisma Elahi Zaheer couldn't prove his point of view because other participants clealry demonstrated that the Nikah-e-Mutah was supported not only in the Quran but also through various books of the Hadith and Fiqh.
The debate was hosted by Iqrar-ul-Hasan, a brilliant young anchor of ARY News's Sar-e-Aam programme. It helped in removing much misunderstanding between Sunni and Shia Muslims and paved way for unity and harmony through academic engagement, instead of violence and abuse.
Extract
Link to full programme
Part 1
http://siasitv.com/sar-e-aam-debate-over-mutah-nikah-19th-july-2013/

Sar-e-Aam19July2013 by awaztoday101
Part 2

Sar e Aam – 26th july 2013 by zemvideos
http://www.zemtv.com/2013/07/27/sar-e-aam-part-2-debate-over-mutahnikah-26th-july-2013/
It was just another TV programme where the participants discussed a burning issue in the UK where Nikah-e-Muttah is getting acceptance in the society. In the program, people from different sects were invited to inform the audience about their view point and arugments regarding Muttah. In that program, Shia and Deobandi scholars were united in their opinion about evidence in support of Muttah in the Quran and the Hadith.
However, leaders and supporters of a banned terrorist oufit Sipah-e-Sahaba (currently operating as ASWJ) did not appreciate the academic debate and harmony between Shia and Sunni Muslims. ASWJ's terrorist leader in Karachi Aurangzeb Farooqi and other Takfiri militants issued naked threats against Shia and Sunni participants and organizers of the debate and subjected ARY News channel to bullying and harassment.
Sadly, adminsitration of ARY news channel was not provided with any security by the Karachi Police / Sindh Government. For many hours, armed militants of ASWJ-LeJ were allowed to surround ARY offices in Karachi. On 28 July 2013, administration of ARY news succumbed to bullying and inappropriate demands of the ASWJ-LeJ militants, apologized to them and assured that no such academic debate and engagement of Sunni and Shia Muslims will be aired on their TV channel.
It is very unfortunate that a major media outlet like ARY News couldn't defend the fundamental rights like freedom of expression and right to practice and propagate religion enshrined in constitution of Islamic Republic of Pakistan and succumbed to the threats and pressure from a declared terrorist militant outfit, Anjuman Sipah Sahabah (‪ASS‬, currently operating as Ahle Sunnat Wal Jamaat ASWJ).
We don't know where law enforcement agencies were sleeping when this terrorist outfit (ASWJ aka Lashkar-e-Jhangvi) was storming the media outlet and openly threatening life of the participants and anchor of the program, i.e., Iqrar UL Hassan, Shoaib Mazni and Khurram Zaki.
How a declared terrorist organization like Sipah Sahaba can be allowed to impose their filthy and pervert ideology over a major news channel is beyond comprehension.
If anything untoward happened to Khurram Zaki, Shoaib Mazni Deobandi or Iqarar ul Hassan, their families and properties, we (the Sunni and Shia Muslims of Pakistan) will hold ‪Aurangzeb Farooqui‬ of Sipah-e-Sahaba‬, ‪IGP‬ Sindh and ‪DIG‬ Karachi legally responsible for any damage to their lives and properties.
This is for the purpose of public record.
Tahir Ashrafi has come in public to support these Takfeeri terrorists against freedom of expression and opinion, a right enshrined in the constitution of Islamic Republic of Pakistan.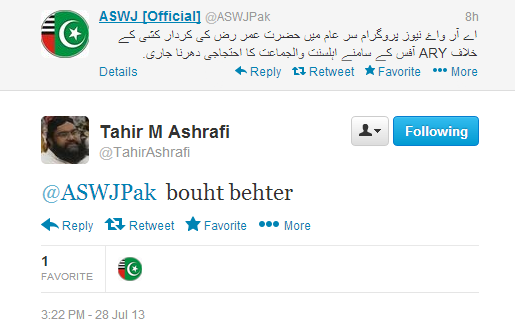 نکاح متعہ پر ایک علمی مذاکرہ
نکاح متعہ ایک ایسی شادی ہے جس میں علیحدگی کے وقت کا تعین نکاح کے وقت ہی کر لیا جاتا ہے_ یہ زمانہ قبل از اسلام میں رائج نہیں تھی اور اس کو رسول الله(ص) نے شروع کیا_ آنحضرت(ص) کی رحلت کے بعد سے ہی مسلمانوں میں اس نکاح کے حلال رہنے یا روک دیئے جانے پر اختلاف، دوسرے بہت سے علمی و فقہی اختلافات کی طرح موجود رہا ہے
فقہ جعفریہ میں:-
١. نکاح متعہ کے لیے صیغہ نکاح پڑھنا، نکاح دائم کی طرح، نکاح کی شرط ہے اور اس میں مدت کا اعلان بھی ضروری ہے_
٢. کنواری کے ساتھ متعہ مکروہ ہے، بیوہ یا طلاق یافتہ کے ساتھ نہیں_
٣. متعہ واجب نہیں ہے_
٤. کنواری لڑکی کیلئے نکاح متعہ یا نکاح دائم کیلئے اپنے باپ یا دادا کی اجازت لینا نکاح کی شرط ہے_
٥. نکاح متعہ کے نتیجے میں پیدا ہونے والی اولاد وراثت کی حقدار ہوتی ہے، نکاح متعہ کے بعد عورت کو عدت گزرنا ہوتی ہے_
٦. نکاح دائم کو نکاح متعہ پر فضیلت حاصل ہے_
دیکھا گیا ہے کہ نکاح متعہ، جو خالص فقہی اور اجتہادی مسئلہ ہے، کی بنیاد پر شیعہ سنی منافرت کو فروغ دیا جا رہا ہے، جبکہ دونوں فرقوں کا نوجوان طبقہ فحاشی، زنا، ہم جنس پرستی، گندی فلموں، استمنا، ذہنی دباؤ، فحش گفتگو، بدنظری جیسے جنسی انحرافات کی زد پر ہے، جن کی وجہ سے ان کی ذہنی کارکردگی بھی متاثر ہو رہی ہے، اور ہم ساری توانائی اس فقہی اختلاف کو بنیاد بنا کر ایک دوسرے کے خلاف نفرت پھیلانے میں صرف کر رہے ہیں_ اس اختلاف کی بنیاد پر جو توہین اور نفرت کی آگ بھڑکائی جا رہی ہے اس کے سد باب کیلئے ایک علمی مذاکرہ پیش خدمت ہے جس کے آخر میں کچھ ایسی آیات و روایات کا عکس بھی دیا گیا ہے جن کا ذکر اس گفتگو میں آیا
Comments
comments