Hats off to Mubasher Lucman for speaking bitter truth about Jang/Geo – by Farrukh Ahmed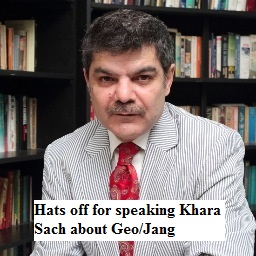 Mubsaher Lucman is one of the most hated people on national media not because he says something wrong, but because his programs have been against the "norms" as dictated by the right winged media, judges and political parties especially the PML-N. Mubashar Lucman drew the ire of Jannisaran-e-Chief Justice when he openly questioned his bias in 2009 and also his responsibility in the wake of 12th May 2007 violence in Karachi. In the wake of the now forgotten Arsalan Iftikhar Chaudhry versus Malik Riaz saga, Lucman again drew the ire due to the "leaked" off air conversations with Malik Riaz. This was used as an opportunity to give the corruption of the incompetent Arsalan Iftikhar a different color and since then the matter has been lying in cold storage. Off late, Lucman, who now does a program on ARY News titled "Khara Sach" or "Bitter Truth", has been challenging the opponent media group, Jang/Geo by taking on issues which are very close to the heart of Jang/Geo owners and borders on pinching Mir Shakil ur Rehman the wrong way.
Firstly, it is important to share this important information that till last information, Mir Shakil ur Rehman's daughter is married to Jahangir Siddiqui's son, Ali Jahangir Siddiqui. Jahangir Siddiqui is a successful yet controversial businessman for his ways of doing businesses. While it is not of importance as to how he made his billions, his group of companies' reputation has taken a beating on two cases mainly: Price Manipulation and Insider Trading in the shares of Azgard Nine Limited (years 2007 and 2008) and the recent one off bonus given by his company, Jahangir Siddiqui & Co. Ltd. (JSCL) to his son amount to Rs. 430 million at the cost of shareholders interest. It may also be noted that Jahangir Siddiqui was away from Pakistan from 2009 till early 2012 on account of his tussles with some members of the ruling PPP, however, the match made in Dubai with Mir Shakil ur Rehman's daughter was his passport back to Pakistan. In essence, Mir Shakil ur Rehman and his Jang Group are his biggest backers.
Coming to the way media talk shows take place, the only thing discussed is how to bash politicians and embarrass them with allegations of corruption. Mubashar Lucman has made a small difference by highlighting on media the case involving Price Manipulation and Insider Trading in the shares of Azgard Nine Limited which was made in light of the Securities and Exchange Commission of Pakistan's report available on its website: http://www.secp.gov.pk/Reports/2013/ANL-Investigation-Report.pdf. Just to tell briefly, the SECP had filed a criminal complaint against six companies and 17 individuals involved in manipulation of price of Azgard Nine Limited (ANL) shares between April to July 2007 and then between November 2007 and April 2008, wherein the market capitalization of Azgard Nine Shares moved between Rs. 10.27 billion and Rs. 43.32 billion. The companies listed on the Pakistani stock markets went through boom and bust periods between April 2007 and April 2008, today the after 5 years, the stock market index is at an all time high. With the law of fundamentally strong companies allowing their stock prices to recover, the situation with ANL is completely opposite. Its share price today stands below Rs. 7 with a market capitalization of just Rs. 2.89 billion! If the company was fundamentally strong as people would have believed it in 2007 and 2008, its share price should have recovered to a decent level by now. In essence, this is just one example of high handed corruption in which public shareholders get effected.
Mubashar Lucman did a program on June 26, 2013 in which he named and shamed the Azgard Nine Limited and Jahangir Siddiqui Group's connivance to short change shareholders and eventually banks of Pakistan. The program can be viewed on http://www.awaztoday.com/News-Talk-Shows/40113/Khara-Sach-With-Mubashir-Lucman-26th-June-2013.aspx or http://youtu.be/hYCkt82PJXU.
Similarly, a former Chairman of SECP, Muhammad Ali, who was removed by the highly exalted and great judges of Pakistan in April 2013, after a publication of a shady news story in Jang and The News, a day before his hearing, wrote to the Prime Minister, Mian Nawaz Sharif about the high handedness of FIA / NAB at the behest of Mir Shakil ur Rehman and Jahangir Siddiqui. The letter came into the hands of ARY who showed it in their program of July 17, 2013. Muhammad Ali was dialed in being a gentleman, he didn't take any names but allowed Mubahsar Lucman to name the people. It was sad to hear that Muhammad Ali, was harassed at the airport upon return from abroad by FIA asking them how could he go out as his name was in ECL!!! What was even more surprising that Mir Shakil ur Rehman and Jahangir Siddiqui have been able to use their influence to get his name on the ECL without any investigation against him!!! The program can be watched on http://www.awaztoday.com/News-Talk-Shows/41162/Khara-Sach-With-Mubashir-Lucman-17th-July-2013.aspx from 15 minutes onwards.
Coming to the recent Geo/Jang versus Zaid Hamid matter, Mubashar Lucman is playing a balancing role between the mess that Jang / Geo is out to make by calling Zaid Hamid a blasphemous man and "Shatam-e-Rasool" and calling for his head through the Majlis-e-Khatam-e-Nabuwat. All this has rolled on after tit for tat notices between Jang Group and Zaid Hamid, which we have written about earlier (Fight of two defamers: Jang Group vs Zaid Hamid). Mubashar Lucman had Zaid Hamid and Tahir Ashrafi on his program on July 24 and asked for settling this matter amicably than to do the usual ilzam tarashi. Zaid Hamid was critical of the role played by Jang/Geo Group by using the Aman Kee Asha to subvert Pakistan and its armed forces. While I am no fan of either Zaid Hamid or his handlers in the ISI, but his point of highlighting the role of Jang/Geo in the matter of Ajmal Kassab and branding him a Pakistani terrorist is unforgiveable. The program can be viewed on http://www.awaztoday.com/News-Talk-Shows/41462/Khara-Sach-With-Mubashir-Lucman-24th-July-2013.aspx
All in all, hats off to Mubashar Lucman for highlighting the corrupt role of Jang/Geo Group in both financial matters as well as Zaid Hamid. Maybe Jang/Geo went to personal and now Mubashar Lucman is going after them
Comments
comments