Najam Sethi to protect Geo Super's interests by using PCB platform: Syed Talat Hussain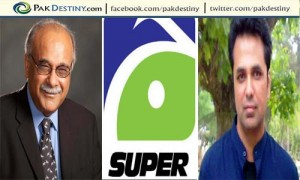 Islamabad, July 19. Senior Pakistan TV anchor Talat Hussain has revealed that Nawaz Sharifs' 'handpicked' acting chairman of Pakistan Cricket Board (PCB) Najam Sethi was installed to benefit Jang group's sports channel – Geo Super – by exploiting his position. This seems to be a case of quid pro quo to thank Jang Group's relentless political campaign in support of PML-N in the last few years.
Tax-defaulter Sethi, allegedly rewarded for his 'services in elections' for the PML-N in his capacity as caretaker Punjab chief minister, has also violated the Supreme Court's orders by making illegal appointments in the PCB.
Talat Hussain, in Muhammad Malik's talk show on Dunya TV on Wednesday (18 July 2013), called for condemnation of 'black sheep' in the journalism profession.
"Najam Sethi is holding PCB acting chairman charge and also doing a program on Geo TV. The Geo TV has its sports channel, Geo Super," Hussain said. "So what he will do is clear to everyone."
Sethi, however, feels no shame by ignoring the conflict of interest, despite criticism from public and journalistic circles.
He has been advised to either continue doing the service of Sharifs by clinging on to the PCB chairman post or stick to his shabby journalism by doing his talk show on Geo TV and op-eds in notorious The Friday Times blog.
Source: http://www.pakdestiny.com
Watch Video : DUNYA@8 WITH MALICK, 17 July 2013

DunyaWithMalick17July2013 by awaztoday101
Comments
comments