Malik Ishaq Practising Infantry Skills with the Elite Police Force – by Haq Navees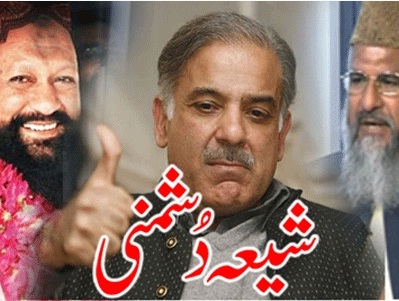 Here is a fleeting video that shows Malik Ishaq borrowing the gun from an Elite Police Force policeman and firing a round in the air. Now, Malik Ishaq surely fires many rounds during his routine life and this video should be of no surprise. However, this momentary clip stands out in its import because it shows to what the country's government and security agencies are complicit with the terrorists. This is yet another blatant manifestation of the depths to which the rule of law has sunk in this country and further proof that even as the government issues statements against the extremism, it simultaneously deals with sectarian terrorists in a manner that runs directly contrary to both the imperatives of maintaining law and order and the fundamental tenets of democracy.

Malik Ishaq of Lashkar-e-Jhangvi practising firing skills with Punjab Elite Force from Stepan on Vimeo.
Such complicity should have no place in a country that is fighting for its life against terrorism. Malik Ishaq is known for continuously inciting sectarian hatred, threatening Shias in the country, and carrying out those threats. There is no rationale in the authorities continuing to permit rallies filled with hate speech against the Shia community and their way of life to take place in every major town in this country. Malik Ishaq's LeJ has overtly claimed responsibility for a spate of coordinated deadly assaults that have left thousands dead, including a series of bomb blasts around Pakistan. It is a fact that Malik Ishaq's family was paid a regular stipend by the Punjab government during Malik's incarceration. And now we witness him honing his infantry skills under the supervision of our Elite Police Force. This evinces how the government in Pakistan affords hate groups significant state patronage, making it clear that the government deals its justice by two yardsticks, one for the hard-line takfiri community, which can spout invective against other religions groups freely, and another for the rest of us who dare to issue warnings about the dangerous state of affairs in the Islamic Republic. Does it not show where the regime truly stands when it comes to ending hatred and violence?
What matters for a strong state is consistent law enforcement against extreme activities. These include both physical activities such as violence against minorities and non-physical activities such as speeches or publications that fuel sectarian hatred.
The most welcomed aspect of Pakistan's democratization is probably political freedom. This is marked by the resurgence of civil society. However, strong society, although idealized, is not always positive for a state with a weak government. The political freedom in a weak state means that the state fails to compete with more organized and often more aggressive radicalization and exploitation of political freedom, A common consequence of weakened states is that the government lacks political will, institutional authority, and organised power to provide basic functions of the state and the elitist of its security forces can be seen practising infantry skills with one of the most notorious sectarian killers in the country. The weakness of a state is always exploited by those with the extreme goals in the society. When state fails to deliver justice, many in society turn eyes to non-governmental actors, including those with radical agenda. Fuelling sectarianism creates a step toward an extreme attitude that supports, glorifies and eventually justifies participation in terrorist activities. Pakistan's weak state therefore has a part in easing the mobilization of extremism in the country. So far we have seen a lot of rhetoric but no real improvement under the new government. If the previous government failed curb radicalization and violence in the society, this one seems to be hobnobbing with those directly involved in terrorism, as suggested by the video in question.
Many analysts complained that Shahbaz Sharif's previous government in Punjab was reluctant to fight the LeJ/SSP terrorist threat for fear of losing crucial votes in the upcoming elections as it was fearful of upsetting voters sympathetic to extremists. It is widely acknowledged that Punjab's lack of will to crackdown on the militants groups was partly responsible for wreaking havoc across the rest of the country. However, now that the elections are behind us, can we expect the Punjab government to tackle the extremists' networks, operations, and facilities within the province? In the longer run not doing so is also counterproductive for the PMLN in Punjab, for if the government does not assert its authority the support for extremists will continue to grow.
Comments
comments