Mehran Bank Scam Part 2: Is ISI pumping money into Jinnah Institute via Tameer Bank?

In the light of increasing evidence, it would be a grave sin of omission to ignore the connections between the powerful ISI, Tameer Bank and the Jinnah Institute. (ISI has infiltrated US thinktanks, Pak scholar says)
Now a former Manager Operations of Tameer Bank has revealed that Pakistan army (ISI) pumped money into Jinnah Institute via that bank.
Just a few days ago (July 2013), Dr. Ayesha Siddiqa was quoted in a Times of India article about ISI's goals of funding think tanks. This is not a new development and as per Dr. Siddiqa's article, it s part of an agenda that is nearly a decade old. In the article, she has named Moeed Yusuf, a major author of the Jinnah Institute who started his career with Najam Sethi's The Friday Times.
Jinnah Institute's current director Raza Rumi (who also blogs at Pak Tea House and The Friday Times) was recently found to be a recipient of secret fund. In April 2013, the Supreme Court rejected a request by Raza Rumi, Saaleh Zafir and certain other journalists for removal of secret funds list from its website.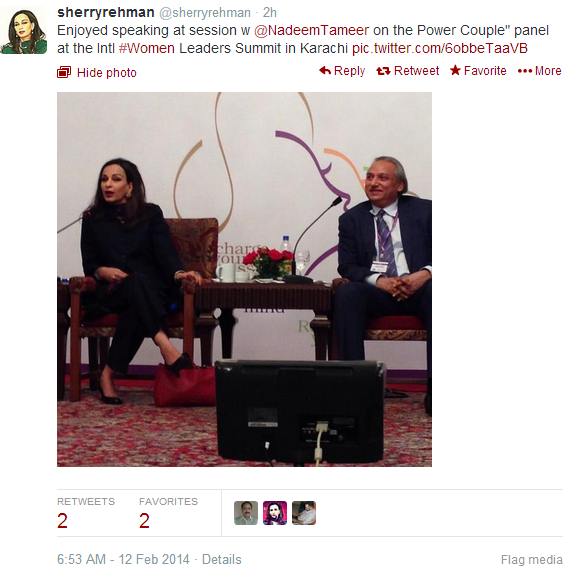 A discussion recently took place on social media where the specific links between ISI, Tameer Bank and Jinnah Institute (JI) were discussed and here are the tweets.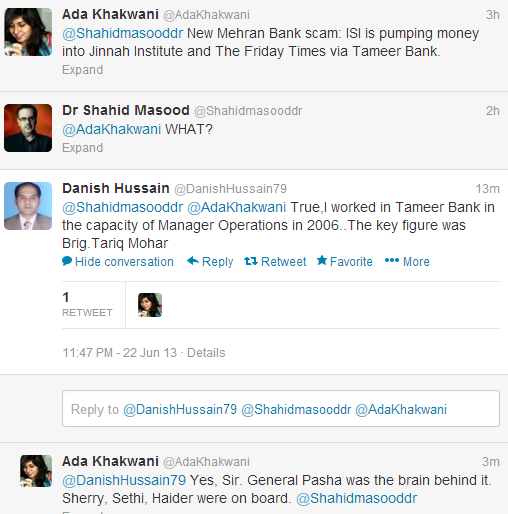 The JI's most popular study that subtly recommends and advocates the accommodation of the Taliban in a post US Afghanistan is the blueprint of the current engagement by the security establishment with Senator Kerry. The CEO of Tameer Bank is the spouse of the Jinnah Institute's founder, Sherry Rehman. It is a clear conflict of interest and a violation of banking norms where a think tank founded by Sherry Rehman is financed by her husband who happens to be CEO of Tameer bank.
It should be investigated if it is a voilation of State Bank of Pakistan's code of conduct for a President of Bank to be funding any institute or business which is run by their spouse, children or immediate family.
All indications and circumstantial details point to a conclusion that the JI is an ISI front which is being funded by Tameer Bank. Readers are probably aware of how the ISI had used Mehran Bank for a similar purpose in 1990 which was to fund pro-establishment politicians.
Tameer Bank could very well be to the ISI what Mehran Bank previously used to be.
Here are the tweets were anti-establishment bloggers and journalists were harassed and threatened by Raza Rumi, the current director of the Jinnah Institute (who also happens to be an editor of Najam Sethi's The Friday Times blog) for simply asking the same questions.
Clearly, these questions caused some major discomfort and good sense dictates that they be addressed.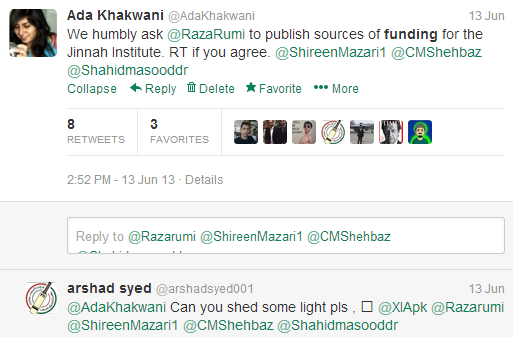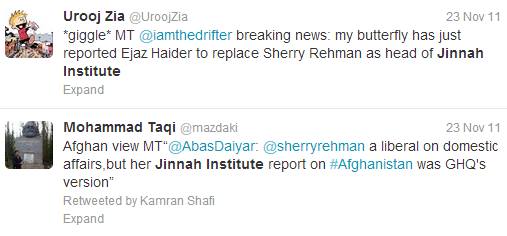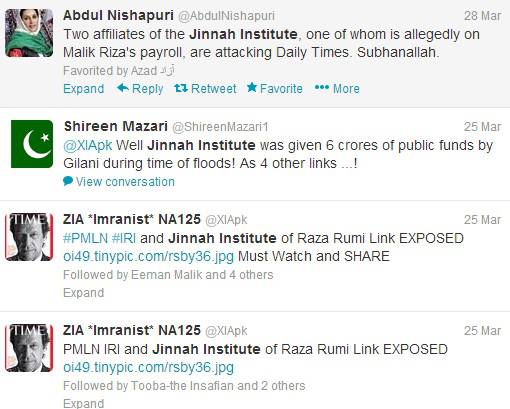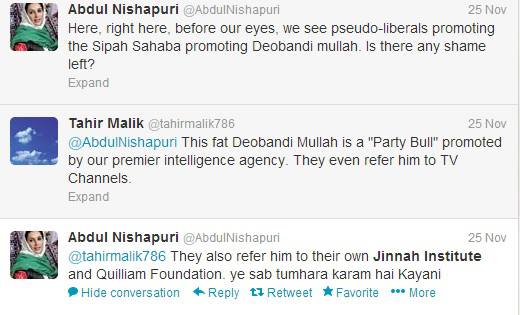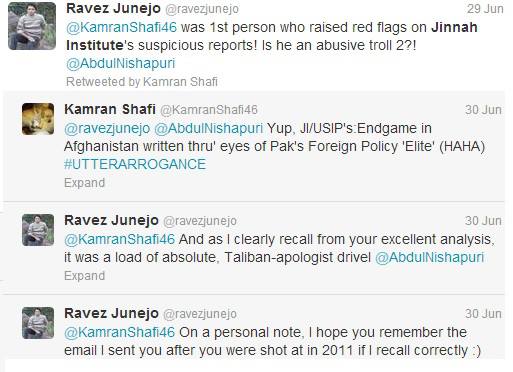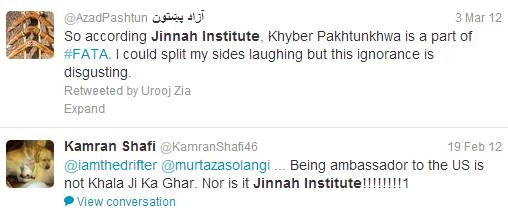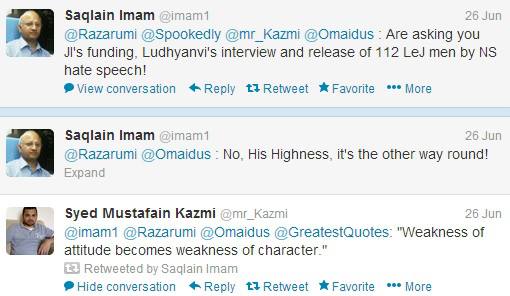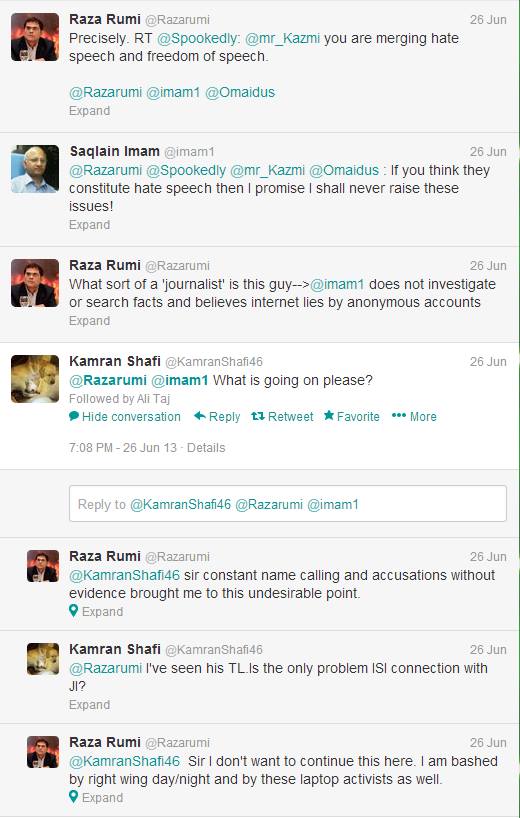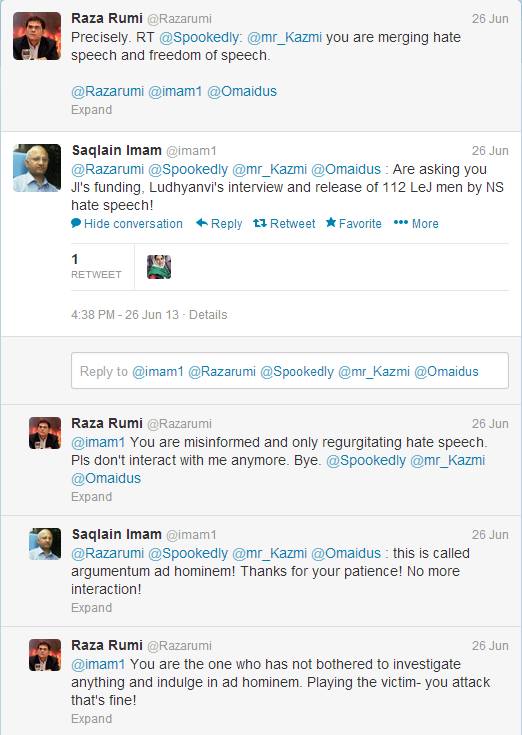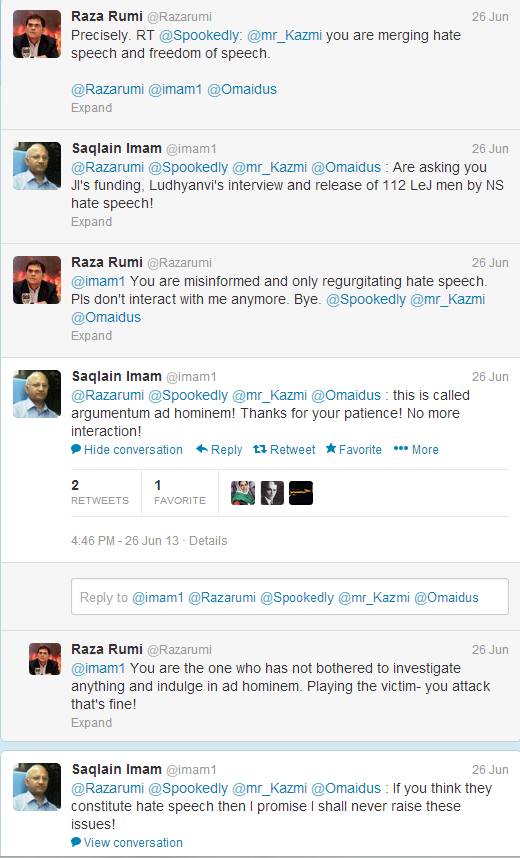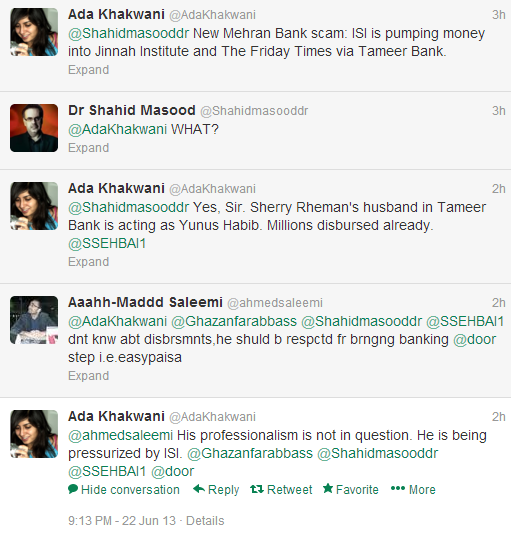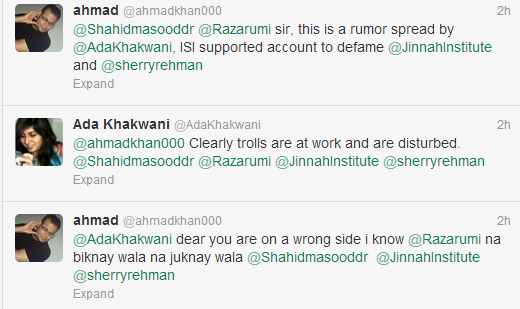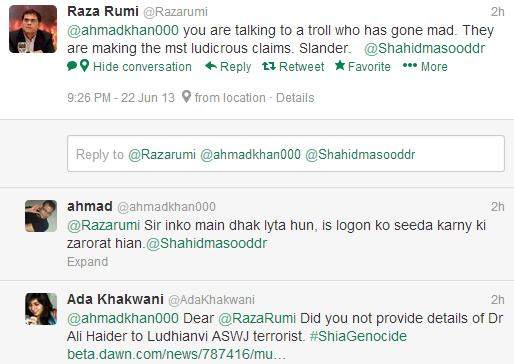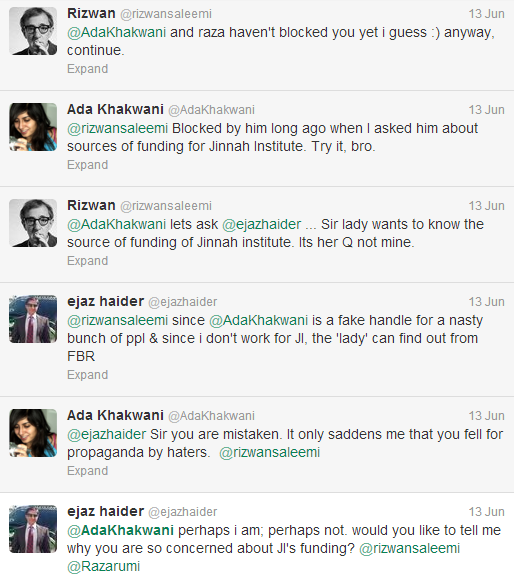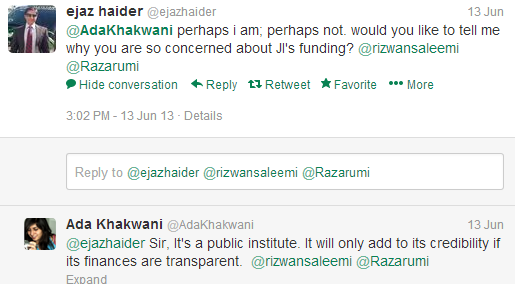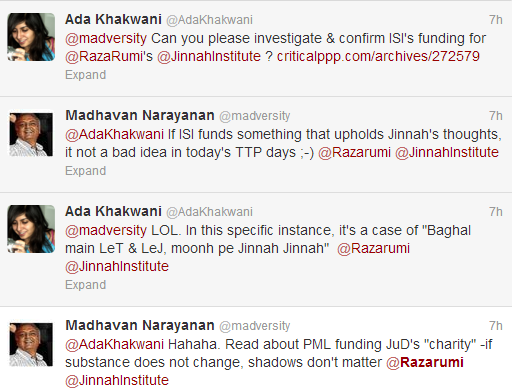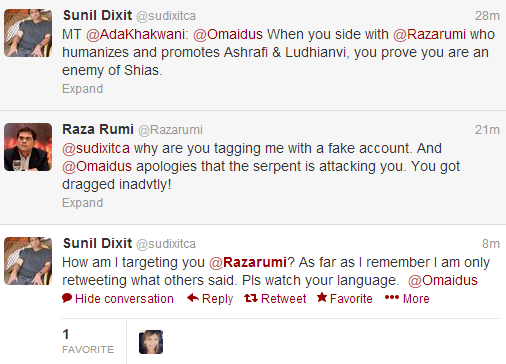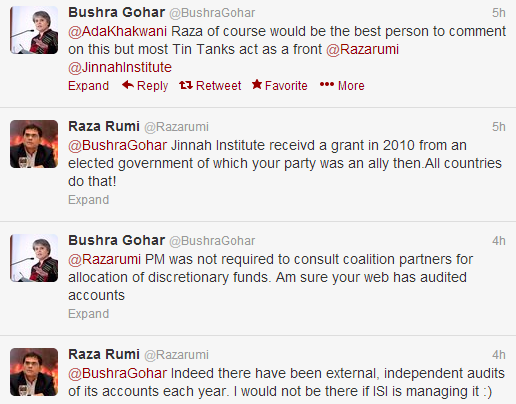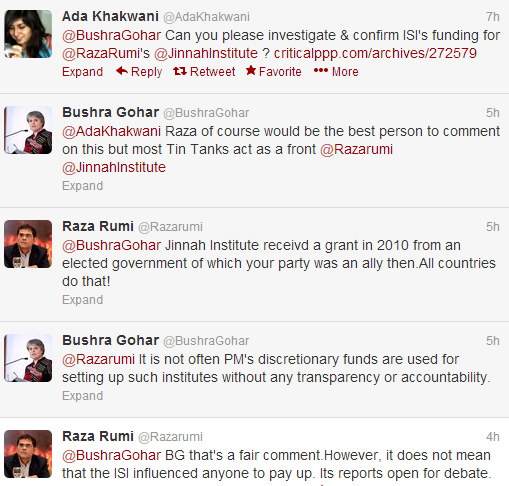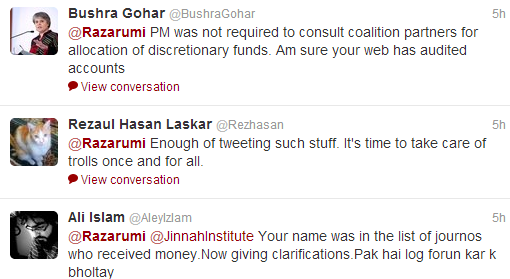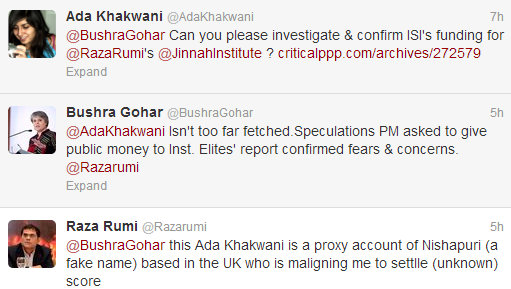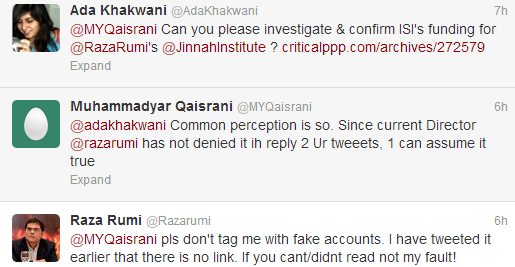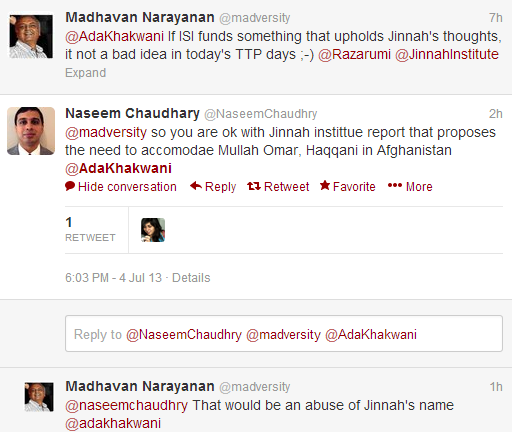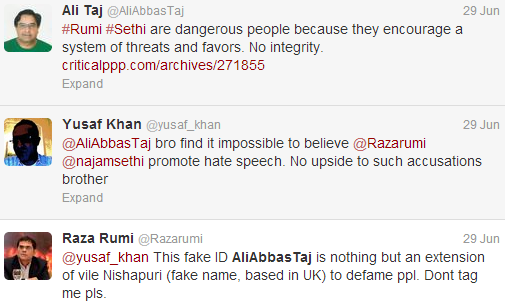 Comments
comments