Geo TV's Beena Sarwar obfuscates Shia genocide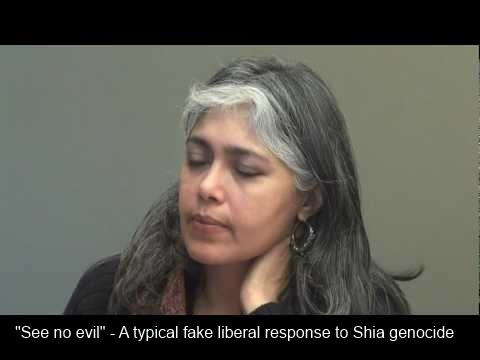 On 30 June 2013, at least 40 Shia Muslims including women, men and children were brutally murdered in a Shia mosque in Quetta, Pakistan at the hands of Takfiri Deobandi terrorist of Sipah-e-Sahaba (ASWJ-LeJ).
While Pakistani and international media was shamelessly silent or busy in obfuscating the identity of the killed (Shias) and the killers (Takfiri Deobandis), there was at least some protest by Shia activists on social media (Twitter, facebook etc) to report the actual suffering of Quetta's Shia Muslims. Shia Hazara activists from Quetta also reported that those injured in the terrorist attack did not receive due attention in hospital. However, instead of paying attention to Shia Muslims' plight, certain so-called liberals were busy in countering and refuting their narratives.  As per their typical tactics, they were spitting and diluting the suffering of the victims (Shias) while diverting the outrage against the perpetrators (Sipah Sahaba Taliban)
Here is an example Beena Sarwar's tweets where she is distorting the message and intentions of a video by Shia activists that showed an empty hospital and the dead and dying Shia Hazara victims of the latest incident of Shia Genocide.
Her subsequent responses on twitter expose her attempts to shift blame away from the Sipah Sahaba's pattern of denying medical aid to their victims.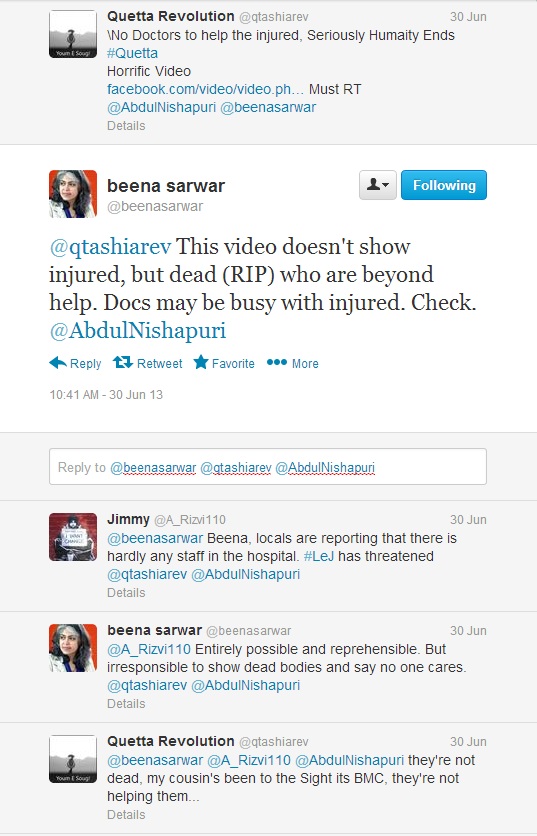 Beena's tweets betray a blatant insensitivity as well as a pathetic attempt to distort a horrible pattern of ASWJ-LeJ threatening hospital staff to stop providing treatment to Shias.
While most Shia, Sunni, Ahmadi and Christian activists were understandably showing outrage at the horrible video, in steps Beena Sarwar, a leading (fake) liberal who tried her best to spin the debate. When Shias were mourning and protesting about the lack of care to Shia Genocide victims, Beena's insensitive tweets tried to distort the reality.
After many mass attacks on Shias, Sipah Sahaba Taliban either attack the hospital where the survivors and bodies are taken or simply threaten the hospitals not to treat Shia victims. This is a repeated pattern that was captured in this heart rending video.  In repeated attacks on Shia and Ahmadi muslims, the Takfiri terrorists of ASWJ-Taliban first launched their mass attacks and then launched follow up attacks on the hospitals tending the victims.  This happened in Lahore in 2010 when Ahmadi muslims were attacked and in Karachi after a attack on Shia muslims attending Chehlum of Imam Hussain.   In more recent attacks, the ASWJ-Taliban have made it clear that they will continue to target hospital staff tending to their victims –  fact that is being obfuscated by Beena.
For Beena Sarwar (who happens to be a paid employee of Jang Group/Geo TV's Aman ki Aasha project), the empty hallways and the uncovered dead bodies simply reflected that the medical staff was elsewhere. This is typical fake liberal dishonesty because several eye witness accounts of this incident and the past reveal that ASWJ-TTP's efforts to deny medical treatment. Furthermore, this video revealed several empty hall ways and a hospital unit that was even more deserted than a morgue!
LeJ/ASWJ's drive to deny treatement to survivors was mentioned here in Express Tribune.
How many of us had the apathy to find out that the doctors and rescue teams ran in terror as the terrorists from Lashkar-e-Jhangvi (LeJ) allegedly told them they would be murdered if they tried to treat the "kaafir" Shiites who desperately needed treatment?  Pakistan bleeds with Hazara blood, do you even care?
In an earlier attack on female students in Quetta, ASWJ-LeJ threatened the hospital staff to not provide treatment to the Shia victims.
Yet, fake liberals like Beena continue to rub salt in the wounds of the victims of Takfiri terror by denying the facts and obfuscating them. This is part of a pattern of Pakistan's elitist fake liberals diluting and obfuscating the horrors and tragedy of Shia Genocide. After some anti-establishment social media activists were protesting Ejaz Haider's horrible article, it was Beena who stepped in to defend Ejaz Haider. In this case, Ejaz had created a false equivalence between 1 LeJ hate monger and 700 dead Shias. He also painted a target on all Shias of Quetta by falsely equating them as Iranian fifth columnists.
Can we continue to ignore such blatant dishonesty and insensitivity by the elitest fake liberals? What is the qualitative difference between Beena Sarwar, Raza Rumi, Ejaz Haider, Hamid Mir and Aamir Liaquat when it comes to diverting criticism away from the Sipah Sahaba Taliban. Many of them work for the same media groups (Jang Group, Geo TV) and are busy promoting each other. A few weeks ago, both Beena Sarwar and Raza Rumi were seen promoting moderator of Ulma-e-Deoband, Pakistan's most dangerous hate site: https://lubpak.com/archives/241085
We request social media activists and victims of Takfiri terrorism that these elitist fake liberals can never be our partners in the struggle against extremism. Their cosmetic activism and token show of support is more than outweighed by their blatant attempts to obfuscate.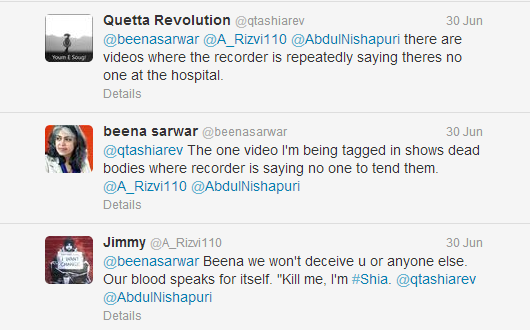 Instead of apologizing to Shias of Quetta, Jang Group's Beena Sarwar describes LUBP as Takfiris. Of course she will never use such harsh words for her friends Najam Sethi and Raza Rumi who routinely humanize and promote pro-ASWJ-Taliban clerics Ashrafi and Ludhianvi.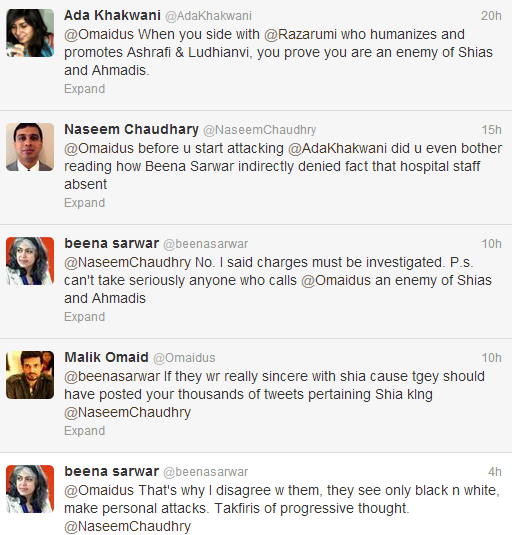 Comments
comments