HRW slams Saudi Arabia after 7 jailed for 'inciting protests' on Facebook
Human Rights Watch has slated Saudi Arabia for violating international human rights obligations after it jailed seven people for up to 10 years for 'inciting protests' via Facebook. The indicted denied charges and said they were tortured into confession.
The sentencing after a two-month long trial took place on June 24, according to Human Rights Watch (HRW), which it has obtained the court judgment, and revealed the procedure "violates international human rights principles."
The seven men were arrested between September 23 and 26, 2011. They have been kept in the General Investigations Prison in the capital of Saudi's Eastern Province, Damman for a year-and-a-half without being charged. They have been tried by Specialized Criminal Court, set up in 2008 to deal with terrorism-related cases. The trial began on April 29.
The charges against the seven vary. However, they all have been accused of joining Facebook pages aiming to "incite protests, illegal gathering, and breaking allegiance with the king" and "of assisting and encouraging these calls are corresponding with the Facebook pages' followers and concealing them," the HRW cited the court judgment.
They have been also convicted of violating Article 6 of the Anti-Cyber Crime Law, which bans producing, sending, or storing any material via an information network that "harms public order."
"Breaking allegiance [with the king] comes by way of arms and it comes by way of protests, marches, and writing articles and publications … the behavior of the [second] course … is sometimes the more dangerous and more malicious method," the presiding judge concluded in the judgment.
None of the seven was accused of directly participating in protests, nor of using or advocating violence.
Abd al-Hamid al-Amer has got harshest sentence – 10 years in prison for founding two Facebook groups in early 2011 which supported of a prominent Shia sheikh and religious leader Tawfiq al-Amer, arrested for publicly calling for a constitutional monarchy.
Prosecutors said that those pages were used to call for followers "to join the movements" and "gave them ideas and guidance on the important sites in which to protest and set the timing [of the protests]."
Supporters of Saudi Shi'ite cleric Tawfiq al-Amer hold his pictures during a demonstration following his release in Al-Ahs (Reuters / Stringer)
All seven accused have admitted they participated in Facebook pages titled "al-Ahsa March 4 Youth Movement" and "The Free Men of al-Ahsa", but did not know that was unlawful. Therefore, they denied accusations of having intentions to break allegiance with the king or harm public order, but the prosecution produced signed confessions.
During the trial, the accused reported to the court that confessions were signed under torture by the intelligence officers, but the judge overruled the claim as "not acceptable," due especially to "their inability to prove the allegations of coercion and torture."
According to one of the seven convicts' family members, the men had not lawyers as they could not afford them.  Under Saudi Arabia's Criminal Procedure Law, unlike in many countries, there is no provision for a public defender for those who cannot afford a lawyer, HRW reported.
Moreover, as Saudi Arabia has no written penal code, prosecutors and judges tend to criminalize acts based on their own interpretation of Islamic law.
HRW insists the whole procedure lacks clearness and violates "international human rights principles, such as those that prohibit arbitrary arrest and guarantee fair trials."
The men intend to appeal their sentences.
The HRW has stressed that the trial also comes against Article 15 of the Arab Charter on Human Rights, which Saudi Arabia ratified in 2009.
"No crime and no penalty can be established without a prior provision of the law. In all circumstances, the law most favorable to the defendant shall be applied," the article states.
The HRW has called on the European Union's High Representative Catherine Ashton and EU member states' representatives, who are meeting with their Gulf region counterparts in Bahrain on June 30, to condemn the convictions and publicly "press Saudi Arabia to stop jailing human rights activists and peaceful dissidents."
"Sending people off to years in prison for peaceful Facebook posts sends a strong message that there's no safe way to speak out in Saudi Arabia, even on online social networks," said Joe Stork, deputy Middle East director at Human Rights Watch. "If the EU doesn't raise these cases with Saudi officials this weekend, its silence will look like craven compliance with the rights abuses of an authoritarian state."
The latest conviction of the seven followed a wave of similar cases of convictions of peaceful dissidents and human rights activists in June, according to HRW.
Source:
http://rt.com/news/saudi-arabia-jail-protests-facebook-452/
Kuwaiti teacher given 11-year sentence for Twitter criticism of government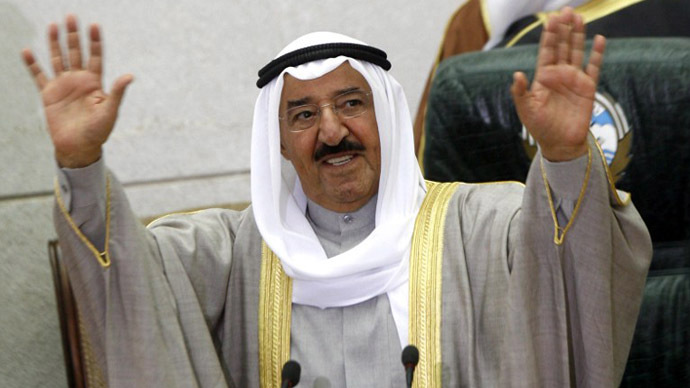 A teacher in Kuwait has been given an 11-year sentence for offensive tweeting against the country's monarch, calling for his ouster. This comes amid increasing tightening of internet freedom laws across the Gulf region.
Huda al Ajmi, 37, faces three separate charges, which together amount to the longest sentence for a crime of such a nature in Kuwait, according to the country's political opposition groups.
The charge for insulting the Emir, Sheikh Sabah al-Sabah, whom the constitution describes as 'immune and inviolable', alone, carries one year. The other terms were both five years, given for encouraging a rebellion against the regime and for breaking the law on public discussions.
Huda al Ajmi will be able to appeal her three sentences.
This type of government crackdown on online activity has been on the rise in Kuwait, despite the country priding itself on being generally more liberal state than its neighbors.
Although managing to land an appeal, last year, a former MP had been served a five-year sentence for insulting the Emir, when he gave a speech saying the ruler would not succeed in "taking Kuwait into the abyss of autocracy."
Kuwaiti citizen checks his Twitter feed. (Reuters / Stephanie McGehee)
As for the Gulf Arab region as a whole, it has also been seen as collectively acting to limit internet freedoms. The measures a lot of them have taken include restricting content on social media sites, making "offending" posts punishable by extensive jail sentences.
Aside from Kuwait: Saudi Arabia, Qatar, Bahrain and the United Arab Emirates have all tightened controls on Internet freedoms recently, targeting social media and phone applications alike in their effort to stifle freedom of speech.
Across the Gulf, dozens of journalists and social media users have been arrested since the beginning of the year for being in violation of the uncompromising national laws. Kuwait has arrested at least six since the beginning of 2013.
However, women serving time for such crimes are not a common sight in the Gulf state. Two female activists have recently narrowly escaped jail by having their sentences suspended.
Of all the Arab states in the region, Kuwait has suffered the least amount of anti-government violence and uprisings, but the number of people speaking out over Facebook or Twitter and being arrested for it is no lower than elsewhere.
The most recent political unrest in the country has erupted in December 2012, after the Emir had introduced a controversial change to electoral law, and was widely blamed by opposition groups for attempting to deny them a majority.
Kuwait has been a member of the International Covenant on Civil and Political Rights (ICCPR) since 1996, which protects the right to freedom of expression, including peaceful criticism of public officials
Source:
http://rt.com/news/kuwait-twitter-teacher-arrest-499/#.UdBoWbS51js.twitter
Comments
comments