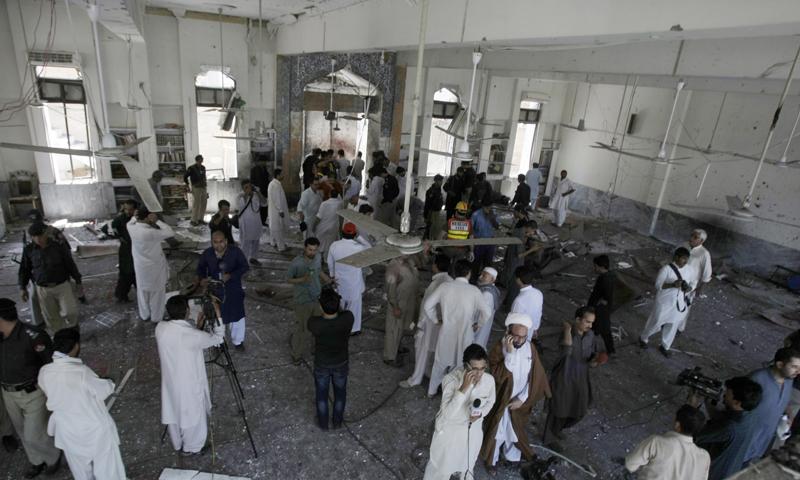 Only a few days ago, a leading Shia medical surgeon was attacked in Peshawar by Deobandi terrorists who were able to kill his driver and security guard. Today, another 18 Shia Muslims have been killed in the Hussaina mosque bomb attack in Peshawar by Takfiri Deobandi terrorists (ASWJ-TTP). Apparently, in PTI-led KPK province, there's no safety for Shia Muslims, anti-Taliban Sunnis and other communities who remain at the mercy of ASWJ-TTP terrorists.
While we are still reeling from yet another mass murder of Shia Muslims in Pakistan, it is time to see who are the main collaborators of the Takfiri Deobandi terrorists (operating as ASWJ-LeJ and Taliban-TTP).
It is now clear that there is no substantial difference between Iman Khan's PTI and Nawaz Sharif's PML-N in their stance on Wahhabi – Takfiri Deobandi inspired terrorism.
In the past, LUBP has been critical of the PPP for not doing enough to curb Shia Genocide.
To be fair to PPP, they could not do much about the open support of PML N to ASWJ-LeJ and the policy of using ASWJ terrorists to destabilize PPP in Sindh, Balochistan and Khyber Pukhtunkhwa during the last government. Similarly, the PPP was itself the victim of the Media-Judiciary axis which played such an instrumental role in freeing self-confessed Shia killers and creating sympathy for them.
While PPP and ANP supporters on social media twitter were standing shoulder to shoulder with the Shia victims, PTI supportors came across as mostly insensitive or bigoted.
The current statement by PTI's information minister of KP is not only insensitive but also callous. According to PTI, this tragedy can be reduced to blaming the Shia victims for an anti-Taliban policy that was never even fully carried out. This was followed by the even more disgusting statement that not every place can be provided security. Responding to the blast in Mardan, also by TTP-ASWJ thugs a few days ago, the PTI Information minister said this:
dhamaka hi huwa hai, koi qayamat tau naheen aa gayee
Speaking of the Media-Judiciary axis, no other person represented and frequently promoted this unholy nexus more than Najam Sethi of Geo TV and The Friday Times. Not only did Sethi free at least 112 ASWJ-LeJ terrorists during his time as Punjab caretaker Chief Minister, he also utilized his pro establishment rag, the Friday Times, to humanize ASWJ chief, Ludhainvi and other dubious clerics. The same Ludhyanvi for whom the following statement was reportedly made at an ASWJ mosque recently:
"Few weeks ago at SSP mosque in Charsada a leader said, "We will not hesitate to pile 72,000 dead bodies to maintain confidence in Ludhianvi"
Aside from releasing Malik Ishaq and dozens of his other boastful murderers, the Supreme Court also maneuvered and pressured the Election Commission to award tickets to dozens of ASWJ-LeJ terrorists.
Another group of people that is also complicit in this tragedy are those who constantly obfuscate the ongoing Shia Genocide in vague ethnic terms or sweeping Sunni-Shia sectarian terms. At various times, this group of sell-out liberals present the ongoing Shia Genocide as a Shia-Sunni war – completed negated by the fact that those Takfiri Wahabi-Deobandi terrorists who are killing Shias also kill Sunnis and Ahmadis.
One way of spotting them is when they use the Iran – Saudi Proxy war theory or peddle conspiracy theories that Iran, and not Saudi Arabia, is supporting Al Qaeda – in spite of all evidence to the contrary. Many of them are allied with or brainwashed by the Najam Sethi camp and are often promoting each other's lies on social media.
This group can be spotted as those who are actively creating a false equality between Iran and Saudi Arabia or using vague and misleading ethnic or sectarian (Pashtun, Muhajir, Sunni, Shia) terms to dilute the narrative of Shia Genocide by Takfiri Deobandi terrorists. From Nadeem Paracha to Raza Rumi to Ejaz Haider to Tarek Fatah, their tactics are similar. Subtly misrepresent all Shias as Iranian Fifth columnists and in a roundabout way imply that the Shia victims somehow deserved their fate.

Another way to support these fake liberals is their usage of the term "Islamist" or "Sunni" to hide the specific Wahabi-Salafi-Takfiri Deobandi identity of the terrorists.
Here is an LUBP tag with a collection of articles that debunks such dishonesty
https://lubpak.com/archives/tag/iran-saudi-arabia-proxy-war-theory
PESHAWAR: At least 18 people were killed and several injured Friday (21 June 2013) in a suicide attack by Deobandi terrorists inside a Shia Muslim mosque in Peshawar's Chamkini area, officials said. The martyrs include grandson of Pakistan's late Shia cleric Allama Arif Al Hussaini. Allama Hussaini was killed by Pakistan army-sponsored Deobandi Wahhabi terrorists in the same Shia mosque in Peshawr in 1988.
Superintendent of Police Rural Shafiullah said three (Takfiri Deobandi) attackers tried to enter the Hussaini madressa but faced resistance by the security personnel posted at the place of worship. He said two attackers were prevented from entering the complex while one managed to enter the Imambargah after the guards were gunned down.
A loud blast was heard while the Friday sermon was underway at the Imambargah, which was preceded by gun firing, according to eyewitness accounts. Other eyewitnesses said that the attacker shot at the guards posted at the entrance of the complex before entering the premises where the explosives were detonated. The complex comprises of a madressa and an Imambargah, belonging to the Shia sect.
Bomb Disposal Squad official Abdul Haq told Dawn.com that six to seven kilograms of high intensity explosives and four kilograms of pellets were used in the blast. Officials at the Lady Reading Hospital said deade bodies and at least 30 wounded had been taken to the hospital. Several of the wounded were reported to be in critical condition.
http://dawn.com/news/1019739/suicide-blast-in-peshawars-chamkini-area-kills-ten
Twitter Supplement
Abdul Nishapuri @AbdulNishapuri
Call them Sunni terrorists they won't object. Call them Muslims they will love it. Call them Deobandi Wahhabi terrorists, they will protest.
Abdul Nishapuri @AbdulNishapuri
@Karachi_Post They also happen to be humans but we don't call it human terrorism. Lumping Wahhabi-Deobandi terror with all Muslims no good.
Abdul Nishapuri @AbdulNishapuri
Instead of Islamic terrorism or terrorism, please use these words "Wahhabi Deobandi terrorism". These word pain them most!
Words such as Islamic terrorism or terrorism obfuscate the Wahhabi Deobandi identity of terrorists. That's exactly what they want and need.
Abdul Nishapuri @AbdulNishapuri
@Shahram54n Surely Taliban-LeJ-ASWJ terrorists are different names of same groups of terrorists who kill Sunnis, Shias, Christians alike. In Pakistan, Sunnis too are being killed by ASWJ-LeJ terrorists. https://lubpak.com/archives/74672
Abdul Nishapuri @AbdulNishapuri
Must read articles to understand why #ShiaGenocide in Pakistan is NOT an outcome of Saudi-Iran Proxy War. https://lubpak.com/archives/tag/iran-saudi-arabia-proxy-war-theory