PML-N's opposition to Iran-Pakistan gas pipeline is a perfect example of sectarian bigotry and anti-people pro-Saudi agenda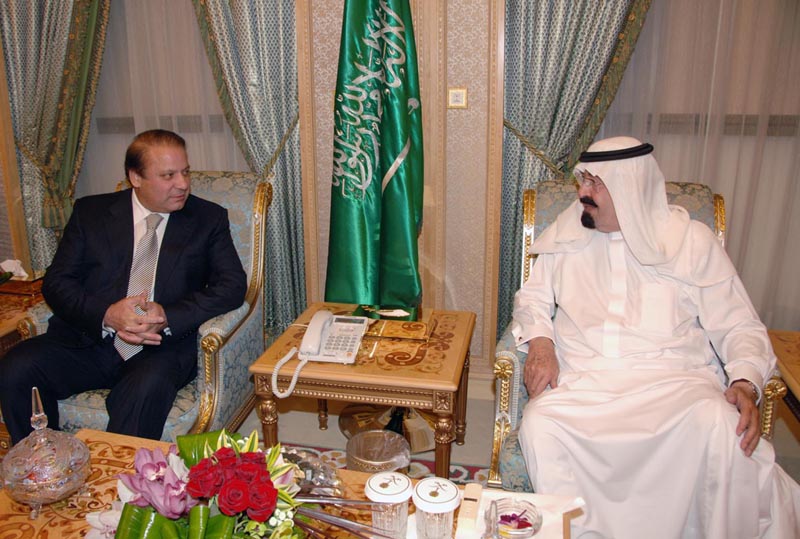 Pakistan's ruling party PML-N has issued a policy statement on its facebook page indicating their intention to scuttle the Pakistan-Iran gas pipeline project and also showing their Saudi-inspire sectarian colours.
Thanks to the Saudi-Nawaz anti-people agenda, they want us to use more expensive Saudi oil instead of much cheaper Iranian gas.
The statement is a perfect example of their sectarian bigotry and anti-people pro-Saudi agenda.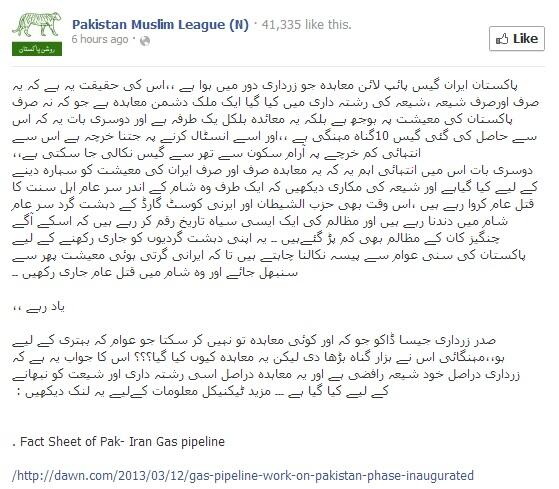 https://www.facebook.com/Pakistan.Muslim.League.N/posts/587187831313536
The PMLN's opposition to the Pak-Iran pipeline takes us back to 1997 and reminds us how the last PML-N government scuttled the numerous power projects initiated by Benazir Bhutto-led PPP government. The Pakistani people are still paying the price for that last blunder by Nawaz Sharif in the form of the crippling power shortages that we are all facing today.
The Pakistan-Iran gas pipeline was a major step towards addressing the gas shortage for power generation in Pakistan. It was one of the landmark projects initiated by the last PPP government led by President Asif Zardari. The PIPL project is far cheaper and optimal than the 15 billion dollars of deferred payment for oil (loan) by the Saudis, which comes at the price of more than 70,000 Pakistani civilians and soldiers killed by Saudi-backed Takfiri Deobandi-Wahhabi terrorists.
The very text of the PML-N's language is shameful.
This proves three things:
1. PML-N is adamant at implementing Saudi Wahhabi agenda in Pakistan. Abolition of the Iran-Pak Pipeline is just a strat. https://lubpak.com/archives/268285
2. PML-N wants to fan Sunni-Shia sectarian violence in Pakistan in order to obfuscate violence by Suadi-backed Takfiri Wahhabi-Deobandi terrorists against Sunni, Shia, Ahmadi etc.
3. PML-N is nothing but a political front for banned terrorist group Sipah-e-Sahaba and Tehreek-e-Taliban.
The very language used by PML-N's facebook page (with more than 40,000 members) shows that the party and its leaders and administrators are deeply sectarian minded, anti-people and pro-Saudi. We condemn the sectarian and anti-Pakistan agenda of PML-N and will hold it responsible not only for Pakistan's energy crisis but also for all acts of terrorism against innocent Sunni Barelvis, Shias, Ahmadis, Christians and Hindus by Saudi-backed ASWJ-TTP terrorists.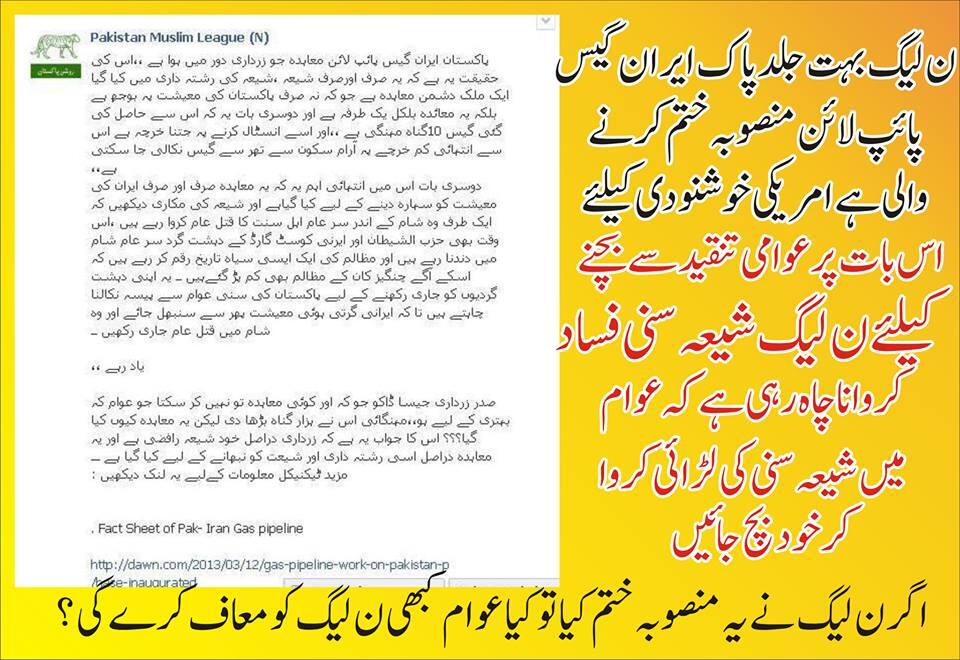 Video: Faisal Raza Abdi comments on Iran-Pakistan pipeline, Gwadar port and neglect of these issues by PML-N
http://www.zemtv.com/2013/06/08/why-nawaz-shareef-neglected-iran-gas-pipe-line-faisal-abdi-exposing/
Comments
comments