Saudi Agenda and Nawaz Sharif – by Shiraz Paracha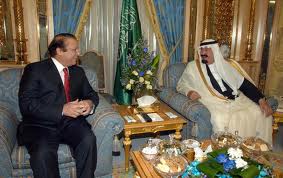 One more time, Pakistan seems to have come under the full control of the ruling Saudi elite. As an arm of the U.S defense establishment, the brutal and repressive Saudi elites have been a major cause of instability in Pakistan, particularly during the past three decades.
Saudi Arabia is an unfortunate country as its ruling royal family exists only because it serves the U.S military and economic agenda and promotes U.S imperialist designs. Saudi Arabia and Israel are similar because both the countries use the US umbrella and also pursue their own agendas. Israelis, however,  are better because at times they can stand up to their American master but Saudis can't.
The Saudi elites consider Iran a threat to their existence and have been doing everything to destroy Iran. In case of Iran, the U.S and Saudi goals converge therefore together they have been fanning sectarian divisions and violence to create misunderstandings and hatred.
Pakistan is a fertile ground for Saudi proxy wars. Pakistan has been a battlefield for Saudis' deadly agendas. In the past 33 years, Saudi elites have been behind the spread of extreme and violent whabi and Salafi ideologies. They use violence as political strategy and diplomacy tool.
Unfortunately, under the patronage of Zia-ul-Haq and his spiritual son Nawaz Sharif, the Saudi elites were given a free hand to use the Pakistani soil for their bloody agenda. The Saudis feel comfortable with Nawaz Sharif but view the PPP and its leadership as enemies. It is no secret that Saudi Arabia has been supporting the anti-PPP camp and has used every trick to keep the PPP out of power, be it the failed 1989 no-confidence move against Benazir Bhutto where Saudi Arabia through Osama Bin Laden and Nawaz Sharif pumped tones of money to oust Benazir, or funding and sponsoring of militant organizations in Pakistan.
It is possible that after his departure from the President House, Asif Ali Zardari will tell the nation about the negative role of Saudi Arabia in the Pakistani affairs. If he did, it would be be a very bold and brave step of Mr. Zardari but may cost him his life.
We hear that Nawaz Sharif is a transformed man now. He is no longer a stooge or robot, he doesn't have covert connections with militants, he believes in peace with neighbors and so on. If one believes, people like Imtiaz Alam, Mr. Sharif has become a moderate and liberal leader.The United States, India and as well as Saudi rulers are liberal and moderate, too. The actual threat, however, is hidden foreign agendas. If Nawaz Sharif can distance himself from those agendas—he would be a transformed man and a real nationalist leader.
Comments
comments