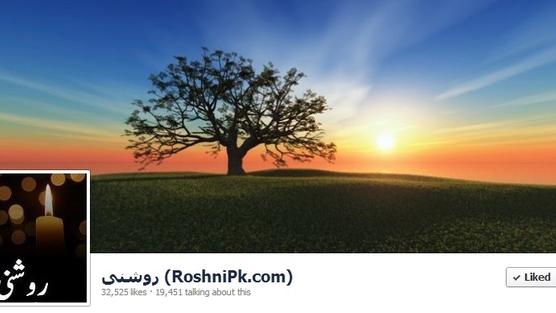 Facebook has put  country restrictions on Roshni page making it inaccessible to users who have set their location to Pakistan. Details of this can be read

here

and a petition demanding unblocking it is

here

.
This page requests users to log a complaint to Facebook using the methods given below.
METHOD 1 – Feedback to Facebook
Method 2 – Report a Page Unavailable Error
Visit Facebook Error reporting page here: https://www.facebook.com/help/contact/357161520978587
In the 'Page URL' box enter this: 

https://www.facebook.com/roshnipkdotcom

In the detailed description box, enter the red text given below or add comments of your choice.
Click 'Send' button.
The Red text
I have been a follower of the Facebook Page Roshni (https://www.facebook.com/roshnipkdotcom) for sometime but this page is not accessible to me now and to many other people. Apparently Facebook has put a country restriction on this page making it unavailable to those users who have location set to Pakistan. I believe Facebook has done this because of excessive complaints being received about the page but be assured these complaints are result of a specific propaganda by extremists. This page promotes alternative opinions on a progressive, liberal, secular democrat agenda and works for equal rights of all religious and ethnic minorities in Pakistan and strongly takes on the extremism discourse on terrorism. We need this page back as it is a strong voice against extremism and terrorism and helps promote tolerance and a pluralist society.
It is tragic that Facebook has blocked this page because of propaganda campaign but a spoof page setup by the same extremists who got Roshni page blocked is still acessible here: https://www.facebook.com/pages/RoshnipkCom-Lanti/373166699458495?fref=ts. This page is only there to malign the Roshni page and ridicule. Similarly a lot of pages being run by terrorists are accessible like this one: https://www.facebook.com/pages/UMAR-MEDIA-%D8%AD%D9%84%D9%82%DB%81-%D9%85%D9%84%D8%A7%DA%A9%D9%86%DA%88%DA%88%D9%88%DB%8C%DA%98%D9%86/449811125080305?fref=ts.
A petition has been setup by the followers of this page which has more than 400 signatures asking for unblocking the page. This is available here: http://www.change.org/en-GB/petitions/pakistan-telecommunication-authority-unlock-roshnipk-facebook-page