New wave of #ShiaGenocide engulfs Pakistan after Punjab CM Najam Sethi released 112 Takfiri terrorists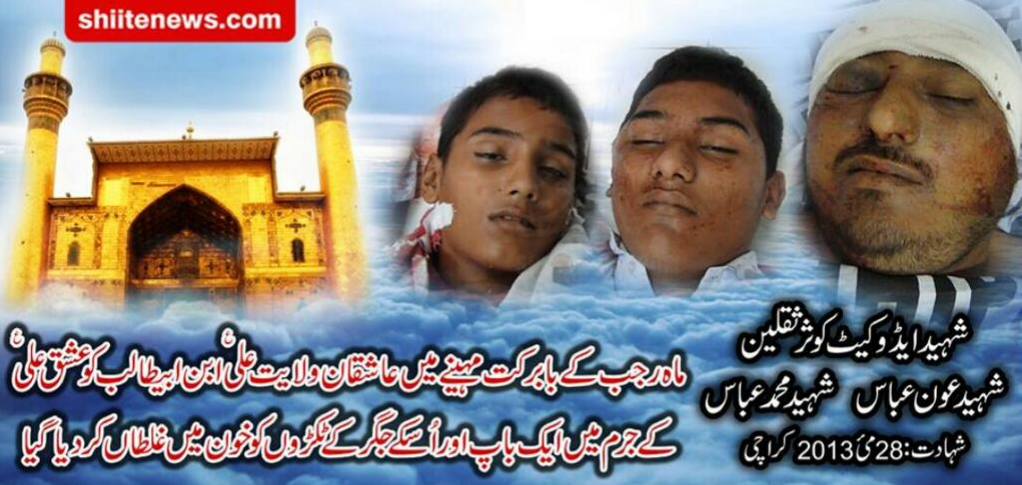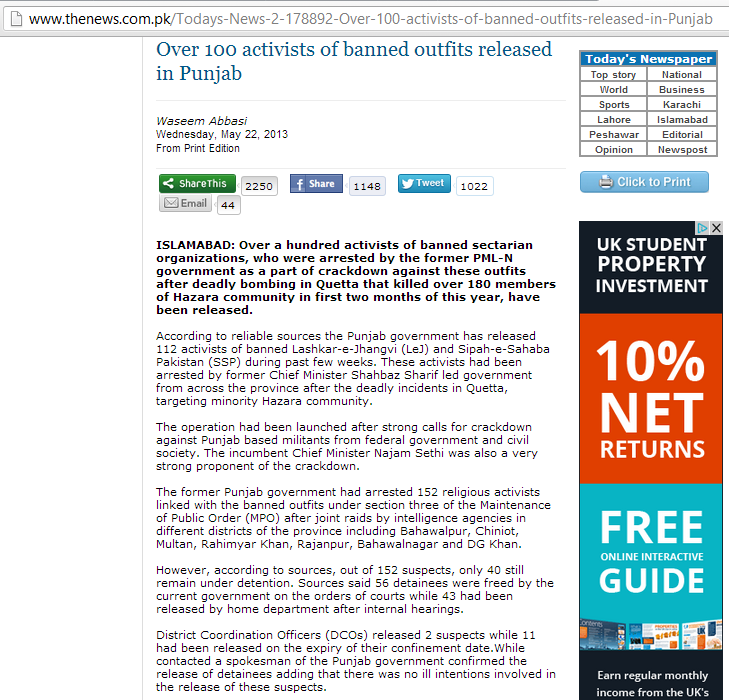 New wave of Shia genocide has engulfed Pakistan after caretaker Chief Minister of the Punjab, Mr. Najam Sethi, decided to release 112 arrested terrorists of banned sectarian outfit Sipah-e-Sahaba Pakistan (SSP, also known as Lashkar-e-Jhangvi LeJ and Ahle Sunnat Wal Jamaat Deobandi ASWJ-D).
In the last 24 hours alone:
28 May: A Shia lawyer Kausar Saqlain and his two young sons Aon (15) and Muhammad (12) were target killed in Karachi.
28 May: A Shia doctor Ahsan and his 12 year old daughter Laiba were attacked in Karachi. Both of them are critically injured.
28 May: A Shia mosque (Imambargah) was attacked in Imamia Gulbahar Colony, Peshwar; 2 Sunni and 2 Shia Muslims were killed in that attack.
28 May: A Shia Muslim was killed in Shah Faisal Colony of Karachi.
In a day's work for the Sipah-e-Sahaba (ASWJ-LeJ) yesterday: an advocate killed in Karachi with two young sons 15 and 12 years old, a doctor injured in Karachi with a 12 year old daughter, a resident of Shah Fasial Colony Yasir Abbas shot dead, and a blast at an Imambargah in Peshawar killed 4 and injured many more.
Unfortunately, Pakistan's mainstream media including some leading liberal writers eg Raza Rumi, Ali Chishti, Nadeem Paracha, Ejaz Haider, Mohammad Shehzad, Mehmal Sarfraz, Sherry Rehman, Sana Saleem etc remain completely silent on the release of 112 LeJ terrorists by Najam Sethi and its dangerous consequence for Pakistan's most target killed faith group, Shia Muslims.
Shia and Sunni Twitterati have criticized Najam Sethi and those conveniently silent on the release of 112 terrorists. Apparently, Najam Sethi couldn't bear the criticism and decided to deactivate his Twitter account. His friends and employees (of The Friday Times) remain tight-lipped both on Shia genocide and release of LeJ terrorists. It may be noted that Najam Sethi has a pattern of serving Pakistan's security establishment. Right from 1970s when he leaked names and hideouts of Baloch resistance movement leaders to Pakistan army to his dirty role in undermining Benazir Bhutto's elected government in 1997 to his humanizing of ASWJ terrorists through Geo TV's Aapas ki Baat and The Friday Times in 2012-13, there is a consistent pattern which can't be ignored.
Apparently, while ISI-sponsored ASWJ-LeJ terrorists kill Shias in Pakistan's various cities and towns, ISI-brand of fake liberals continues to hide, obfuscate or justify Shia genocide. It's a coordinated action.
Previous incidents of Shia genocide in May 2013:
27 May: A Shia Muslim Arshad Abbas Naqvi killed in Orangi Town, Karachi.
26 May: 6 Shia Muslims injured in Hasilpur, Punjab in an attack by ASWJ-LeJ terrorists
22 May: A Shia Muslim Abbas Haider Jafri killed in Liaqatabad Golimar area of Karachi.
20 May: A Shia police officer Ayooz Ali killed by his police department driver Naimatullah who was a Takfiri Deobandi militant.
19 May: A Shia Muslim Sajjad Hussain Shah killed in Sohrab Goth Karachi.
10 May: A Shia Muslim, Ali Abbas, killed in Karachi.
8 May: A Shia Muslim, Syed Abbas Shah, killed in Quetta
5 May: A Shia Muslim, Asad Ali, killed in Quetta.
3 May: A Shia lawyer, Shakil Ahmed Jan, killed in Karachi. His father critically injured.
1 May: Two Shia Muslims, Chaman Ali and Hafizullah, killed in Karachi.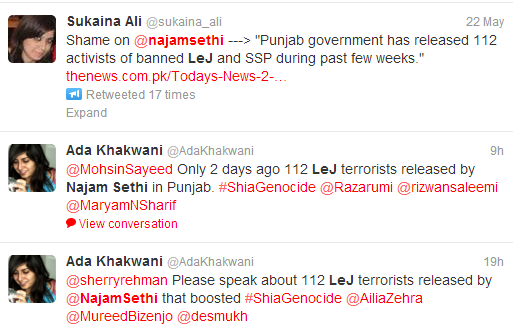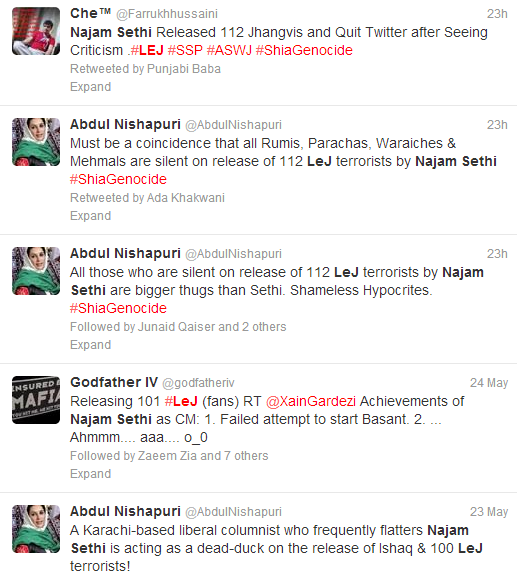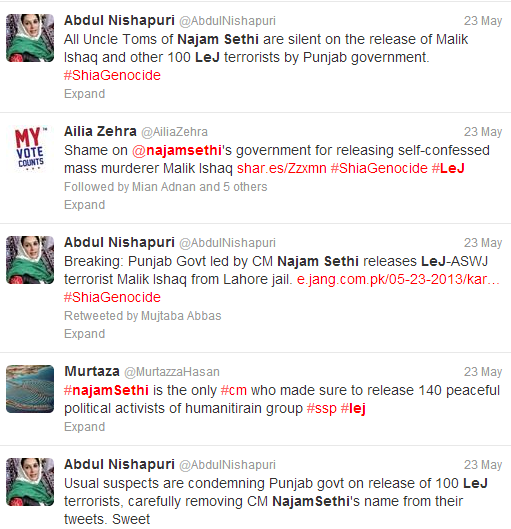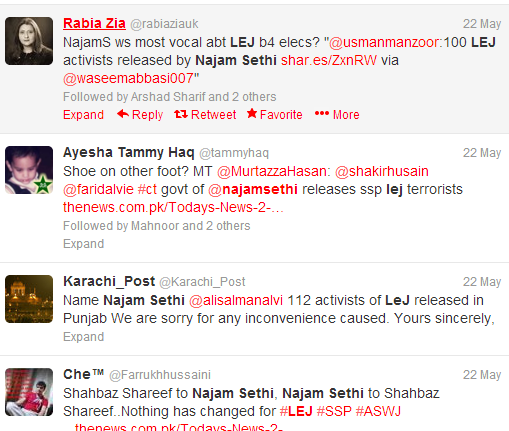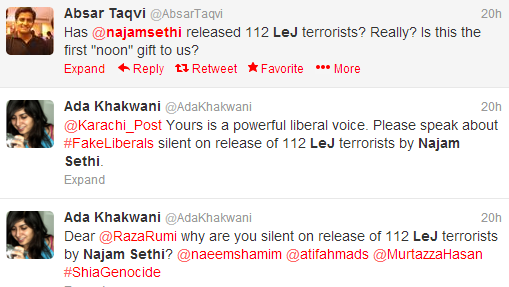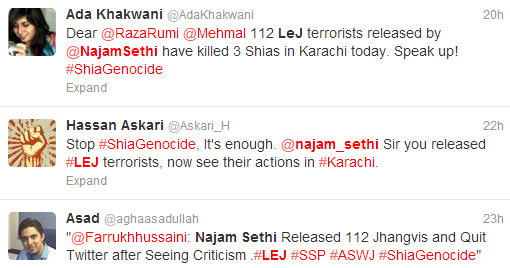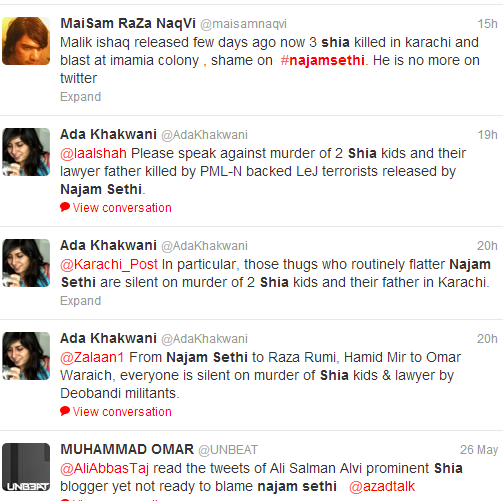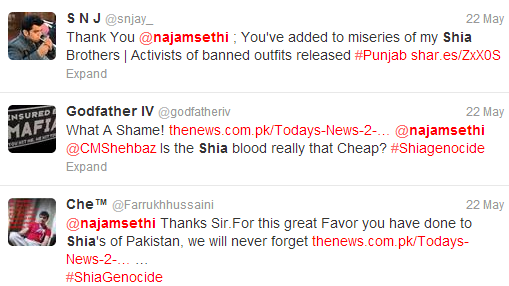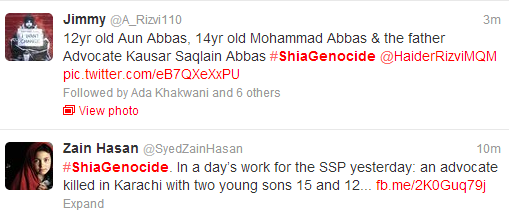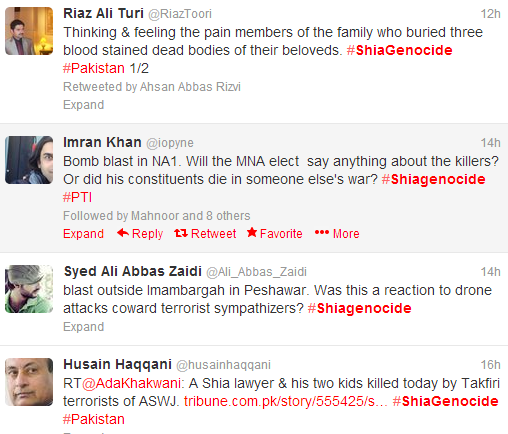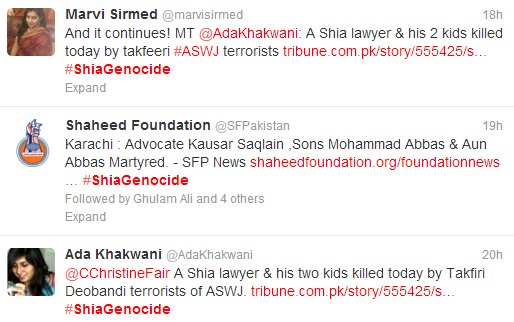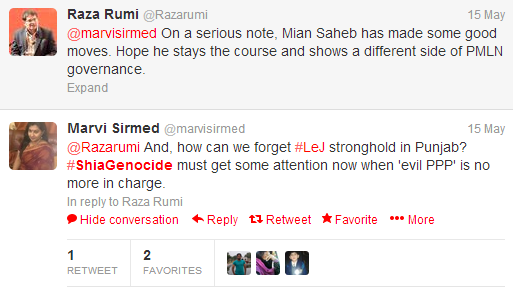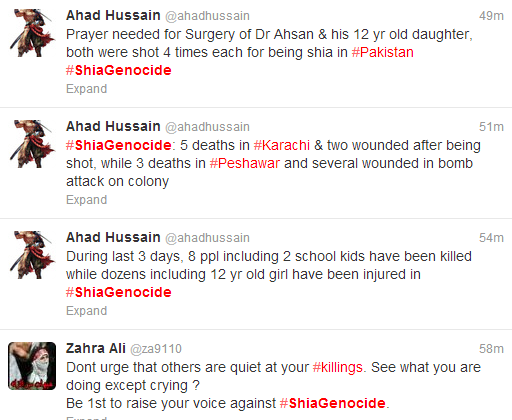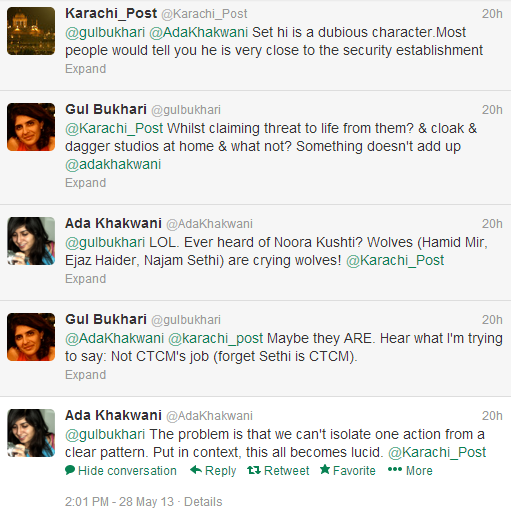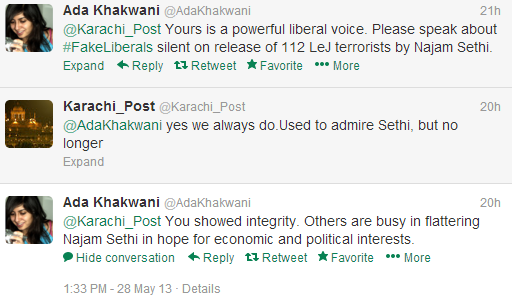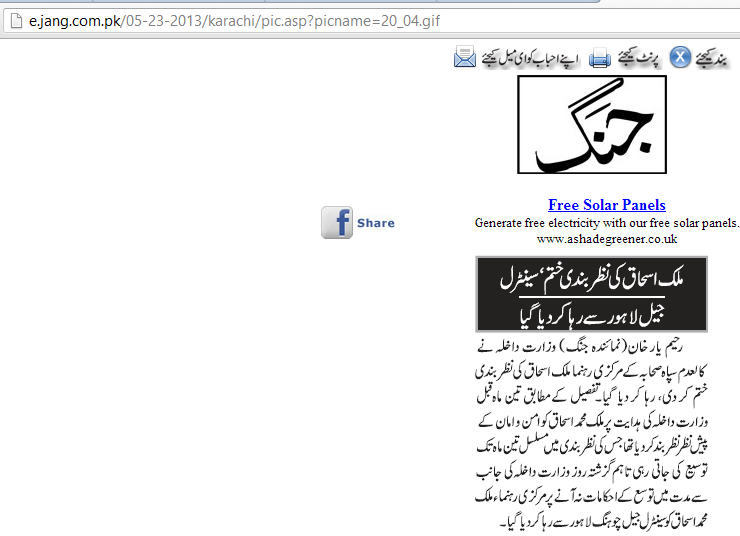 Comments
comments