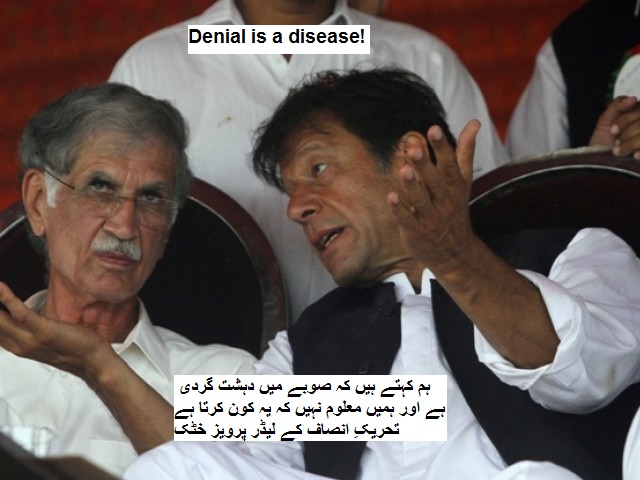 "We have no enmity with the Taliban"
PESHAWAR (17 May 2013): Pakistan Tehrik-i-Insaf (PTI) senior leader and soon-to-be Chief Minister of Khyber Pakhtunkhwa province, Pervez Khattak on Friday said that the coming provincial government was ready to hold talks with the outlawed Tehrik-i-Taliban Pakistan (TTP) militants.
We have no enmity with the Taliban, said the PTI central Secretary General. He said the Taliban were also Pakistanis and that they request the militant group to hold peace talks and work for peace in the region.
"We appeal to Taliban that we are not  at war with you, this province is yours and we are hopeful you will work for its peace.
"We are not against anyone and not here to fight anyone, we want peace and development in our province and we want to talk to them, " he said.
Pervaiz  Khattak also said that they should be given a chance to settle the problem.
"Our request to them is that we want peace in the province and that they should extend to us their help," Khattak said.
http://dawn.com/2013/05/17/no-enmity-with-the-taliban-says-pti-cm-designate/
پاکستان کے صوبہ خیبر پختونخوا کی اسمبلی کے لیے پاکستان تحریکِ انصاف کے نامزد پارلیمانی لیڈر پرویز خٹک نے کہا ہے کہ 'ہم طالبانائزیشن کی نہیں دہشت گردی کی بات کرتے ہیں' اور اس مسئلے کو مذاکرات سے حل کریں گے۔
خیال رہے کہ ملک میں گیارہ مئی کو ہونے والے عام انتخابات میں الیکشن کمیشن کے مطابق پاکستان تحریکِ انصاف نے صوبہ خبیر پختونخوا میں اکثریتی جماعت کے طور پر اْبھری ہے۔ پاکستان تحریکِ انصاف کی طرف خیبر پختوانخوا کی صوبائی اسمبلی میں پرویز خٹک نامزد پارلیمانی لیڈر کے طور پر سامنے آئے ہیں۔
بی بی سی اُردو کو خصوصی انٹرویو میں انہوں نے کہا 'ہم طالبانائزیشن کی بات نہیں کرتے، ہم کہتے ہیں کہ صوبے میں دہشت گردی ہے اور ہمیں معلوم نہیں کہ یہ کون کرتا ہے۔ کبھی کوئی ایک دعویٰ کرتا ہے کبھی کوئی اور۔'
انہوں نے کہا ہے کہ انہیں ابھی تک اس کی تصدیق نہیں ہوئی ہے کہ دہشت گردی کون کرتا ہے۔ ان کا کہنا ہے کہ جو بھی دہشت گردی کرتے ہیں 'ہم انہیں درخواست کرتے ہیں کہ صوبے میں امن ہونا چاہیے، وہ جو عزت مانگتے ہیں ہم دینے کو تیار ہیں' اور ہم ان کو دوبارہ معاشرے کا حصہ بنانے کے لیے تیار ہیں۔
http://www.bbc.co.uk/urdu/pakistan/2013/05/130517_kp_pti_leader_rk.shtml
Taliban slaughter 21 Pashtuns in Malakand Division
Malakand (17 May 2013): Two bombs exploded near separate mosques after Friday prayers in Malakand Division's Bazdara area killing 21 persons and injuring at least 100 others.
"The explosive was a timed device planted apparently among the pillows and sheets of worshipers inside the mosque," said Amjad, a govt official. He said both mosques remained open throughout the night, which is when the culprits may have planted the bomb.
An eye witness, Aalam Khan, told Dawn.com that two blasts rocked the Bar Kalley and the main Jamia Masjid of the Bazdara region immediately after Friday prayers.
"At least 12 bodies were brought to the Palai Hospital whereas only 30 of the 100 or so injured were treated at the Palai Hospital. The remaining casualties were referred to Dargai and Mardan hospitals."
Another eyewitness Israrullah said the first explosion rocked the Upper Bazdara mosque.
"People from the mosque in the Lower Bazdara area immediately rushed to the site of the first blast. This is when the second blast rocked the Lower Bazdara mosque," he said.
The second explosion causes the roof of the other mosque to collapse, killing one person.
"The huge blast occurred as soon as the prayer leader had finished the Friday sermon," said Waseem, a young boy injured in the explosion.
Nine of the injured are being treated at Lady Reading Hospital in Peshawar, while fifteen were being treated at Dargai Hospital, where the condition of some of the patients were said to be critical.
Security forces imposed a curfew in the area which is 35 to 40 kilometres to the border of Buner District. An emergency was also imposed in Dargai and Mardan Hospitals.
http://beta.dawn.com/news/1011874/blast-in-malakand-kills-four