Najam Sethi and Raza Rumi launch a vicious propaganda campaign against LUBP

Owner (Najam Sethi) and editor (Raza Rumi) of The Friday Times (TFT) have deputed a TFT columnist Mohammad Shehazad to launch a vicious propaganda campaign against LUBP, an independent Pakistani blog known for providing non-mainstream reflections on issues of politics, jihadist-sectarian terrorism and military establishment.
Not unlike Sethi and Rumi, TFT columnist Shehzad is known for promoting  anti-Shia, anti-Ahmadi Takfiri Deobandi clerics as prophets of peace.
The anti-LUBP faceboook page set up by Mohammad Shehzad has currently only one friend, i.e., Raza Rumi. We are providing some snapshots below.
Given the connections that Mohammad Shehzad and his sponsors have with Takfiri Deobandi clerics and their sponsors in the ISI,  we are worried that this vicious propaganda and witch-hunting of LUBP and other anti-Takfiri bloggers may result in further violence against Shia, Ahmadi, Sunni Barelvi and other anti-establishment bloggers. This witch-hunting of LUBP was started by none else than Raza Rumi's best friend Hamid Mir in 2009 , someone known for links with Takfiri ASWJ-TTP terrorists, who is promoted by Rumi as a brave, honest journalist. Raza Rumi too has helped Hamid Mir in witch-hunting of anti-establishment bloggers.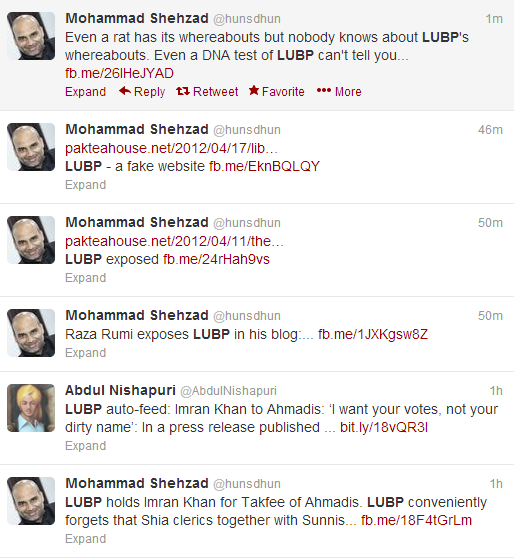 —-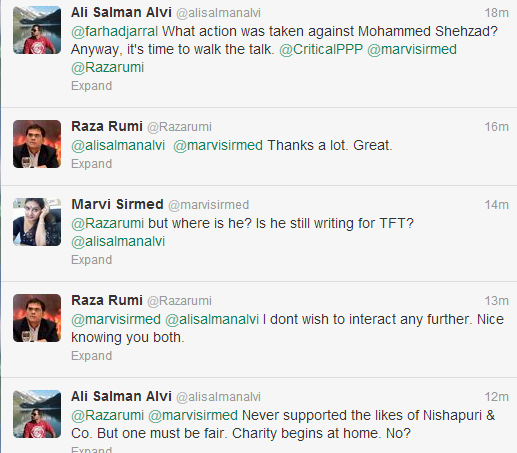 Comments
comments