Some thoughts on General Kayani's Islam, Pakistan statement – by Abbas Nasir and Wajahat Masood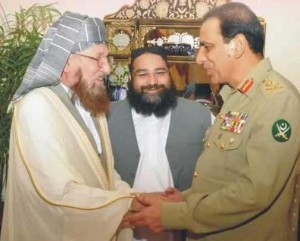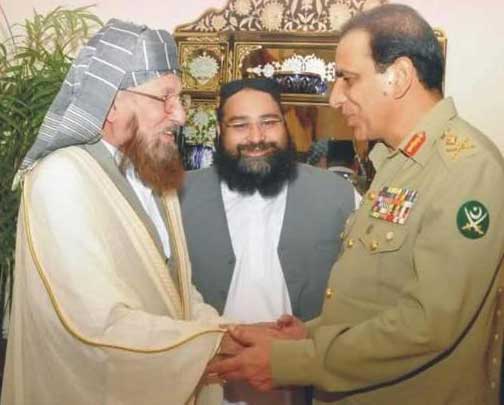 REGARDLESS of its success, for several years the army saw the defence of the country's territorial integrity as its primary job and didn't see itself as the guardian of its 'ideology'.
Even then a succession of military leaders demonstrated so much commitment to safeguarding the country's at best loosely defined 'ideological frontiers' that they may have done so at the expense of the territorial integrity and sovereignty of the country.
Military ruler Gen Yahya Khan's information minister, the reputedly pro-Jamaat-i-Islami Gen (retd) Sher Ali Khan, invented the term 'ideology of Pakistan' ahead of the 1970 elections, thinking perhaps it would be the glue to hold the country together. We all know how miserably he failed.
However, even at this stage the culture within the army was unchanged where loyalty to unit and country remained the foremost concerns and not 'ideology' and where the officers' mess retained some of the best-stocked, mahogany-topped bars in the country, where officers and their families played tombola on weekends.
The atmosphere may have been elitist but was far less prone to divisive ideologies.
After seizing power, Gen Zia made no bones about his adherence to his own narrow version of religion to more or less the exclusion of all other brands. The rest of the general staff followed the leader as if on cue. Shalwar-kameez waistcoats replaced 'monkey jackets,' 'blue patrols' and lounge suits.
The Soviet army's march into neighbouring Afghanistan was a godsent for Zia. It enabled him, in partnership with the CIA, to father what would become an unstoppable monster. Yes, for what else would one call such an ideology? A hate-filled philosophy that makes Pakistani Muslims turn on one another with the sort of relish even the vilest of predators wouldn't reserve for the choicest of prey.
This ideology is tearing Pakistan apart. Official figures say the murderous campaign of the zealots has so far claimed the lives of more than 3,500 army and paramilitary soldiers and injured or maimed nearly 12,000 others. This is not counting the civilian casualties.
It was against this backdrop that last Sunday's newspapers carried army chief Gen Ashfaq Kayani's statement in which he delivered a 'reminder' at the Pakistan Military Academy, Kakul, not far from where US Navy SEALs killed Osama bin Laden in May 2011.
"Let me remind you that Pakistan was created in the name of Islam and Islam can never be taken out of Pakistan. However, Islam should always remain a unifying force. I assure you that regardless of the odds, the Pakistan Army will keep on doing its best towards our common dream for a truly Islamic Republic of Pakistan, as envisioned by the Quaid-i-Azam and Allama Iqbal."
Whilst the general hadn't, perhaps the military's media wing should have shared the background to his statement. It wasn't clear who, if anyone, was trying to "take Islam out of Pakistan". Ask anyone around you if they see Islam in danger of being taken out of Pakistan. You'll only hear one response: no.
Also, it would have been hugely beneficial to the young cadets and officers at the PMA had Gen Kayani defined a truly Islamic republic as "envisioned" by the Quaid and Iqbal and referred to the constitutional provision which made it incumbent on the army to strive towards realising the dream.
Frankly, an army chief who says his hand has been stayed by a lack of "national consensus" in imposing the writ of the Islamic Republic on large swathes of the country's land where its territorial integrity is in tatters, should have ideally refrained from making this statement.
He may not have realised it but his words could easily have been interpreted as further encouragement by militants who have said they'll attack and disrupt the election campaign of the political parties seen as 'secular'.
Dishonestly, some have described secular parties as 'godless' merely because these parties feel that given the dozens of schools of thought, with often widely differing interpretations of religious tenets, the use of religion in the affairs of the state can be, and is, divisive.
A tolerant state where all citizens enjoy equal rights, where bigotry has no room and where the role of the men in khaki is in line with the Quaid's wishes expressed in Quetta all those years ago would be closest to Jinnah's vision, Gen Kayani would agree. The definitive piece of writing on Iqbal's vision appeared in Thursday's Dawn penned by I.A. Rehman.
If the general has to be proactive, then wise counsel would have it that he move to ensure that there is a level playing field for all those participating in the May 11 elections regardless of whether they are closer ideologically to one state institution or another.
The inability of the multi-billion rupee intelligence juggernaut at his disposal as also the men under arms at his command to afford protection to several major political parties in the country is nothing that a professional soldier would be proud of.
The army's foreign detractors, particularly those in the West and in unfriendly or hostile countries such as India and Afghanistan, have long accused it of having an institutional bias in favour of militant Islam and against forces representing liberal thought in the country.
Instead of moving to dispel such impressions and clearly demonstrating his commitment to a tolerant, pluralistic, Pakistan, the general chooses to make a vague statement on "Islam being taken out of Pakistan".
Large chunks of the populace in Gen Kayani's, Nawaz Sharif's and Imran Khan's ideal Saudi Arabia and even in Iran agree on what Islam is and, therefore, while the two may be in a clash regionally, there is domestic peace as there is consensus within each on what constitutes Islam.
Pakistan is so, so different. Test my hypothesis. Just stop four, five people at random on a busy street and ask them what their belief is. I am not prescribing something I haven't tried. I learnt religion is best left to the individual. Call me godless if you will but please ponder if there is truth in what I say.
The writer is a former editor of Dawn.
abbas.nasir@hotmail.com
Source: http://dawn.com/2013/04/27/godless-or-plain-sensible/
Wajahat Masood's column (in Urdu)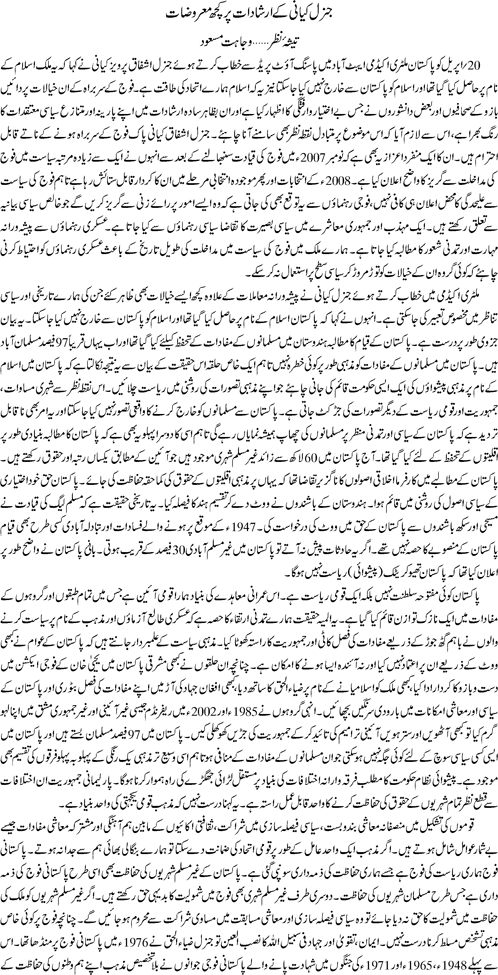 http://jang.com.pk/jang/apr2013-daily/25-04-2013/col5.htm
General Kayani's statement:
Islam can't be separated from Pakistan: Kayani
KAKUL: The Chief of the Army Staff (COAS), General Ashfaq Parvez Kayani, on Saturday reminded that Pakistan was created in the name of Islam and Islam could never be taken out of Pakistan and Islam should always remain a unifying force. He made these remarks while addressing the Graduating Cadets of the 127th PMA Long Course, Integrated Course 46 and Mujahid Course-1 here at the Pakistan Military Academy (PMA).
He said, "Pakistan is fully capable of responding effectively to any threat and despite the current focus on internal security, the armed forces remain fully prepared to defeat an external direct threat."
"Pakistan is a peace-loving country. Our quest for peace is essentially based on a genuine desire to improve our lot and that of our future generations. Let no one see it as a weakness," General Kayani said.
The COAS said, "We have exercised restraint in the face of some very belligerent statements in recent months. Let it suffice to say that Pakistan is fully capable of responding effectively to any threat. Despite our current focus on internal security, we remain fully prepared to defeat an external direct threat."
He said let there be no doubt that with a strong Pak Army and the nation standing with it united, no harm could ever come to Pakistan.
Gen Kayani said that in its short history, the country had overcome many a challenge that would have overwhelmed lesser nations. He expressed confidence that the nation could do it again.
The COAS said: "We are going through difficult times, but so has every other successful nation at some time in their history. The Pak Army is fully committed to the cause and as always standing with the nation."
He assured that the nation will succeed if it remains committed to the basis for the creation of Pakistan and remains steadfast as a nation.
He said that regardless of odds, the Pakistan Army will keep on doing its best towards its common dream for a truly Islamic Republic of Pakistan envisioned by the Quaid-i-Azam and Allama Iqbal. He said he felt honoured and privileged to review the passing-out parade.
"This day marks the culmination of your basic military training at an institution which stands out with distinction amongst the leading military academies of the world." He felicitated the cadets for becoming part of the great institution that is Pakistan Army.
Gen Kayani also congratulated the graduating cadets of brotherly Islamic countries; Palestine, Sudan and Turkmenistan. The COAS also extended his special commendations to the champion company and those who had won awards of excellence.
He said that it was their first and foremost responsibility to maintain these standards.
"I have full trust that you will never hesitate to always place your country, Pak Army and your men before your own selves," Gen Kayani said.
He asked the cadets that they had become part of an institution where nothing else but their own merit would be the sole consideration for career progression.
"Be ambitious. There is nothing wrong with it, but the only way to achieve your ambitions is through hard work. There is no shortcut to it. Do have a dream and always aim high."
He urged them to take pride in excellence in whatever they do, as this is the best source of personal satisfaction.
The COAS awarded sword of honour for the overall best cadet of the 127 Long Course to Battalion Senior Under Officer Syed Awais Iftikhar, President's Gold Medal for the overall second best cadet to Battalion Senior Under Officer, Hassan Javed, Chief of Army Staff Overseas Gold Medal for the best Allied Cadet to Allied Under Officer Muhsin Basheer Mohamed Saeed Elzaki, Chief of Army Staff Cane for the best Gentleman Cadet of Integrated Course-46 to Course Under Officer, Muhammad Asad Ali and Commandant's Cane for the best cadet of Mujahid Course-I, Course Under Officer Muhammad Adnan.
Earlier, Major General Sadiq Ali, Commandant Pakistan Military Academy, welcomed the Chief of the Army Staff when he arrived in the Parade Ground.
The diplomats, senior military officers, parents and relatives of the passing-out cadets witnessed the parade.
http://images.thenews.com.pk/21-04-2013/ethenews/t-22367.htm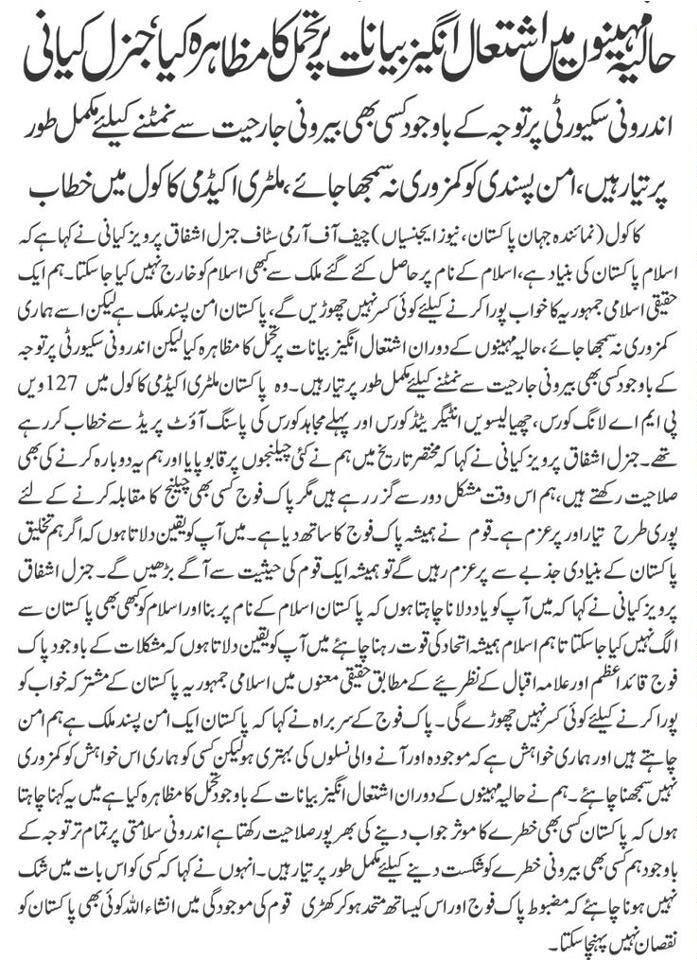 Comments
comments