Boston marathon bombings remind us of previous massacres of sportsmen by Deobandi-Wahhabi militants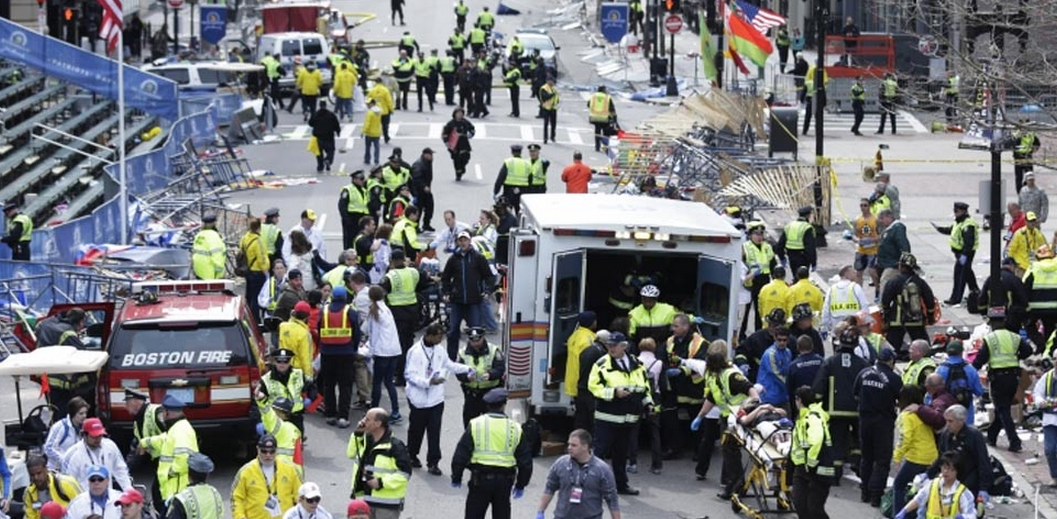 2013, April 15, Boston, USA: Massacre of American sportsmen
Two large explosions at the final stretch of the Boston Marathon killed at least three people and injured more than 100, sending a pall of smoke over the area and staining the sidewalks with blood.
The blasts took place in a crowd of spectators, just feet away from the finish line where hundreds of runners were completing the world's oldest annual marathon. Photographs showed the area along Boylston Street covered in injured people, with security guards and emergency workers scrambling to give first aid.
Witnesses said they had seen victims who had lost limbs. "There were a lot of people down," said Frank Deruyter, who was running the marathon.
An eight-year-old boy was among the dead. At the city's Children's Hospital a nine-year-old girl, a seven-year-old boy, a 12-year-old and another child aged two were among the injured, according to the Globe.
After nearly a dozen years of foiled plots, the United States suffered the first large-scale bombing since the attacks of Sept. 11, 2001, opened an era of heightened security affecting nearly every aspect of American life. In remarks Monday evening, President Obama did not label the bombings as terrorism. But a White House official, who spoke on the condition of anonymity, said the incident was an "act of terror," the same term that the president used in the aftermath of the attack on the U.S. diplomatic post in Benghazi, Libya, in September.
The last mass terrorist killing on U.S. soil was carried out by Maj. Nidal M. Hassan, an Army psychiatrist, who fatally shot 13 people and wounded 30 more at Fort Hood, Tex., in November 2009. Hassan, appeared to be influenced by violent Wahhabi-Deobandi ideology, had connections to al-Qaeda in Saudi Arabia and the American-born Islamic cleric Anwar al-Awlaki, who was later killed by a U.S. drone strike in Yemen.
http://www.guardian.co.uk/world/2013/apr/15/boston-marathon-explosion-finish-line
http://www.washingtonpost.com/national/in-boston-attack-a-reminder-of-the-difficulty-in-foiling-terrorist-plots/2013/04/15/a1d80d14-a616-11e2-a8e2-5b98cb59187f_story.html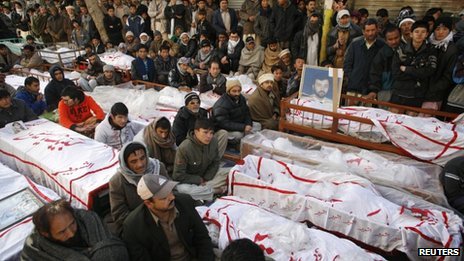 2013, January 10, Quetta, Pakistan: Massacre of Shia sportsmen
A vicious double bombing of a snooker club in Quetta left more than 100 people dead and hundreds injured in three different attacks. Almost all of the victims belonged to Shias of various ethnic groups comprising Hazara Shias and non-Hazara Shias. The bombing was claimed by Deobandi militants of Sipah Sahaba Taliban (currently operating as Ahle Sunnat Wal Jamaat ASWJ and Lashkar-e-Jhangvi LeJ). The ASWJ-LeJ Deobandi militants have killed thousands of Shias, Sunnis, Ahmadis, Christians and other communities in Pakistan in the last few years.
Human Rights Watch said the government's failure to protect Shias "amounts to complicity in the barbaric slaughter of Pakistani citizens".
"[Last year] was the bloodiest year for Pakistan's Shia community in living memory and if this latest attack is any indication, 2013 has started on an even more dismal note," said Ali Dayan Hasan of Human Rights Watch.
"As Shia community members continue to be slaughtered in cold blood, the callousness and indifference of authorities offers a damning indictment of the state, its military and security agencies."
The organisation said the police had "turned a blind eye" to the activities of nominally banned sectarian terror groups, such as (Deobandi militants of) Lashkar-e-Jhangvi (currently operating as ASWJ).
http://www.guardian.co.uk/world/2013/jan/10/pakistan-bombings-kill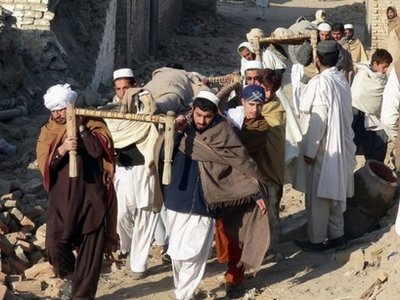 2009, December 31, Shah Hasan Khel village, northwestern Pakistan: Massacre of Pashtun sportsmen
At least 88 people were killed when a Deobandi suicide bomber (of Sipah Sahaba Taliban) drove a truck loaded with explosives on to a village green during a volleyball match in northwestern Pakistan. Hundreds of people were watching the match in the remote village of Shah Hason Khel when the bomber struck. The attack is thought to be in retaliation for the village's stand against the Taliban.
The bodies of the players were thrown hundreds of feet by the powerful blast, that also destroyed 20 houses. "It's just a disaster. I can see flesh, bodies and wounded all around," Fazl-e-Akbar, a witness, said. "It's dark. Vehicles' headlights are being used to search for victims."
Anwer Khan, 18, a student, had just left his house when he saw a black pick-up truck speeding towards the spectators. "A giant flame leapt towards the sky. There was bright light everywhere, just like a flash, and then a very huge blast shook everything. Two pellets hit my forehead and blood started flowing," Mr Khan said.
Ramzan Bittani, 33, a driver, said that he had left the match to answer a phone call when he saw a huge blue flame and heard a loud blast. "I saw bodies and smoke all around. My hand was fractured," he said.
Several people were killed in a nearby mosque where a group of tribal elders were holding a meeting. Many wounded women and children were pulled from the rubble of nearby houses.
Local officials said that the village was struggling to cope with the scale of the attack. More than 100 people were wounded, many of them critically. Khalid Israr, a senior regional official, said that a rescue operation had started for villagers trapped under rubble. "It is a small village with very few rescue facilities. Rescue equipment is being sent there from other places. The military has sent personnel to help with the operation," he said.
Many spectators had come from surrounding villages. Most of the victims were children as young as 12.
The village is close to the South Waziristan tribal region, where government forces have been battling insurgents. The villagers had recently formed a militia to drive the Taleiban from the area. "We have been receiving threats from the militants," Mushtaq Marwat, a member of the pro-government militia, said.
Ayub Khan, the local police chief, said that two vehicles were involved in the attack. "One was blown up here while the second fled to an unknown location. We believe it may have been used to attack some other place," he said. "The locality has been a hub of militants. Locals set up a militia and expelled the militants from this area. This attack seems to be reaction to their expulsion."
Mr Khan said that the bomber drove a vehicle loaded with 550lb (250 kg) of high-intensity explosives on to the field. "We fear that some ten or so people might have been trapped in the rubble," he added.
https://lubpak.com/archives/4142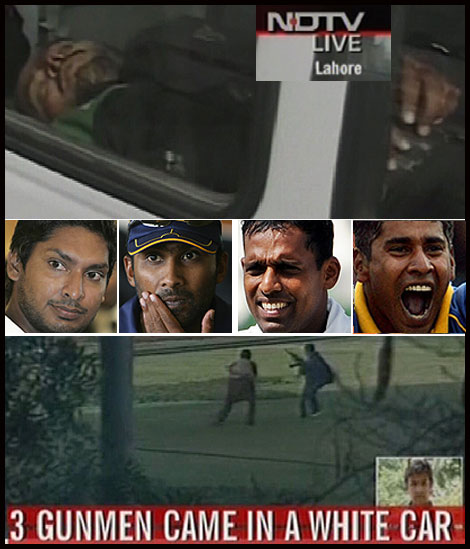 2009, March 3, Lahore, Pakistan: Attack on Sri Lankan Cricket Team
The Sri Lankan cricket team attack occurred on 3 March 2009, when a bus carrying Sri Lankan cricketers, part of a larger convoy, was fired upon by 12 gunmen, near the Gaddafi Stadium in Lahore. The cricketers were on their way to play the third day of the second Test against the Pakistani cricket team. Six members of the Sri Lanka national cricket team were injured. Six Pakistani policemen and two civilians were killed. These were the first attacks on a national sports team since the Munich massacre of Israeli athletes by Palestinian militants in 1972. The attack was believed to have been carried out by Deobandi militants of Lashkar-e-Jhangvi (previously known as Sipah Sahaba Pakistan, currently operating as Ahle Sunnat Wal Jamaat ASWJ), the outlawed Deobandi militant groups with close links to Al-Qaeda and Taliban. Authorities believe Mohammed Aqeel Deobandi, a member of Sipah Sahaba Taliban aka Ahle Sunnat Wal Jamaat (ASWJ, also known as Lashkar-e-Jhangvi LeJ), was the mastermind behind the March 2009 attack on the Sri Lanka national cricket team.
2008, November 11: Peshawar, Pakistan: Massacre of Pashtun sportsmen
Suicide attack at the main gate of Qayum Stadium after the closing ceremony of inter-provincial games kills three in Peshawar. Taliban accept responsibility.
A suicide bomber blew himself up at Peshawar's packed Qayyum sports stadium on Tuesday, killing two people and wounding five others, police said.
The bombing took place at the closing ceremony of a sports event attended by senior government officials including the provincial governor, police said.
'We have received two dead bodies and five injured people,' police official, Khan Abbas, told AFP at Peshawar's main Lady Readings Hospital.
The attack took place after a ceremony marking the end of the week-long national games, local administration chief Sahabzada Anis told reporters .
Up to 30,000 people including hundreds of sportsmen from across the country had taken part in the games, he said.
https://lubpak.com/archives/81119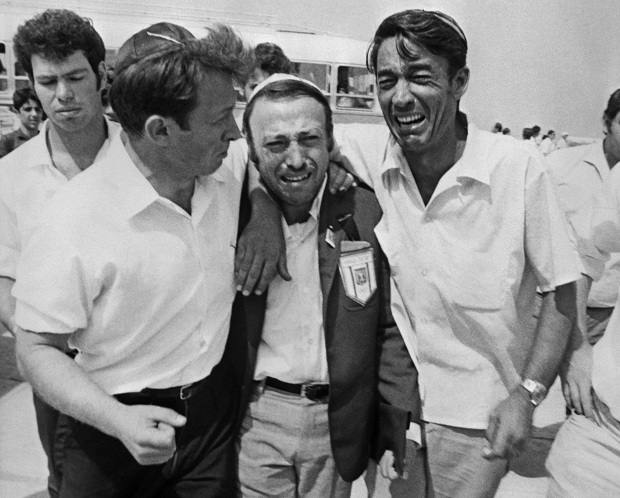 1972, September 4, Munich, Germany: Massacre of Israeli sportsmen
The Munich massacre was an attack during the 1972 Summer Olympics in Munich, Bavaria, West Germany on 11 members of the Israeli Olympic team, who were taken hostage and eventually killed, along with a German police officer, by the Palestinian group Black September. The Black September group led the way for subsequent terrorist attacks on innocent Israeli and Palestinian civilians by Saudi-funded Wahhabi-Salafist militants of Hamas. Not unlike Deobandi militants of the Lashkar-e-Jhangvi (ASWJ) in Pakistan, the Black September group's members operated in air-tight cells of four or more persons. Each cell's members were kept purposely ignorant of other cells. The group's most infamous operation was the killing of 11 Israeli athletes, nine of whom were first taken hostage, and the killing of a German police officer, during the 1972 Summer Olympics in Munich.
Comments
comments