CT Chief Minister Najam Sethi and the question of conflict of interest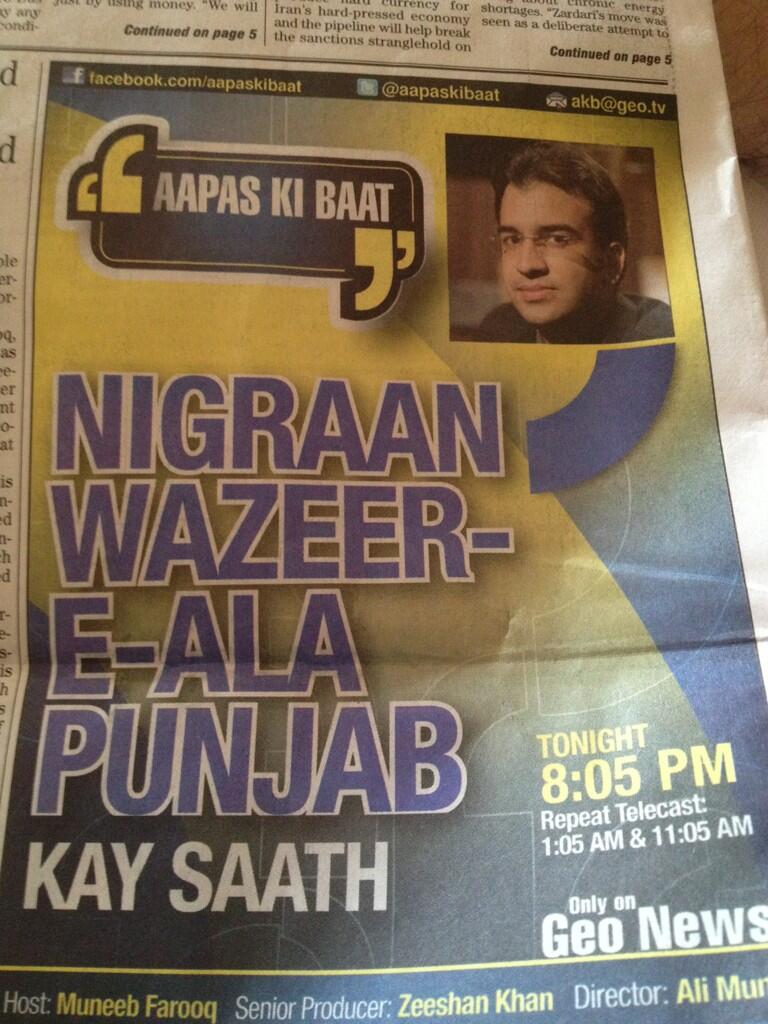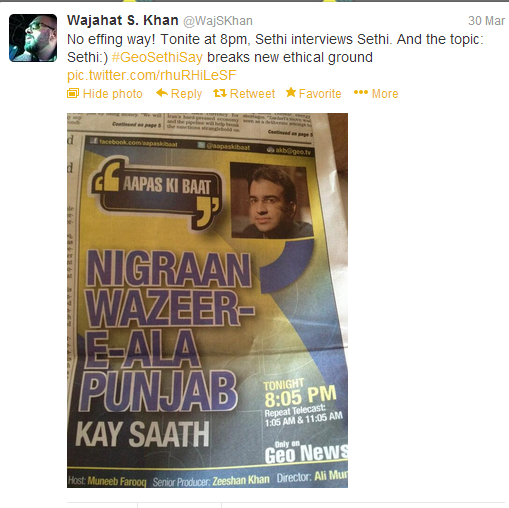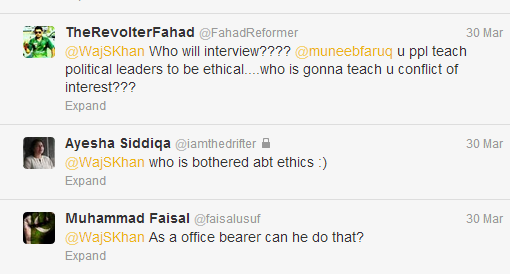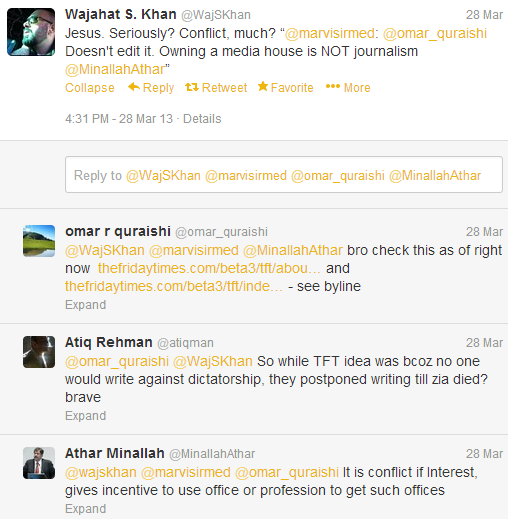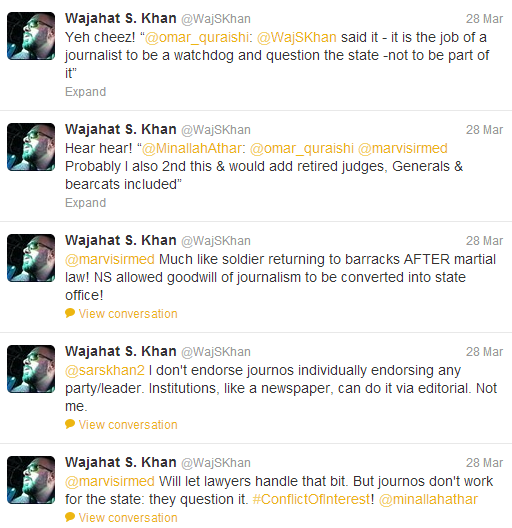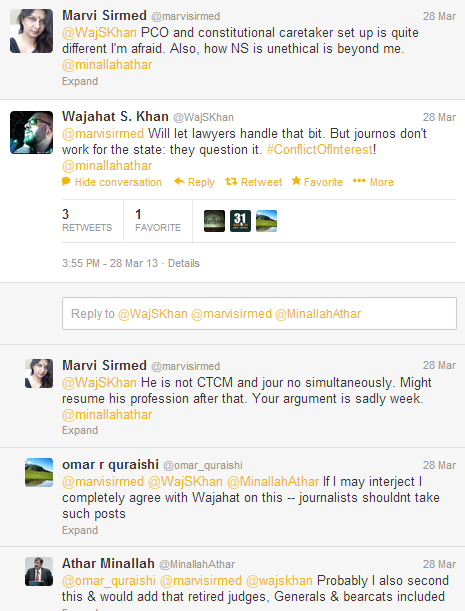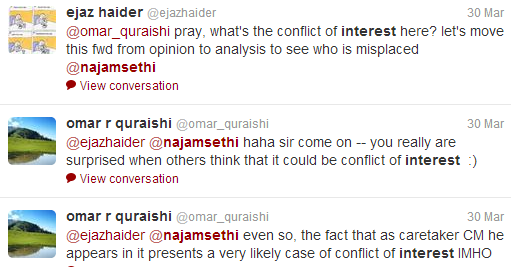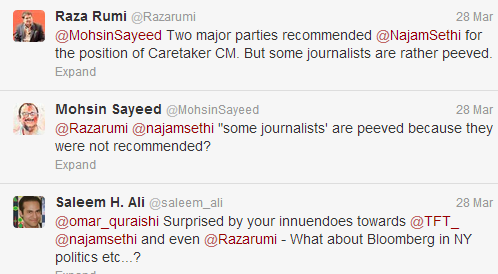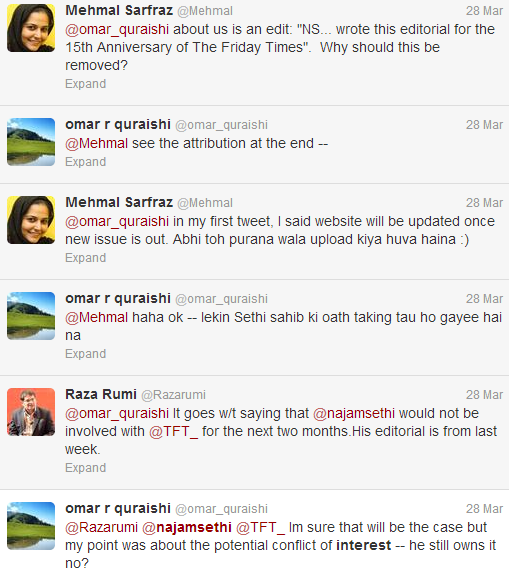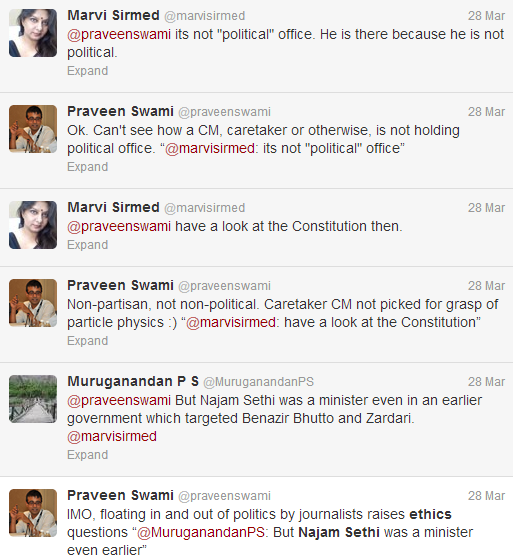 Najam Sethi fan club:
Raza Rumi, Ejaz Haider, Nadeem Paracha, Marvi Sirmed, Mehmal Sarfraz, Saleem Ali etc
Independent critics:
Nazir Naji, Farrukh Sohail Goindi, Rashid Rahman, Mazhar Abbas, Dr Ayesha Siddiqa, Abdullah Tariq Sohail, Adnan Farooq, Nusrat Javeed, Omar Quraishi, Wajahat S. Khan, Praveen Swami etc
@WajSKhan
Hey guys. My name is @najamsethi & I a your new Chief Minister Punjab! Watch me interview myself on my own show on Geo TV (and defy all conflict of interest clauses).
Caretaker CM Punjab Najam Sethi sets a very bad example in Pakistani media by exploiting his profession and position for image building through appearing in his own show Apas Ki Baat.
Najam Sethi on Geo right now, playing on his own pitch, his own umpire against his own bowler – would have been better if he interviewed himself
Sethi said that he will have 10 chiryas after he leaves the govt….isn't that conflict of interest?
Is it just me or Sethi's interview is boring and about self-defence?
Again how did you get elected as the CM? What is the five criteria you claimed was used to select you? Masses don't know you, those who do are as confused as me?
No one invited Najam Sethi for interview barring a ghost column written by Sethi in Mehmal Sarfraz's name. Frustrated, Sethi himself interviewed with Muneeb in his own talk-show (Aapas ki Baat) on Geo TV.
Accepting a position of political power by a journalist is a direct clash of interest: Mazhar Abbas's column on Najam Sethi https://lubpak.com/archives/255587
Najam Sethi met Nawaz Sharif thrice, requested for party ticket, and was latter made Caretaker Chief Minister:
Aapas Ki Baat – 30 March 2013 – First Interview of Punjab Care taker CM Najam Sethi
http://youtu.be/AlMnX897hVE
http://tune.pk/video/56650/ApasKiBaat30March2013
http://www.siasat.pk/forum/showthread.php?172113-Aapas-Ki-Baat-30th-March-2013-First-Interview-of-Punjab-Care-taker-CM-Najam-Sethi
12:00 Today Najam Sethi has admitted that he was following Army Chief General Jahangir Karamat's instructions as Interim Accountability Minister in 1996.
It took no less than 17 years for Sethi to admit that he was acting as Army's agent in the 1996 caretaker set-up after the conspirational dismissal of elected government of Shaheed Benazir Bhutto.
15:00 Viewing Sethi's show today, it is clear that his vision of accountability starts and ends at politicians. No mention of wrong doings by army generals.
Najam Sethi promises to help the victims of LeJ terrorists, but he must also make sure to take serious steps against Sipah-e-Sahaba aka LeJ, and do not let them contest elections. Interestingly, he didn't mention this important aspect in his agenda.
Final minutes: Najam Sethi's boast about how he will make more chiriyas (informers, birdies) to get "information" out during Caretaker CM-ship had conflict of interest written over it.
Comments
comments