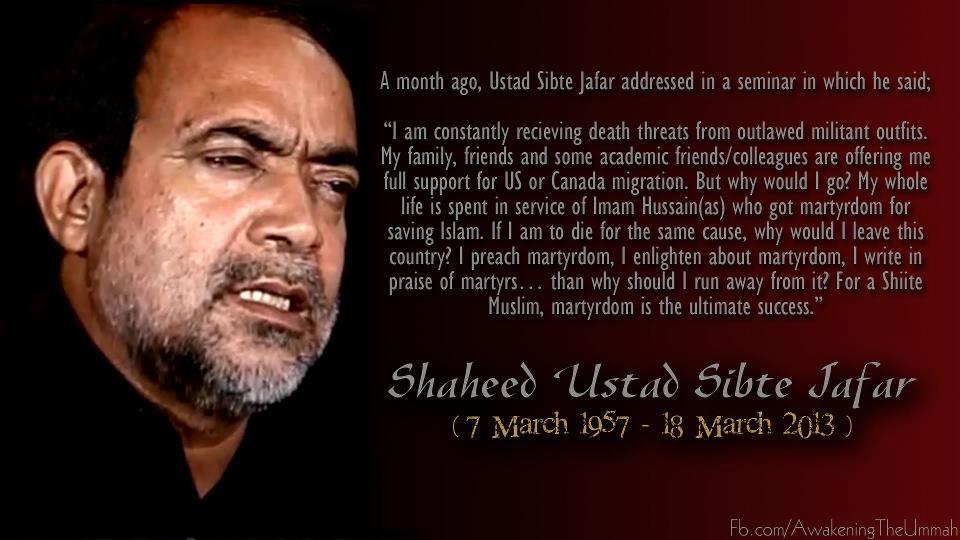 Sources: The News, March 19, 2013, Express Tribune, March 19, 2013
Karachi – 18 March 2013
Prominent educationist and the principal of Government Degree College, Qasimabad, Prof Sibte Jafar, was shot dead by Deobandi militants of the Sipah Sahaba Taliban (ASWJ-LeJ) in a targeted attack in Liaquatabad on Monday.
Jafar, 50, had left the college on his motorcycle in the afternoon when two Deobandi assailants on a motorcycle fired a volley of bullets at him near Arshee Chowk. The injured was taken to Abbasi Shaheed Hospital (ASH), where he succumbed to his injuries, police said. The victim suffered four 9mm bullets in the upper torso. The spent bullet casings have been sent for forensic tests.
The victim lived in Khamosh Colony, Gulbahar, and was also a renowned noha khwan of the Shia community, said Liaquatabad SDPO Wajahat Hussain.
The professor's murder sparked a wave of protests first from the college students, who arrived at the hospital demanding the arrest of the killers, and then the leadership of Majlis-e-Wahdat-e-Muslimeen (MWM), which announced three-day mourning. Many of the students present at the ASH said the professor was a respectable man, who was always ready to help the needy students.
Eyewitnesses told the police that the two attackers were clad in shalwar-kameez and had small beards, SDPO Hussain said, terming the murder of Jafar a part of the ongoing spree of targeted killings.
Only a few days ago, Jafar was posted as the principal at Sirajudaulah College in FC Area, but the notification was later cancelled. The professor had been serving at the Qasimabad degree college for 27 years.
Jafar is survived by his wife, a son and two daughters. His funeral will be held at the Amroha Ground in Ancholi after Zuhrain prayers. The murder case was registered at the Liaquatabad police station on the complaint of his son.
Liaquatabad SHO Ejaz Qaimkhani was suspended by DIG West Zafar Abbas Bukhari over the murder. Inspector Shaukat Ali was posted in his place.
Colleges closed
"All his life, Jafar kept an old motorcycle but you needed to call him only once for help in any personal or academic matter and he would arrive at the appointed place," recalled Prof Mirza Athar Hussain, a former president of the Sindh Professors and Lecturers Association (SPLA).
"He was a devoted marsiya khwan and trained hundreds of students in the art," he said, adding that the slain professor even established an institute to teach the art of writing and reciting marsiya [elegy]. About 5,000 students are enrolled at the institute.
Jafar's students too remember him for his simplicity and love for Urdu poetry, especially in the elegy genre. He was well-versed in Urdu, Arabic and Persian. Jafar also authored several books and wrote thousands of marsiyas and nohas.
To protest the murder, professors and lecturers have announced boycotting academic activities on Tuesday across the province, said SPLA President Prof Iftikhar Azmi. All colleges will be closed on Tuesday (today).
Three-day mourning
Criticising the government, judiciary and law enforcers on their failure to protect Shia citizens, the MWM announced three days of mourning over the untimely deaths of Jafar and senior lawyer Zaheer Abbas Naqvi.
MWM Secretary General Allama Raja Nasir Abbas Jafri said the people of Pakistan had lost a great teacher, poet and humanitarian in Jafar. "His brutal murder is tantamount to the murder of Urdu literature and marsiya."
The Shia Ulema Council also condemned the murder of the professor.
Video: A tribute to Professor Sibte Jafar
http://youtu.be/4fBaWEnaD84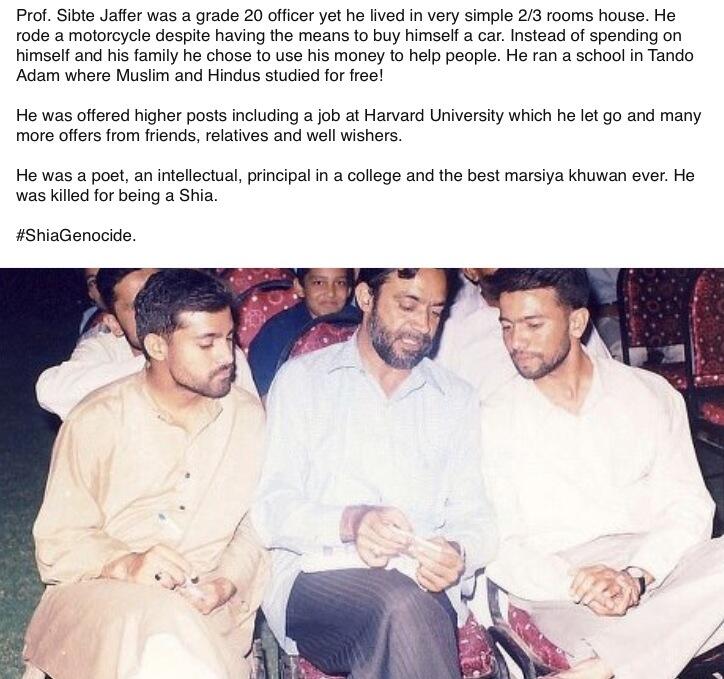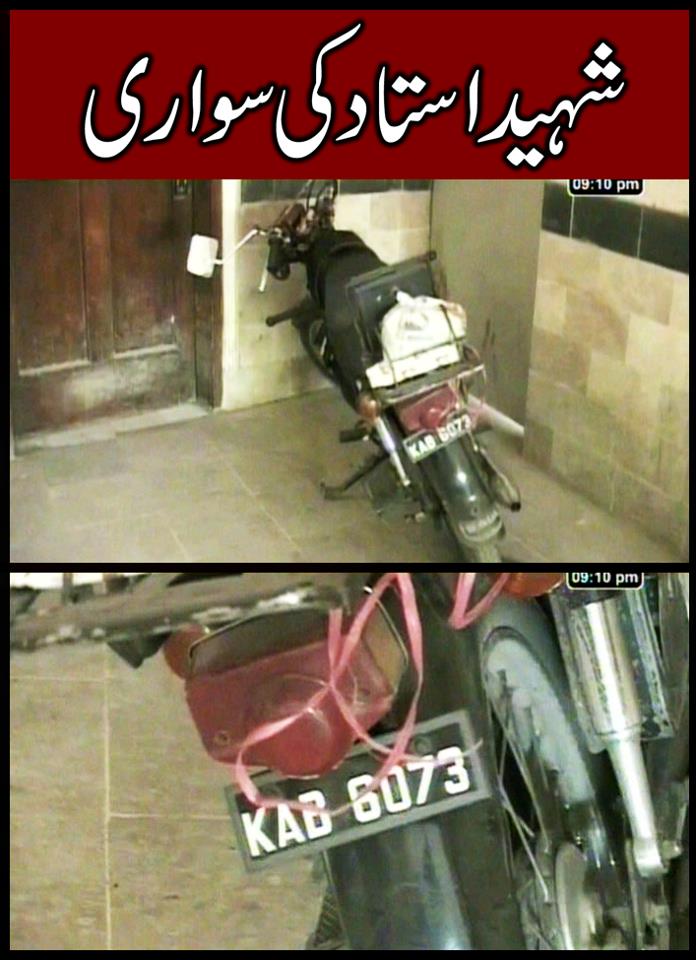 Karachi – 18 March 2013
Policeman ASI Zakir Hussain shot dead
ASI Zakir Hussain, 35, was gunned down in Pak Jamoria Colony near PNS Society, Frere police said. ASI Hussain was attending a training course at the Saeedabad Police Training Centre, Frere SDPO Abdul Aleem Bhullo said.
Deobanid militants on a motorcycle fired a volley of bullets at the policeman as he was on his way to his duty. He was taken to the Jinnah Postgraduate Medical Centre (JPMC) where he died. He had suffered 14 bullet wounds.
Peshawar – 18 March 2013
A Shia lawyer was gunned down by unidentified men in Pahripura on Monday morning. The police said Advocate Syed Zaheer Abbas, a resident of Wadpaga, was on a motorcycle with his assistant Syed Ghulam Nabi Shah when two armed motorcyclists opened fire on them. The attackers escaped after the assault. "They sprayed bullets at the two men, killing Zaheer Abbas, and leaving his assistant seriously injured," said a police official. Syed Ghulam Nabi Shah was shifted to the Lady Reading Hospital (LRH) where his condition was said to be critical, he added.
"Both the advocate and his assistant belong to Shia families, which is why they have been attacked," claimed the police official, adding that an FIR has been registered.
Since the start of 2013, a number of Shia doctors, students and traders have been killed in the city. Such target killings continue unabated despite repeated protests by the beleaguered community.
On January 19, Judge Ihtisham Ali was left seriously injured when motorcyclists attacked his car in Hayatabad. Dr Riaz Hussain, Dr Shahnawaz Akhunzada and trader Nawazish Ali were not fortunate enough to escape the respective attacks alive.
On March 3, Akbar Ali was gunned down in his shop in Kochi Bazaar while his friend, Muktar Hussain, was also injured. Ali died en route to the LRH. Hours later, the Imamia Coordination Council called a protest in which at least 200 people marched from Imambargah Adil Baig Kucha Risaldar towards Qissa Khwaani Bazaar. Aggrieved participants held a sit-in and placed the deceased's body on the main thoroughfare.
A resident of Peshawar namely Aamir Saeed Deobandi has been identified as a co-moderator of anti-Shia Deobandi hate site Ulma-e-Deoband.
D.I.Khan – 18 March 2013
A former police and FIA official, Malik Riaz, was gunned down in what appeared to be another sectarian attack in Paharpur area of Dera Ismail Khan. An official of Paharpur police station said the incident took place on Monday afternoon when two unidentified armed men riding a motorcycle opened fire at the former FIA assistant director in Paharpur city. He said Riaz was standing outside his house when the assailants opened fire. The official said he was a retired FIA official, but further details could not be confirmed about the motive behind his murder because no FIR had been registered till the filing of this report. "The incident seems to be a sectarian attack," he added.