Sharifs want to ride two boats while Ludhianvi fears sinking ship — by Xain Gardezi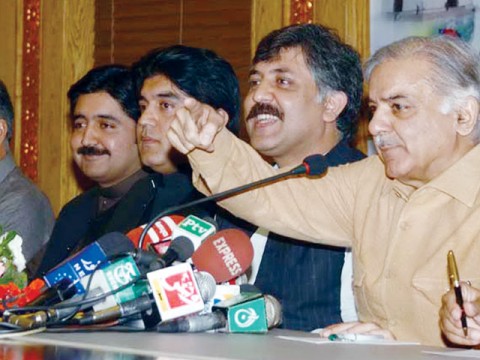 Politics is a strange phenomenon to say the least. Arch rivals may suddenly find blood brothers among themselves and old friends can be used a scapegoat fairly easily to let rot. It is of course no surprise than that Anjuman Sipah e Sahaba (ASS), which once announced bounty for heads of Sharif brothers became one of their most potent political ally after just one meeting of Basra and Shahbaz Sharif in the late 90s and it seemed no iceberg mounted with dead bodies of innocents will be big enough to shake their honey moon cruise. Up until now anyway.
Apparently cornered by all the criticism regarding their support to terrorists, PMLN goes on and bids for one of the strongest anti extremist voices in parliament. Sheikh Waqas is not only a political rival of Ahmad Ludhianvi but his family itself has been personally affected by their terrorism. It can therefore be reasonably assumed that he would jump the bridge only after some hard assurances. As per Najam Sethi he has been assured to given free hand to handle LeJ when time comes. Whether this is just a hollow promise will only be judged when time comes.
As for the moment however there is a definite concern from ASS leadership.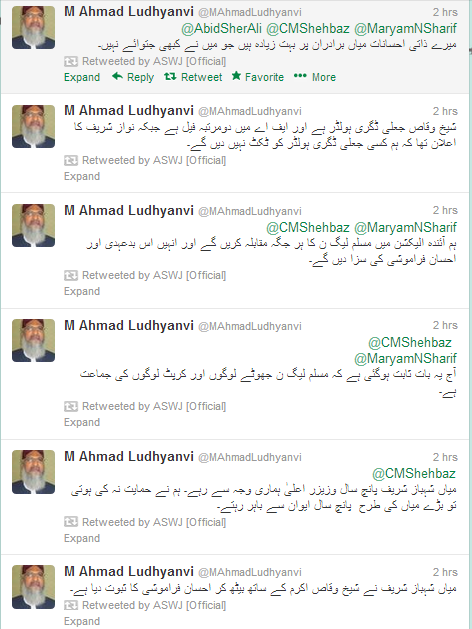 ASS leadership and its facebook pages seem to be acting like a fish without water.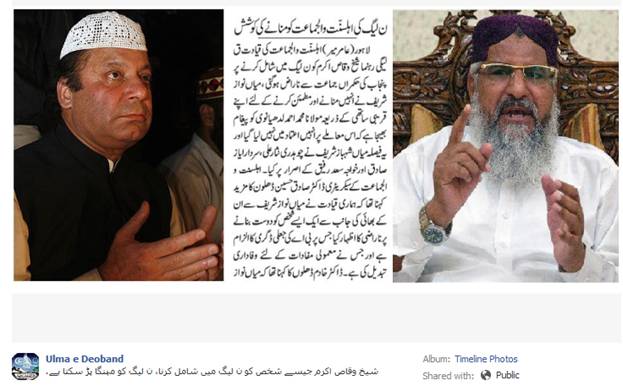 https://www.facebook.com/photo.php?fbid=640684402615235&set=a.144973082186372.28395.144428562240824&type=1&relevant_count=1
One of the examples of type of Deobandis on this page can be seen in this comment:

Not only does above comment show how these madrassa Abu Jahls feel about brelvis and shias but how these are the reason why Taliban have infiltrated our mainstream society. And his threat regarding Saad Rafique is not a meaningless troll. Currently one of strongest madrassa of ASS in Lahore (and not far from Manawan attack site) lies within Rafique's constituency.
That is why as indicated by news in the clipping PMLN still does not wish to disown ASS. Perhaps Sharifs think as Islam allows polygamy they should be allowed to ride in both ships of SSP and Waqas. The seriousness of PML commitment to LeJ operation is that CTD dept Punjabs report during the time where they started face saving cosmetic operation after Quetta attack linked with Punjab, indicate ASS members operate freely in Punjab (http://www.thenews.com.pk/Todays-News-2-165632-Police-belie-PML-N-claims-saying-Lashkar-and-Sipah-operate-freely-in-Punjab)
So it is indeed interesting to know what assurances have been given to Waqas? Is it only to do operation against Ludhianvis rival group within ASS lead by Ishaq? That way PMLN may tend to appease both Waqas and believe it or not Ludhianvi as well who is currently having fear of similar attack on him as done on Farooqi by Ishaqs group. More on ASS inner divisions can be read here: https://lubpak.com/archives/250429/
Meanwhile pro Sharif touts in media are busy publishing soft ball interviews of Ludhianvi in a supposedly liberal newspaper. Where he can say pleasant stuff like shia kafir is a slogan like Roti,kapra or  makaan.
It is yet to be seen whether Ludhianvi and Waqas go head to head in elections or not. If there is no real understanding between three parties, than Ludhianvi has more to fear as Waqas's inclusion alongwith possible  inclusion of Faisal Saleh Hayat  will be seen as failure of Ludhianvi leadership within ASS and his policies. In that case his fear of life is highly genuine and he must be watching his back. We wish we could say we sympathize with his situation but in actual WE DON'T.
Comments
comments
Tags: Commercial Liberals & Fake Liberals, Friends of Taliban, General Zia-ul-Haq, Jihadi and Jihadi Camps, Military Establishment, Nawaz Sharif, PMLN, PMLN's support to ASWJ LeJ Taliban AlQaeda LeT, Religious extremism & fundamentalism & radicalism, Shahbaz Sharif, Sipah-e-Sahaba Pakistan (SSP) & Lashkar-e-Jhangvi (LeJ) & Ahle Sunnat Wal Jamaat (ASWJ), Takfiri Deobandis & Wahhabi Salafis & Khawarij, Taliban & TTP, Terrorism