Ludhianvi's interview: an item number in Najam Sethi and Raza Rumi'sTFT blog? – by Ejaz Baloch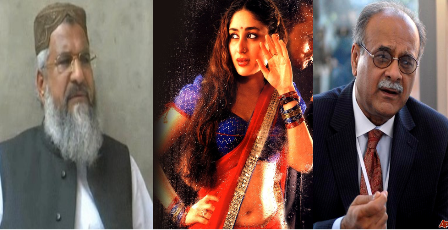 Much has been said about an interview of the leader of Ahle Sunnat Wal Jamat (ASWJ) Maulana Ahmed Ludhianvi. Why advisor to a right-wing media group like Jang/Geo has placed that interview in a  a Right Wing Liberal weekly Friday Times? Has the assistance to the media group has a reversed influence and backward projection? Was this a decision by the magazine editorial team or it has been planted there? If it is a planted interview, who is behind planting this? Why he is very shamelessly defending the decision to place that interview? Did they violate an informal and undeclared "Liberal Code" ?
Let me ponder some thoughts on how these right wing liberal publications work
No Commercial Reasons
Is it for pure commercial reasons to put that interview there? If its for that reason, I don't believe this, running English Dailies or magazines are not commercially viable. As English magazines are run for promoting a "Feel Good" approach about the country or it works as a response to various donors groups who are fooled by the so-called liberals for minting money from their kitties, as the donor groups think, by spending this money, they are harvesting Liberalism in Pakistan. I wonder, if they assess the outreach of these so-called Liberal magazines and their influence in the public, they will never give money to them.
Launching pads for Individuals
Another aspect of these so-called liberal publications is, they work as launching pads for individuals to be promoted as independant analysts, journalists or intellectuals. A slight look at the editorial team (present and former) and people who contribute in writing can show, how people have been placed strategically and tactically in various organisations, national and intenational think tanks through these liberal publications. Who is who at the editorial team of TFT, readers of the esteemed blog know very well.
Promotion of national Interest
What do we mean by national interests is well known at the land of the pure. National Interest in Pakistan signifies the political, strategic, corporate interests of the security establishment i.e military-bureaucratic oligarchy, their allies in political and corporate classes, the media groups and some of the individuals. A very anti-politicians narrative, promoting Pakistan Army wishlist in the region are a few precedences of a familiar line of these liberal publications and their writers like Najam Sethi, Cyril Almeida, Ejaz haider, Imtiaz Gul and a dozen more Ex-militarymen or Ex-diplomats.
These English publications speak to the world on behalf of thes powerful quarters. A mild tone while criticing Military is necessary for their independant image. Sometimes these powerful quarters are not even tolerant to this mild criticism. But their displeasure too help these individuals.
Heera Mandi and Sex-worker worth frequent posts?
Apart from the political posts, other subjects of interests are the red light areas at Lahore and other cities. These posts add Masala to the "List of Contents". For a few years, these right wing liberals have found interest in Sadat Hasan Manto and Faiz Ahmed Faiz. They love to quote Faiz poetry for showing restrain and steadiness when trolled and lynched on social networks by the ultraconservative youth from PTI and Jamat Islami. Saadat Hasan Manto had great humanistic insights in his literary works on the lives of common man, the wretched ones. Decontextualising great literary writings of Manto and a disregard for the wretched ones around is a habit there.
Giving insights from the inhibitants of red light zone, highlighting their miseries and bitter facts behind this life must be appreciated, but you need to have insights in the lives of those workers living under "Contract system" at industrail sector, those women whose loved ones are missing by the hands of security agencies, victims of terrorism will be more revolutionary work than what they are doing today. But caution is required, as travelling on the backseats of your car or a rickshaw to bring forth the miseries of a sex worker is what no risk is involved while working the other way can displease people.
Quizzical expressions at the Urdu press
Poking fun at Urdu press is what they love to write regularly on that. What Urdu media did with Agha Waqar was not by anyway different than what has been written in defence of Agha Waqar in the Express Tribune by a former editor of The Friday Times. But how can they mock at what they say to the fellow Policemen, "Petti bhais". It is better to poke fun at Javed Chauhdry, Orya Maqbool jan and Abdul Qadir Hasan. Wonder why Nadeem F Paracha didn't find a single weirdo or nutcase in the English Press to mock at, in his widely read blogs.
Coming back to the point
So those who have any high expectations of these liberal papers should stop whining. The interview is neither in Urdu nor it has been conducted by someone we dislike i.e Meher Bukhari. You must appreciate an English writing guy, who became "Khatron Ka Khiladi" and posed some questions (thought soft Volleys or Full tossed) at a dangerous man. Also you should praise Najam Sethi for hitting hard at PMLN in an editorial. It is another issue that PMLN has ducked it by dumping Ludhianvi and embraced Malik Ishaq. Also having an interview of Ludhianvi is not against National Iterest as he is part of an alliance formed to Defend Pakistan and help Pakistan negotiate and demand better rates for NATO supplies routes.
And most importantly, the likes of Ludhianvis have spiced up the anti-politicians debate as well as he has acted like "Chameli" of the political theatre, proving links to him can create problem for any political actor.
So share the pains and insights from the life of a political "Chameli" on the pages of Friday Times.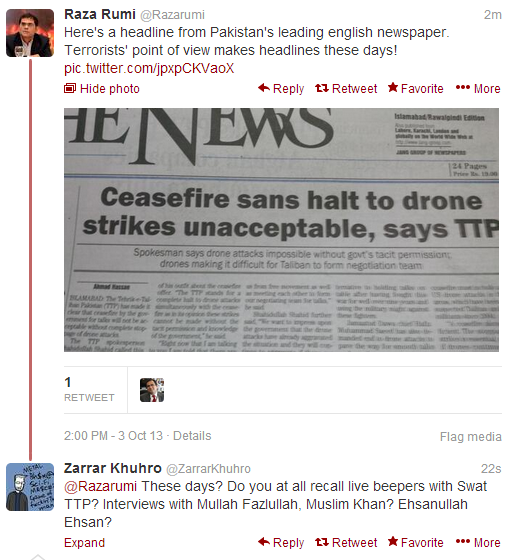 Comments
comments