Philanthropist Parveen Rehman killed by Deobandi militants in Karachi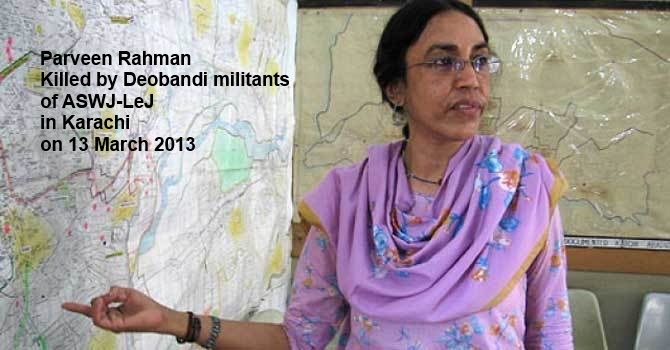 Karachi (13 March 2013). Deobandi militants of Ahle Sunnat Wal Jamat (ASWJ) killed the Director of Orangi Pilot Project, Parveen Rehman in Karachi on Wednesday. Rehman was targeted when she was travelling in her car near Orangi Town's Peerabad neighbourhhod.
Initial reports suggest that armed gunmen (Deobandi militants of ASWJ aka Lashkar-e-Jhangtvi) opened fire by intercepting her car near Banaras flyover. A few weeks ago, four female anti-polio workers were killed by Deobandi militants in the same city. http://www.bbc.co.uk/news/world-asia-20775164
In October 2012, Malala Yusufzai, 14, young education activist was shot by Deobandi Taliban in Swat.
On the same day (13 March 2013), the Sindh police's Crime Investigation Department arrested three Deobandi militants of the Tehreek-e-Taliban Pakistan (TTP, affiliate of ASWJ-LeJ), who were allegedly involved in the blast in Abbas Town (killing 60 Shia and Sunni Muslims), during a targeted operation in Manghopir. According to the police, the suspects, Shoaib Mehsud, Khalid Rehman Mehsud and Aurangzaib Mehsud, were arrested after the police was tipped off about their activities. http://tribune.com.pk/story/520397/abbas-town-suspects-tehreek-e-taliban-members-arrested-in-karachi/
The brutal murder of Parveen Rehman may be a retaliatory attack by Deobandi militants.
Governor Sindh Ishratul Ebad took notice of Rehman's death and has ordered a special team to investigate her case and arrest the suspects. "Killing a social worker is inhumane," the governor said.
The Orangi Pilot Project (OPP) is a socially innovative project that involves residents solving sanitation problems of the community. In the OPP, people pooled up to Rs3,000 a house in a lane to finance, manage and maintain latrines in their homes, underground sewerage lines in the lanes and secondary sewers. OPP's low-cost sewers changed neighbourhoods not just in Karachi, where it got its start in 1981, but as far away as Battagram in Khyber-Pakhtunkhwa. It also has a research and development department, covering issues related to other areas of Karachi.
Parveen Rehman had been rendering her services as a social worker for the past 25 years.
Deobandi militants (ASWJ-LeJ, Taliban) have killed a large number of social workers including polio-vaccination team members, educationists and other NGo members in the past. Pakistani media usually deflects attention from ASWJ Deobandi militants by describing them as Sunni Muslims, hiding the fact that ASWJ-Lej militants have killed thousands of Sunni Barelvi (Sufi) Muslims, Shias, Ahmadis and Christians.
Video: City by the Sea: The future of Karachi's Coastline (See her at 12:34)
http://youtu.be/7ZlP04vTWG4?t=12m34s
Update 14 March 2013: Qari Bilal Deobandi, local head Of Tehrik-e-Taliban Manghopir (aka ASWJ-LeJ) has been killed in a police encounter. He was involved In Parveen Rehman's killing – DIG: Javed Alam Odho via ARY TV
کراچی پولیس نے پروین رحمان کی ہلاکت کا مقدمہ نامعلوم افراد کے خلاف درج کر لیا ہے ڈی آئی جی غربی جاوید اوڈھو نے بدھ کو ایک پریس کانفرنس میں کہا ہے کہ اورنگی ٹاؤن میں پولیس اور رینجرز کے آپریشن کے دوران ہلاک ہونے والے قاری بلال دیوبندی نامی شخص کی اس واقعے میں ملوث ہونے کے بارے میں تحقیقات کی جا رہی ہیں۔ پولیس اور رینجرز کے اس آپریشن میں ایک درجن سے زائد مشتبہ افراد کو حراست میں لیا گیا اور اسی آپریشن کے دوران منگھو پیر کے علاقے میں پولیس مقابلے میں قاری بلال ہلاک ہوا تھا۔ پولیس کا دعویٰ ہے کہ قاری بلال دیوبندی کا تعلق ایک کالعدم تنظیم سپاہ صحابہ طالبان سے تھا اور وہ پولیس اہلکاروں کے قتل میں بھی ملوث تھا۔
http://www.bbc.co.uk/urdu/pakistan/2013/03/130314_parveen_death_follow_up_rk.shtml
Comments
comments