Hidayat TV talkshow on Shia Genocide in Pakistan
By Ale Natiq – alexpressed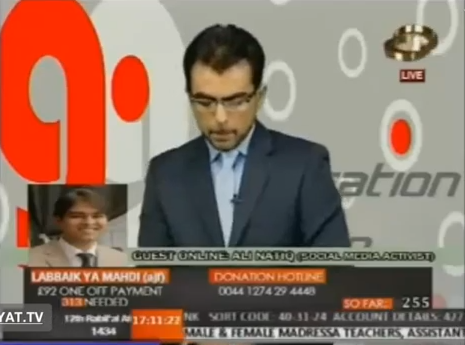 I was invited to speak on a special talkshow on Hidayat TV focused on Shia Genocide in Pakistan hosted by Tehsin Haider. Hidayat TV is a Birmingham based satellite TV channel. Others who spoke on the show include Raza Rumi, Ali Abbas Zaidi and Haider Zaman Qureshi of PPP. The recording of the program can be watched below and I highly recommend to circulate this to English speaking audience specially the overseas Pakistanis as this can serve as a good tool for campaigning on Shia Genocide, considering there is little on the issue in English talk shows.
Daily Motion Video
http://www.dailymotion.com/video/xxqkn0_shia-genocide-in-pakistan-with-ale-natiq-raza-rumi-ali-abbas-zaidi-hidayat-tv_news
Shia Genocide in Pakistan with Ale Natiq, Raza… by alexpressed
YouTube Video
http://www.youtube.com/watch?v=1N76W5FQmjs
Transcript
I have quickly transcribed what I said on the show just in case if the sound quality is not very clear.
Since inception of Pakistan, the state rejected the shrine or saint based interpretation of Islam which celebrates Sufi saints and instead it adopted the madressah based more rigid interpretations of Islam because the low church traditions of Sufi Islam were no help in law making and legislation. Before the creation of Pakistan, the same kind of Muslims and clerics who opposed Pakistan, were all of a sudden extremely important for the new born state of Pakistan because it wanted Islam as an ideology and guiding principle for legislaton and law making. Hence from day one, the Shia Sufi or Barelvi Muslims have been victims of this state ideology.
– Two main factors responsible for Shia Genocide in Pakistan:  Takfir which has roots in history (Abbasid/Ummayad/ Suspicon/ Traitor) and two state patronage to anti Shia militants.
– Pakistan context of Takfir: Fatwa Alamgiri collection of fatwas still used prime importance, still used.
– Its true that the killings of Shia took a more organised form after Zia era but …
– First recorded incident in 1963 Therih massacre 118 killed in one day, in 78 processions attacked, several more
– Zia close ties to KSA and personal taste for KSA style Sharia laws result radical Islamisation of Pakistan including patronage and funding of Jihadi madressahs specifically of Deobandi sect.
– KSA asked Zia to start Zakat system and promised seed money on conidtion a part of Zakat goes to Ahl Hadees madressahs.
– Out of total madressahs of Pakistan, Deobandi make up 71% although they make up only 15% of population. Barelvis make up 55% of Pak population have only 16% share in madressahs and Shia who are 20% make up only 4%.
– So Demographics were changed by state patronage, funding and all kinds of support.
– 1988, in the most gruesome incidents of Shia killings in Pakistan, 800 Shia were killed in one day Gilgit Massacre – Zia wanted Shia free pocket on weapon supply route to Afg. 6000 Shia have been killed in Parachinar after this…
– Then in 1985 Sipah Sahaba was formed based in Punjab and according to Mariam Abou Zahb which initially received its funding from local business men and traders in return for providing them protection
– Sipah Sahaba manifesto: Declare Pak a Sunni state, death penalty for blasphemy, restrict Shia processions indoors, implement caliphate
– LeJ breakaway faction of SSP created in 1995 and since then they have worked closely together and have known links with Taliban and AlQaeda.
– Since then, regular incidents of targeted killing of Shia, attacks on mosques, processions etc
– We've data of more than a 100 incidents of attacks on Shia processions or Imam bargahs.
– total 200 doctors killed
– total 21000 Shia have been killed
– Amnesty report : 1992 – 2002, Only in Karachi, 70 Shia doctors were killed
– Shia killed includes academics, educationsts, olympic gold medalists, scientis,s entrepreneurs, poets
We can not blame one partiular state institution, its like the whole state appratus is working in partnership to exterminate Shia from Pakistan. They butcher Shia every day, the police can not protect them or arrest the culprits and if they do, the investigation officers are killed. If somehow the culprits reach the courts and cases are registered, the Judiciary is inapable to to prosecute. There are reports published telling us leader of LeJ and self professed shia killer Malik Ishaq was offered tea and cookies in he court, in another session the judge covered his face, in another Malik Ishaq tells the judge make a judgement the kind of which you can digest for himself. So basically they wipe out all evidence and eye witnesses and so roam free. And Pakistan's security agencies and military has turned a blind eye to the genocide of Shia because they use thesa same Shia killers in India, in Kashmir, in Afghanistan, against Baloch wherever they need, and so if Shia are the collateral damage, so be it.
As far as the Hazara Shia of Quetta are concerned…
– Out of total 21000 Shia killed in Pak, nearly 1500 are Hazara Shia.
– They migrated to Pakistan in 1890s when the Afghan ruler Abdur Rahman was ruthlessly killing them because of their Shia faith. He says in a letter which he sent to Sunni clerics and prayer leaders that Shia infidels are living amongst us, asked them to take over their land, and demanded either they convert to Islam or be killed. This is the same language SSP and LeJ use today.Thousands of Hazara Shia were killed in 1880s and 1890s and so they migrated and settled in Quetta Pakistan.
– They lived in peace here for 100 years and were first attacked in 1985, the same year Sipah Sahaba was formed.
So that's the sad state of affairs for the 40 million Shia of Pak…
Sectarian War or Genocide?
– The word sectarian war implies that it is two-way war.
– that this is tit-for-tat violence i.e. Shia are killing Sunni and Sunni are killing Shia.
– This is gross misrepresentation of the issue at several levels.
– One, not all Sunnis are killing the Shia, Only Takfiris of Sipah Sahaba LeJ Taliban are killing the Shia and they enjoy state patonage and support.
– Two, there is not even a single example of an indiscriminate attack by the Shia of Pak on Sunni Muslims or anyone for that matter. Not even a single.
– Yes, there was a time when a militant organisation named Sipah Muhammad was active and in response to the Shia killings, it retaliated with targetted attacks on individuals or leaders of these Takfiri organisations but there has been no indiscriminate attack.
– In the last 15 years or so, even those retaliation attacks have been non existant but the Shia killings have not stopped but have instead escalated.
– If it was indeed a two way war, then there would have been killing en masse of Sunni Muslims, they would have been doing mass burials too.
– The UN Covention on Genocide has clraly defined what a genocide is and what is happening with Shia in Pakistan is nothing short of a genocide – they are being killed all across the country for their Shia faith and they have not resorted to any violence whatsoever.
– I think not just Pakistan but the world at large needs to appreciate and acknowledge the steadfastness, patience and courage which the Shia of Pakistan have displayed in such depressing times when they face a genocide and only protesting peacefully without even damaging any property.
Why Media narrative is so different?
– Media has its own pressures.
– There is this tendency to mantain neutrality which, for some reason, they believe is achived by not mentioning that victims were Shia.
– Even in Chillas or Mastung massacres when Shia were identified and then killed, the media refused to use Shia word.
– There is a tendency in society at large to avoid using the words Shia Sunni as if its sectarian or something bad.
– If a Muslim identity is acceptable, then Shia or Sunni identity should be acceptable too as all of them are religious identities.
Comments
comments