Mullah Omar led Taliban are key sponsors of Sipah-e-Sahaba terrorists and #ShiaGenocide – by Haroon-ur-Rashid

In the following op-ed, renowned Urdu columnist Haroon-ur-Rashid states that Taliban, led by Mullah Omar, were and are key sponsors of Sipah-e-Sahaba (LeJ-ASWJ) terrorists responsible for Shia genocide in Pakistan.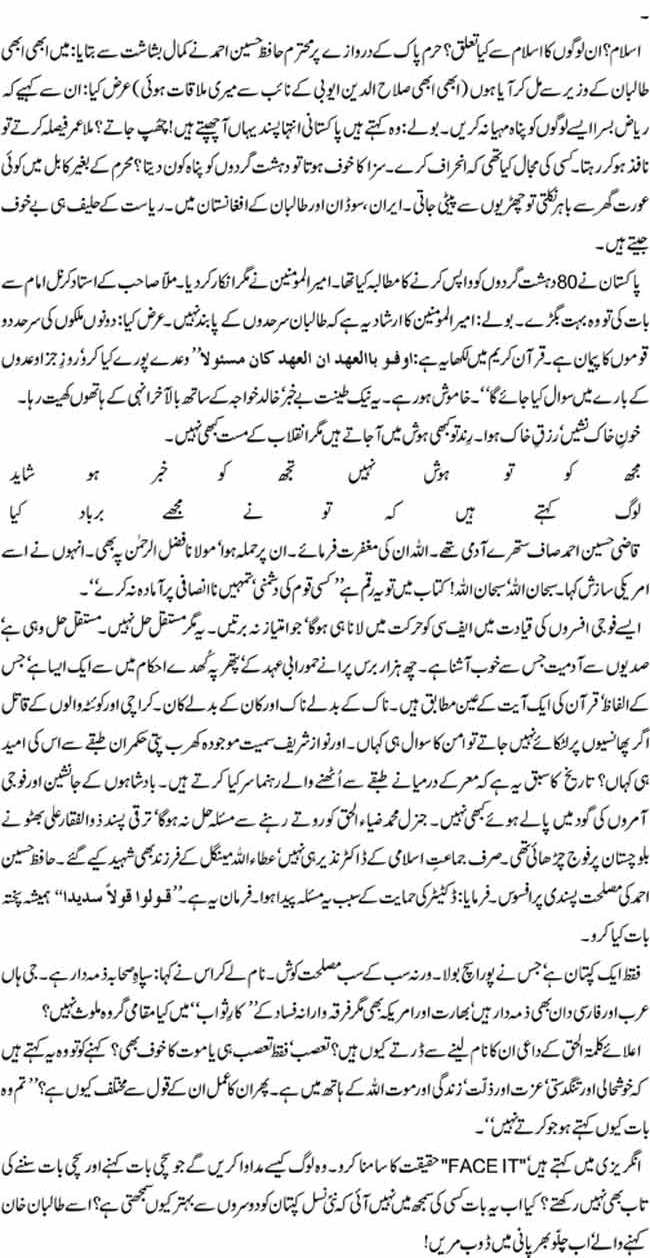 #ShiaGenocide: I publicly name and condemn Lashkar-e-Jhangvi terrorists – by Imran Khan
https://lubpak.com/archives/243885
Dawn Archive 1999
The following news items retrieved form archive of daily Dawn in October 1999 confirm what Mr. Rasheed has stated in his column. They show that Saudi-funded Deobandi Taliban of Afghanistan are indeed a major force behind Takfiri Deobandi terrorists in Pakistan. This fact was also publicly stated by the then Prime Minister Nawaz Sharif and then CM Punjab Shahbaz Sharif. Interestingly, Sharif's statements on this subject were rejected by the ISI-influenced Foreign Office and were rebutted by the ISI-mouth piece Ansar Abbasi.
Sectarian terrorists are getting training in Afghanistan, says PM Nawaz Sharif
——————————————————————————
Bureau Report
ISLAMABAD, Oct 7, 1999: The government has laid its hands on concrete evidence that people are being trained in Afghanistan to undertake sectarian killings and terrorism in Pakistan.
"We have with us a solid proof that there exist training camps in Afghanistan, which are training terrorists and sending them into Pakistan to kill our people," Prime Minister Nawaz Sharif said.
"But we have told the Taliban government and its head Mullah Omar that they should immediately remove these camps so that sectarian killings and other incidents of terrorism in Pakistan could be stopped."
Addressing a news conference here on Thursday, he said his government would not allow anyone to create law and problem. "This is just unacceptable to us and we hope that the Taliban government would respond to our complaint by immediately removing those camps," he asserted.
It was Punjab Chief Minister Shahbaz Sharif who first alleged in Lahore last week that terrorists were being trained in Afghanistan to carry out sectarian killings in Pakistan.
However, a Foreign Office spokesman [under the influence of Pakistan army / ISI] on Wednesday stated that Taliban were not in any way involved in promoting sectarian violence in Pakistan. "On the contrary, the Taliban government has itself issued a statement denouncing such incidents. Afghanistan is a brotherly country which has no interest at all in promoting terrorism in Pakistan," the spokesman said.
Asked if the Taliban government did not oblige Pakistan over the issue, the prime minister said "then we will have to rethink about it to take some other course".
The prime minister told newsmen that recently the director- general of the Inter-Services Intelligence had led a delegation to Kandhar where it met the Taliban leaders, including Mullah Omar, and raised the issue of training camps in Afghanistan.
http://www.lib.virginia.edu/area-studies/SouthAsia/SAserials/Dawn/1999/09oct99.html#shah
Ansar Abbasi acts as convenient mouth-piece for Pakistan army / ISI:
Shahbaz Sharif talks of intelligence report; flat denial by FO
——————————————————————-
Ansar Abbasi
ISLAMABAD, Oct 6: The reported statement of the Punjab Chief Minister, Mian Shahbaz Sharif, in which he had accused the Taliban of backing sectarian violence in Pakistan, has stunned the high authorities here.
The Foreign Office has formally regretted what it termed "the baseless speculation and incorrect reporting in some sections of the media, claiming that the Taliban government of Afghanistan is allegedly involved in recent incidents of terrorist violence in the country."
Sources in the relevant agencies of the federal government have expressed complete ignorance about the availability of any intelligence report that could support what the Punjab CM was reported to have said in his talk with newsmen at Lahore on Tuesday.
They said the Punjab delegation which had attended an inter-provincial meeting on Monday, a day before the CM's reported statement, did not mention a word about the Taliban backing the sectarian violence in Pakistan.
"There was absolutely no mention of the Taliban in the meeting which was called merely to discuss sectarianism," a source who attended the meeting said.
The Punjab Chief Secretary, A.Z.K. Sherdil, however, told Dawn by telephone from his Lahore residence that some intelligence reports did suggest that religious extremists from Pakistan got training in Afghanistan and before joining sectarian violence in the country.
He said these intelligence reports maintained that such elements received training in camps inside Afghanistan, had fought along with the Taliban against the Afghan opposition, and had infiltrated into Pakistan and were involved in sectarian violence. "We are quite concerned about this situation and want a comprehensive policy to check this movement across the Pakistan-Afghan border," Mr Sherdil said. He, however, denied that there was any mention, in
these intelligence reports, about Riaz Basra's protection by the Taliban.
The chief secretary said there was massive gun-running from Afghanistan to the tribal areas in Pakistan from where the weapons came to the NWFP and then supplied to other provinces. He said since the Pakistan-Afghan border was not properly manned, this practice continues.
However, official sources in the federal government totally deny having seen any such intelligence report. But some sources believe that the Punjab chief minister who has recently returned from an "important US trip" had taken an initiative to dissociate Pakistan from the Taliban and Afghanistan.
Meanwhile the Foreign Office, in a press statement issued here on Wednesday evening, regretted "the baseless speculation and incorrect reporting in some sections of the media, claiming that the Taliban government of Afghanistan is allegedly involved in recent incidents of terrorist violence in the country."
http://www.lib.virginia.edu/area-studies/SouthAsia/SAserials/Dawn/1999/09oct99.html#shah
Irfan Hussain writes in Dawn (9 October 1999):
The recent sectarian butchery in three of Pakistan's four provinces confirmed what a number of us have been saying for years: you cannot export fundamentalist terrorism to neighbours without expecting a fallout right here in Pakistan. This rapidly rising tide of religious intolerance and violence is a harbinger of things to come……Unfortunately, no past or present Pakistani government has shown the least interest in taking on these militias. As the worst of
them are currently targeting Shias whom they view as non-Muslims, the government probably feels it has some breathing space. But the truth is that despite the Punjab chief minister's recent charge that the Taliban were behind the current spate of killings (and since confirmed by the prime minister), this government can ill-afford to take on these fanatics.
http://www.lib.virginia.edu/area-studies/SouthAsia/SAserials/Dawn/1999/09oct99.html#shah
Comments
comments