Hide them all then – by A Z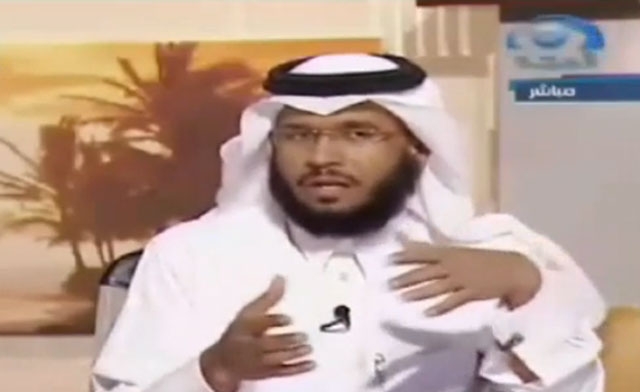 This post is with reference to the following article published on Al Arabiya TV web site: "Burkas for babies": Saudi cleric's new fatwa causes controversy http://english.alarabiya.net/articles/2013/02/03/264031.html
A friend sent me a link to the article which has kicked off a new controversy on the social media about an irrelevant fatwa in which a Saudi cleric has said that baby girls should also wear Burka (Veil) like grown-up women to be safe from evil eyes in general and sexual abuse in particular. To be fair the fatwa has been largely and widely denounced in Saudi Arabia and elsewhere. Most clerics have rightly branded this as sullying original teachings of Islam. Sheikh Abdullah Daoud made the remarks during an interview with Islamic Al-Majd TV last year, but video of the interview recently went viral on social media websites and became subject to of extensive argument and censure.
However, what most people have not noticed in the ensuing furor is that Daoud claims that sexual molestation of babies in the Kingdom of Saudi Arabia is rife. If true, that is something a lot more important than a nonsensical fatwa from an insignificant Mullah.
So the point is not whether or not the Fatwa is religiously correct. Of course, it is not. The important point here is that a religious leader is blaming children for being molested. Just because child predators exist in all cultures doesn't excuse a religious leader from blaming victims instead of the predator. Again it harks back to the many Muslims' tendency to draw a line in the sand in suggesting that the responsibility for prevention of perversion falls on the victims – women and, in this case, babies. Why can't we reach the sensible conclusion that deviants should be held accountable for their crimes instead of believing that the average Muslim man cannot control his urges, and therefore, all women have to shield the men from temptation by covering themselves from head to toe? So instead of fixing society in a manner so that little girls are not treated as sexual objects by sick minds, they want to force babies to be swaddled from head to toe lest any men, who obviously need serious psychological help, be tempted.
Another question that is pertinent to ask is why there are so many rapist in this burka-wrapped country? Even children are not spared? Definitely religion does not play a role here. It is the people. The male dominated countries of the Middle East and many other parts of Muslim world are exploiting the woman they are supposed to protect. The trouble is these countries talk about religion as if they are the most pious people on earth. They are the only chosen people on earth. They use religion to camouflage their animal instinct. Still like politics this animal called 'man' often uses religion as a tool to take advantage of women. I have never had the urge to rape a woman, no matter how scantily dressed. How come this 'specie' cannot stand the sight of woman? Even animals do not rape, they mate when the female is on heat. So how come we have created societies where people think about little else other than sex. That is probably why our countries contribute nothing constructive in terms of technological development. Everything is about sex.
Punishing women, girls or babies because of the inability of men to control themselves is an outrage. Muslims should be up in arms about this kind of "teaching" as it demeans our religion. Mind you,
I apply this same standard to the Christians who view rape as just another way for a woman to conceive. Christians and Muslims should unite against these outrageous people.
These double standards will not melt away so easily. Muslim men have enjoyed too much control over their women for far too long and will not cede in one generation. However the change has to start somewhere. If they are sincere they should begin by changing all legal norms and authoritative interpretations. While we should respect any adult woman's free choice how she chooses to clad herself, unless we reform the society, Burka would serve just as a means to reduce the abuse of women and children to homes or to incest.
Finally, we need to stop worrying about baby burkas and think about the stopping clerics from torturing, raping and murdering their own children……… as reported and commented earlier this week.
Comments
comments