Pakistan's nuclear scientist and the founder of Kahuta Research Laboratories (KRL) Dr. Abdul Qadeer Khan has strongly condemned Shia genocide in Pakistan at the hands of Takfiri terrorists of Sipah Sahaba (aka ASWJ-LeJ). He was reacting to the latest massacre of more than 87 Shiites in Quetta.
It may be recalled that a few days ago, Takfiri Deobandi militants of Sipah Sahaba (ASWJ-LeJ) were wrongly presenting Dr. AQ Khan as a supporter of their sectarian group, a claim which was strongly rejected by Dr. Khan. https://lubpak.com/archives/235063
In the past, Dr. Khan has categorically condemned Shia genocide in Pakistan by Takfiri terrorists who are also killing moderate Sunnis and other communities in Pakistan. https://lubpak.com/archives/227708
We appreciate Dr. Khan's call for Sunni-Shia unity and urge all Pakistanis (of all faiths and ethnicities) to remain united to save Pakistan from external enemies as well as internal Takfiri terrorists.
InshAllah I'll join Quetta protestors soon. Once I'll get free from schedule I still have many security bans from authorities

Quetta protest at Alamdar road to Long March, Pakistani's are getting awakened now. Our new generation shall have a bright future

The protest at Alamdar Road Quetta is now becoming a united voice of all Shia and Sunni brotherhood in Pakistan, Shukr Alhamdulilah!

"If love of Imam Ali a.s makes you a Shia, then yes, I'm Shia." Imam Malik r.a.

The protest at Alamdar road Quetta will be a lot more significant than long march in changing Pakistan's fate. Kindly join hands with them.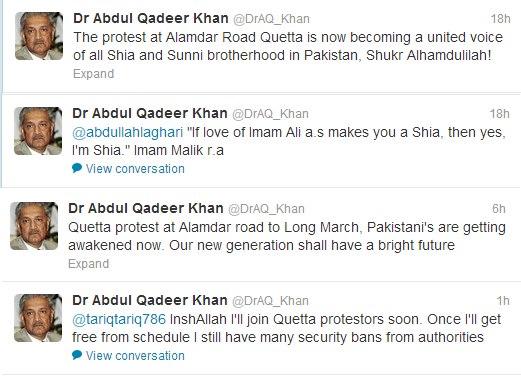 (Screenshot credit: Shabbir Shahid)