Dr. AQ Khan condemns Shia genocide by Takfiri terrorists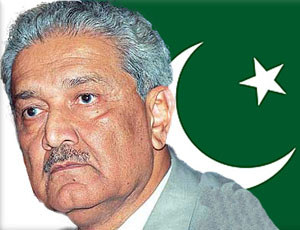 Related post: Dr Abul Qadeer Khan strongly denies any contact with Takfiri terrorists of Sipah Sahaba
Pakistan's nuclear scientist and the founder of Kahuta Research Laboratories (KRL) Dr. Abdul Qadeer Khan has strongly condemned Shia genocide in Pakistan. He was reacting to the latest incident of Shia killings in Pakistan involving massacre of 15 Shiites in Parachinar at the hands of Takfiri terrorists.
Dr Khan said: "I strongly condemn Parachinar blast and Shia Genocide in that region. It's high time Shia and Sunni brothers unite to save Pakistan". He further explained that condemnation of genocide of a particular group of Muslims did not make him a Shia. He said that condemnation of atrocities is a tradition (Sunnat) of the Holy Prophet (PBUH). Dr Khan further said: "It should be the duty of every Pakistani to condemn such actions which bring shame to this nation."
Along with MQM's chief Altaf Hussain, PTI's chief Imran Khan, Dr. AQ Khan is the third national level figure who has categorically described massacre of Shiite Muslims as genocide.
We appreciate Dr Khan's clarity of vision and sincerity in condemning Shia Genocide. It's Takfiris, not Sunnis, who are responsible for such mayhem in Pakistan. Unlike Majid Nawaz's Quilliam Foundation and Sherry Rehman's Jinnah Institute, there are a few honest voices in Pakistan which call a spade a spade and do not obfuscate Shia genocide as Sunni-Shia sectarian violence or ethnic violence. Enemies of Pakistan are using Takfiri terrorists to artificially manufacture Shia Sunni sectarian violence in Pakistan by committing acts of Shia Genocide.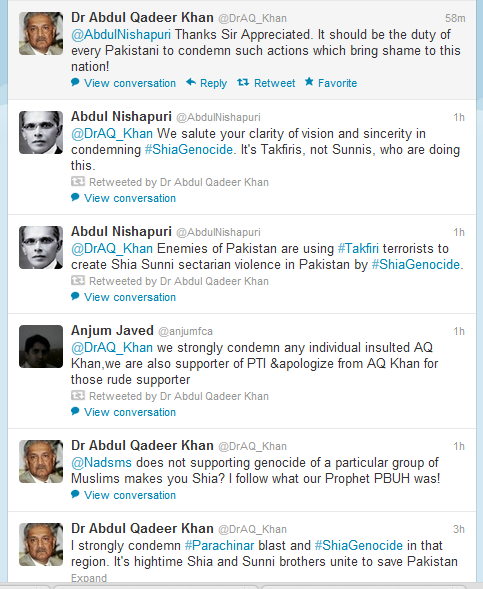 Comments
comments