Dr Abul Qadeer Khan rejects false propaganda by Takfiri terrorists of Sipah Sahaba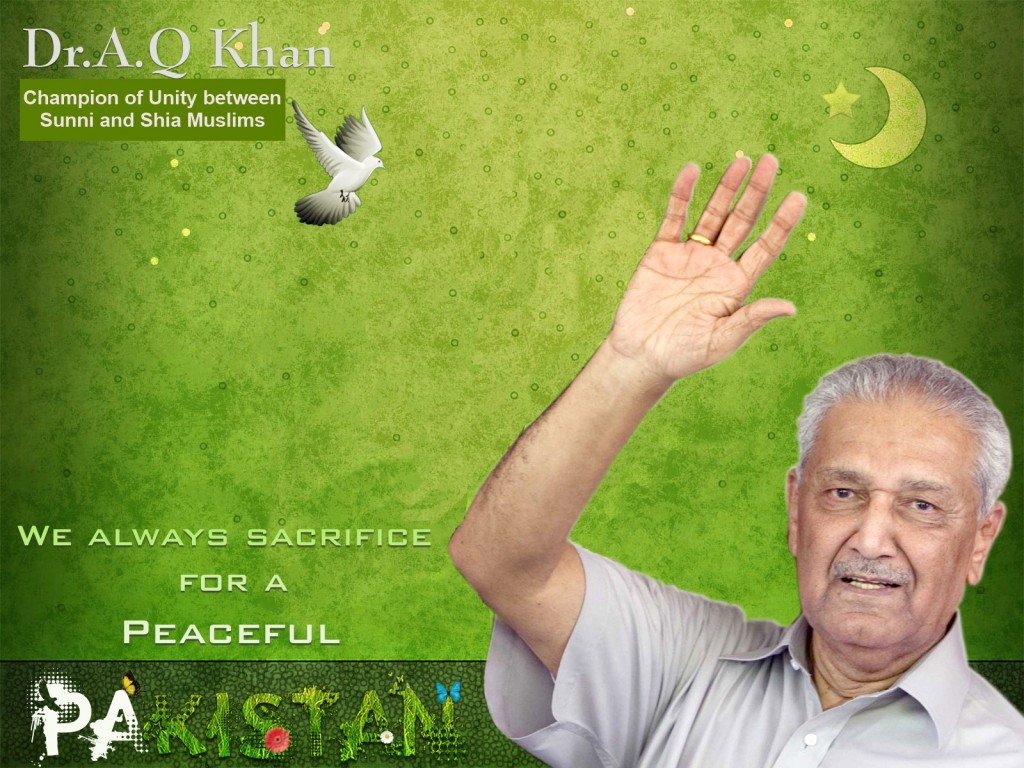 Dr. Abdul Qadeer Khan, Pakistan's leading nuclear scientist and the founder-chairman of the Tehreek-e-Tahaffuz-e-Pakistan (Movement for the Protection of Pakistan), has strongly denied any kind of contacts with Takfiri terrorists of Sipah Sahaba.
In a statement issued on Twitter on 26 December 2012, Dr. Khan said:
"It is stated that I've no contact with any terrorist or militant organization especially Takfiri terrorists like Sipah Sahaba. I condemn every Shia or Sunni killing incident at an equal level. My religion and sect is same as that of Quaid and of our Prophet pbuh. The major region for my alliance with Tahir Ul Qadri sahb was his stance for unity of Muslims and Shia Sunni brotherhood. I'm proud of It."
It may be noted that Takfiri Deobandi militants allied with Sipah Sahaba (aka Ahle Sunnat Wal Jamaat ASWJ) had published a number of misleading posts on their websites and facebook pages stating that the Mohsin-e-Pakistan Dr. A.Q.Khan had joined the newly formed Takfiri alliance Mutahidda Deeni Mahaz (MDM) initiated by the Sipah Sahaba (ASWJ):
Ulma e Deoband
9 hours ago (26 Dec 2012)
انتخابات میں کامیابی کے بعد جو جماعت عوام اور اسلام کی امنگوں کے مطابق اترتی ہے، وہ جماعت اہلسنّت والجماعت (سپاہ صحابہ) ہے اس لیے میں نے ایم ڈی ایم (متحدہ دینی محاذ) میں شمولیت اختیار کی.

محسن پاکستان، نیوکلر سائنسدان،
ڈاکٹر عبدالقدیر خان

http://www.facebook.com/photo.php?fbid=582602891756720&set=a.572873892729620.149104.144428562240824&type=1

At the same time, Dr. Khan also expressed his support for Dr. Tahir ul Qadri because of Dr. Qadri's pro-unity stance between Sunni and Shia Muslims of Pakistan. Takfiri militants of Sipah Sahaba are currently criticizing Dr. Qadri because of his support for Sunni-Shia brotherhood and opposition to violence by Takfiri terrorists.
In the past, Dr. Khan has categorically condemned Shia genocide in Pakistan by Takfiri terrorists who are also killing moderate Sunnis and other communities in Pakistan. https://lubpak.com/archives/227708
The following is the exact text of Dr. Khan's tweets:
Dr Abdul Qadeer Khan ‏@DrAQ_Khan
The major region for my alliance with Tahir Ul Qadri sahb was his stance for unity of muslims and Shia Sunni brotherhood. I'm proud of It.

Dr Abdul Qadeer Khan ‏@DrAQ_Khan
I condemn every Shia or Sunni killing incident at an equal level. My religion and sect is same as that of Quaid and of our Prophet pbuh

Dr Abdul Qadeer Khan ‏@DrAQ_Khan
It is stated that I've no contact with any terrorist or militant organization especially Takfiri terrorists like Sipah Sahaba

Dr Abdul Qadeer Khan ‏@DrAQ_Khan
@abdulnishapuri Thanks for informing Sir. I'll clarify it. These people fool millions by such statements.

Abdul Nishapuri ‏@AbdulNishapuri
@DrAQ_Khan Sir: A #Takfiri terrorist group #SipahSahaba is claiming you have allied with them. Pl clarify urgently. http://www.facebook.com/photo.php?fbid=582602891756720&set=a.572873892729620.149104.144428562240824&type=1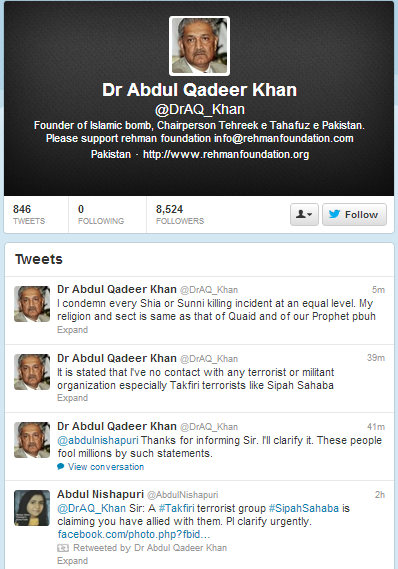 Comments
comments