Shaheed Bilour: immortalized, not silenced — by Ammara Ahmad
Mr Bilour was the only mainstream politician who dared to take a clear position against terrorism.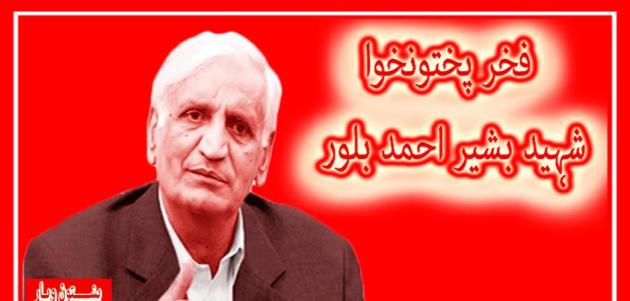 The greatest victory of a politician and activist like Bashir Bilour is to be known for his cause during his lifetime and afterwards. Peshawar, where Shaheed Bilour was based, had been rocked by more than 400 blasts last year alone. This was an attempt to rock the provincial capital of Khyber Pakhtunkhwa, defame the ANP government and intimidate it into submission. Yet Mr Bilour visited the families of terror victims and martyrs regularly. Just before his death, he had visited the houses of the slain polio workers. He was proud that girls continued attending colleges in Peshawar despite extreme pressure from radical groups to quit. He openly condemned the attackers of the teenaged activist, Malala Yousafzai. He also criticised politicians who denied that the Taliban were behind Malala's attack.
Mr Bilour often made high-profile media appearances, criticising heinous terrorism-related crimes and affirming that he would keep on fighting this evil. He was the second most senior elected official in the terrorism-struck province of Khyber Pakhtunkhwa. Mr Bilour was the only mainstream politician who dared to take a clear position against terrorism. Couple this with the fact that his party had lost some 600 political workers and leaders to the war on terror, and there had been an attempt on his life twice. But he visited terrorism-torn sensitive areas and people without security to show solidarity with them.
Unfortunately, this high-profile murder by the Taliban was committed just a few days before the former Prime Minister Benazir Bhutto's fifth death anniversary. What has changed in Pakistan since 2007? Has security, intelligence and the rule of law improved? Not really. In fact, things have only worsened. However, despite the mayhem, bombings, kidnappings, threats and killing, is there any consensus regarding terrorism among Pakistan's political parties?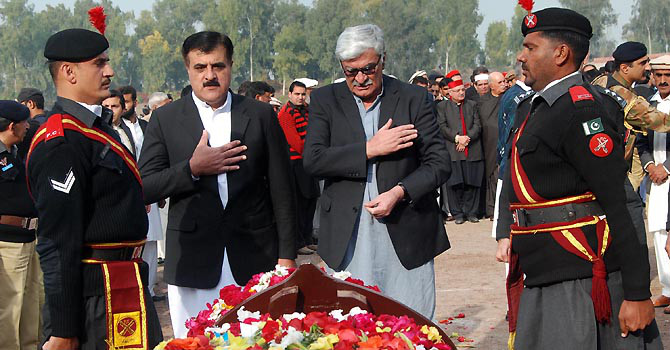 Tehrik-e-Taliban-Pakistan accepted the responsibility for Mr Bilour's murder. At the start of this month, Fazlur Rehman, an influential religious and political leader, denied the very existence of the Taliban movement. A few years ago, when a wave of terrorist bombings started in Punjab, the PML-N's stance was that the Taliban should not attack Punjab.
One of Pakistan's most popular leaders nowadays, Imran Khan, is a believer in having talks with the Taliban. Khan believes that these Taliban are alienated from us because of our pro-US policies. He has acknowledged the fact that they are terrorists having ideological differences with our state and that they do not recognise Pakistan's constitution and challenge the writ of the state. Khan believes in having a dialogue with the Taliban. Yet the Taliban have already flouted many of the agreements they made with the Pakistani government. That was something Shaheed Bilour knew very well and had therefore lost hope in.
Tributes, accolades and condolences poured in from across the country. Punjab Chief Minister Main Shahbaz Sharif and the former Prime Minister Syed Yousaf Raza Gilani visited Bilour's family. President Asif Ali Zardari and Prime Minister Raja Pervez Ashraf paid tributes too. This is heartening. Mr Bilour was a towering political figure with a 40-year career behind him. But did anyone give a statement against the Taliban, lambasting religious extremism and condemning violence? Not yet. But this happened in Malala's case too. Top-notch politicians praised her in their speeches and paid hospital visits. But are they willing to support her cause and possibly pay the price she did? Not really.
Many politicians, including MNA Bushra Gohar, are now asking for an operation in Waziristan, but to a large extent, there is still silence in the political arena. Politicians do not want to shoulder such a burden during an election year.
The day after Mr Bilour's death, the headline in one of the national dailies read: "Taliban silence most vocal critic." But to me, he seems to be the loudest in his death. Every time an unknown, brainwashed teenage bomber takes the life of an activist, the attacker is shredded into pieces, and the pieces are taken away by police for further investigation. This is a nameless death without a burial. But the martyr becomes a hero, lives on in the memory of his family, people and party. This is Mr Bilour's greatest victory. Pashtuns are known for their bravery and Shaheed Bashir Bilour was rightly called the "Lion of Pashtuns". The lion has been killed but his roar lives on.
The writer is a journalist. She tweets @Ammaratiger
Source: Daily Times 
Comments
comments