Over 100 dead in in bomb blast in in Quetta. Over 200 injured, most critically – by Ali Taj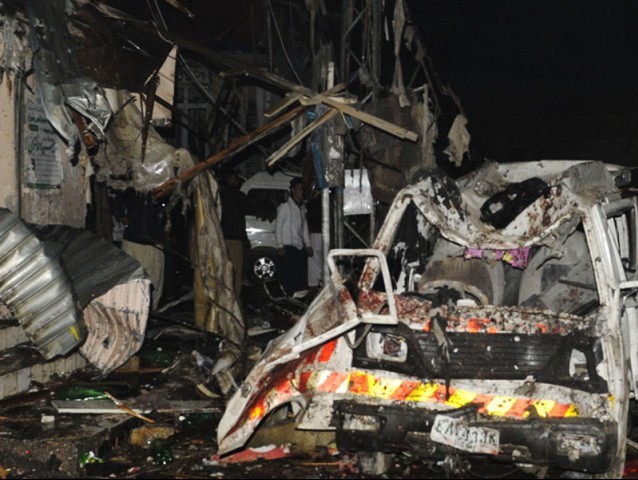 QUETTA: Three blasts in Quetta on Thursday left 93 dead and many with serious injuries. The blasts took place in Shahrah-e-Iqbal and Alamdar Road area.
The second and third blasts were suicide blasts at a snooker club on Alamdar Road.
The government has announced three days of mourning over the tripple blasts in the city on Thursday.
Later in the evening, a suicide bomber exploded himself at a snooker club on Alamdar Road, Bomb Disposal Squad said.
As rescue workers, police and media personnel descended on the scene, a second set of timed explosives planted in a vehicle went off.
Some Messages from Social Media:
To think that we should be frustrated or dismayed is wrong. Those that died are martyrs standing against the Abu Suffain Mavia and Yazid just like Hussain did. Am I dismayed at Karbala no I am proud of it. Same for Quetta, I am proud of it. Even if we are forced to migrate we will make new Matam e Hussain in Perth or Sydney or Los Angeles.These people were denying that the Prophet PUBH was real. Their narrative was it was a ploy for one family to gain power so they describe it as a battle of two families.Their followers are either idiots or at its very deep core the enemies of Prophet Pubh. It was never about 2 families. It is about Prophet hood of Mohammed PUBH being real and Allah being real.Everyone has to die one day anyway. Die like Hussain.Look for IBNE MULJAM when it serves the cause of Ali a.s. offer yourself. This life is given by Allah and will return to the Al mighty.
Shia Muslims are the only group of Muslims who commemorate the death anniversary of the holy prophet of Islam, Muhammad (peace be upon him and his family). The followers of those who were behind the killing of Prophet Muhammad (pbuh) and his grandson Hassan (pbuh) continue to shed the blood of innocent Shia Muslims in Pakistan. Today in Quetta, forty-two (42) Shia Muslims lost their lives as two bombs ripped through a procession marking the death anniversary of the holy prophet of Islam and his grandson Hassan (peace be upon them both). But how the media broke the news is interesting. Check out the attached picture – a screenshot of the breaking news by The Daily Jang [in Urdu]… The report has no mentioning of the procession, the holy prophet or the Shia Muslims.
O the YAZEEDIS OF THE TIME! LISTEN TO OUR MESSAGE CAREFULLY!f
Firstly, WHERE IS THE HUMANITY?
iIn which Verse of the Quran does Allah(swt) mention to EVEN harm someone A LITTLE?
INDEED you the YAZEEDIS are way worser than ANIMALS!
MARTYR Us as much as you want but REMEMBER;
… We will ALWAYS FIGHT AGAINST THE OPRESSORS! WE WILL ALWAYS STAND AGAINST THEM& WILL NEVER GET DOWN!
STICK THIS IN YOUR HEAD; WE WILL NEVER LOOSE HOPE!
Because this is what we learn from the tragedy of KARBALA. WE ARE PROUD OF OUR MARTYRS!
We Will NEVER FORGET the IMMENSE SACRIFICES made At THE PLAINS OF KARBALA!
O the SHI'AS OF AMEERUL MOMINEEN(AS) AROUND THE GLOBE LETS SHOW THE WORLD OUR STRENGHT!(Unity)
We WILL ALWAYS ANSWER THE CALL OF YOU O MOULA HOSSEIN(AS) UNTILL THE LAST BREATH!
LABAYKA YA HOSSEIN!(O HOSSEIN(AS) WE are at your service, we are with the OPRESSED& AGAINST THE OPRESSORS!)
PEOPLW WHO ARE WITH HAQ (TRUTH) WILL NEVER BE SCARED OF ANYTHING! NOT EVEN SCARED OF GETTING MARTYRED BECAUSE WE KNOW THAT our IMAMS(AS) RASOOL(SWS) AND ALLAH(SWT) ARE WITH US!
Shia Sunni BHAI BHAi
YA ALI(AS) MADAD

او شیعان ِ حیدرِ کرار کو قتل کرنے والو!! سنو ، ہم ڈرتے نہیں ہیں ، تم ہمیں قتل کر کے یہ سمجھتے ہو ہم ڈر جائیں گے ، ، جاہل ہو ، بے وقوف ہو ، احمق ہو ، اپنے اجداد کی طرح بھونڈی عقل والے ہو ، آؤ ، آج کی شب ، کل کا دن اور آگے بھی دیکھتے جاؤ ، عزاداران ِآلِ پیمبر میں اضافہ ہی نظر آئے گا ، ، جلوس اپنے رستوں ہر رہیں گے،مجلس و ماتم ہوتا رہے گا ، تم جس خون کو دبانا چاہتے ہو ، اپنے اجداد کے کالے کرتوت چھپانا چاہتے ہو ، وہ خون مذید آشکار ہوتا چلا جائے گا ۔تمہارے اجداد کے کالے کرتوت دنیا کے سامنے آتے چلے جائیں گے
Comments
comments