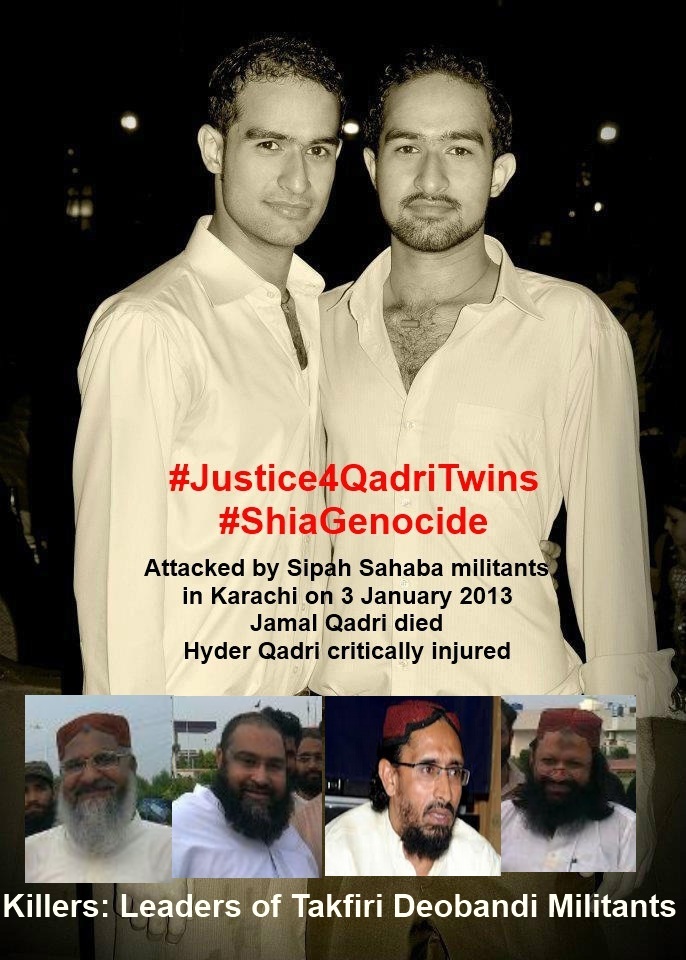 On 3 January 2012, two brothers, twins, appearing for the Board exam in Karachi were attacked by the Al Qeda affiliated Deobandi militants belonging to the Sipa Sahaba Taliban (currently operating as Ahle Sunnat Wal Jamaat ASWJ). Their only crime? They were Shia Muslims.
These two twin brothers Hyder and Jamal were going to appear in exams while their car was stopped and shot in Karachi's Lyari Agra Taj area. Jamal died and Hyder remains in critical condition.
Unfortunately, since these twin brothers did not belong to an elite, influential background, their tragedy did not merit much attention in the media or by political leaders and government officials. Since the tragedy of their shooting did not happen in the posh areas of Defense and Clifton, civil society did not take any notice of this.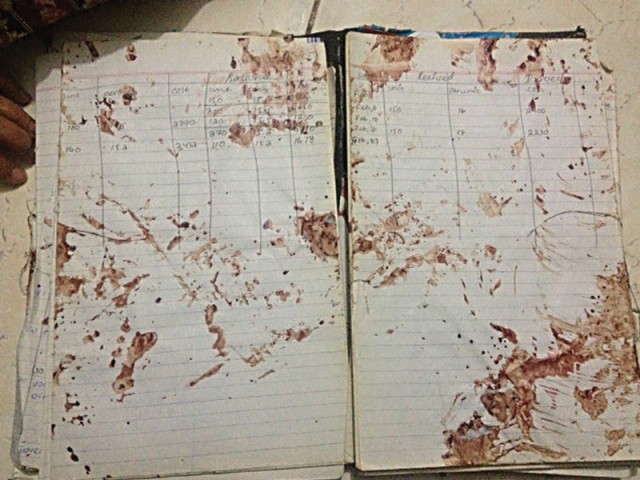 The boys were attacked by two shots from a pistol fitted with a silencer when they had stopped at a tyre puncture shop. Their father Dr Qadri who is the senior resident medical officer at Lyari General Hospital has shut his private evening clinic in Bihar Colony and is now mourning with the rest of his family. The Kalri police registered an FIR but no one was nominated in it. The attackers were put down as 'unidentified'. There has been no investigation, the father said. At least none that they have kept him abreast of.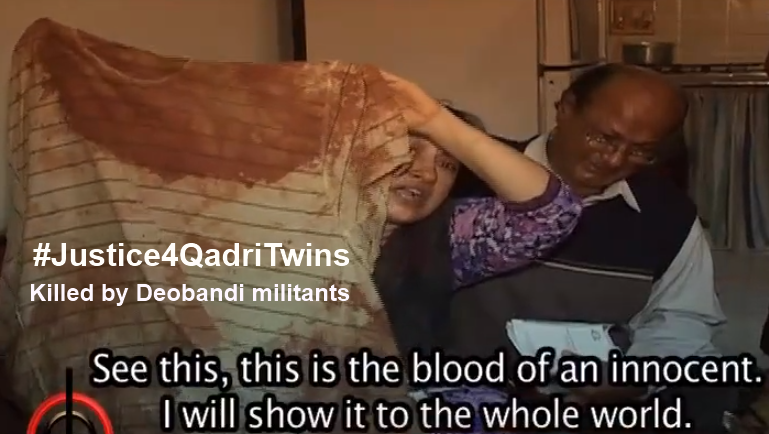 Here's a very painful message from Shaheed Jamal Qadri's mother to entire Pakistani nation, in fact to entire humanity.
According to Express Tribune, "Jamal's mother Aisha, swollen-faced from crying, has spent the last week slumped back against a sofa in a semiconscious state as her husband rushes around trying to make arrangements for the funeral and the family's protection. "Allah will give me justice in 40 days," she cries. She usually accompanied the boys to their exams but didn't that day. "I told her so many times not to sit outside for three hours when they were inside doing the exam," Dr Qadri says of his wife. "But she wouldn't listen." The twins were sitting their BCom supplementary exams that were scheduled to run till January 11. Their mother clutches Jamal's bookbag and pulls out his blood-splattered accounts register. She had just bought him an army water canteen. She treated the boys as if they were her little gems even though they were 23 years old; she bought them knitted caps, pencils, sunglasses. A ragged clutch of children from the neighbourhood, who Haider and Jamal used to tutor, look on wide-eyed as she pulls each blood-caked item out. Taking her cue, they pull out and hold up a cardboard butterfly made with paper clips, glitter and a paper tube that Jamal had fashioned for them as a present on New Year's Eve."
We request that someone forward this video to President Zardari, Army Chief Kayani, PM Raja Pervez Ashraf, CJ Iftikhar Chaudhry, Governor Ishrat-ul-Ibad, Chariman PPP Bilawal Bhutto Zardari and other leaders, media persons, activists within and outside Pakistan.
Jamal's mother is not alone. In 2012 alone, more than 1450 persons were killed by Deobandi militants in Pakistan. Their only crime? They were followers of Shia Muslim faith.
We request Pakistani civil society and the media to take up the #Justice4QadriTwins case with the same sincerity and passion with which they highlighted the pursuit of justice for Shahzeb Khan #Justice4ShahzebKhan.
Furthermore, we request civil society, media and online activists to awaken the attention of Chief Justice Iftikhar Chaudhry so that he takes suo moto action on Qadri Twins case in the same manner he has taken action on Shahzeb Khan's murder case.
Just like Shahzeb Khan's killers have been categorically named and are being rounded up by the Sindh police, we ask that judiciary, police and activists should clearly name and campaign for urgent arrest of Sipah Sahaba militants who attacked the Qadri Twins.
Just like activists have clearly identified names of the criminals who killed Shahzeb Khan, we too wish to give names of those Deobandi militants who have openly stated genocidal and murderous intent against Shia Muslims. They are Aurangzeb Farooqi Deobandi, Malik Ishaq Deobandi, Tahir Ashrafi Deobandi and Ahmed Ludhianvi Deobandi of Sipah Sahaba Taliban (ASWJ).
In case, Chief Justice and prosecutors are looking for evidence, we direct them to this clip: https://lubpak.com/archives/235607
Auragnzeb Farooqi Deobandi of Karachi confesses that "now we no longer need to kill Shias, we will spread hatred against them in the society".