#Justice4QadriTwins: Will civil society, media and CJ pay attention to #ShiaGenocide?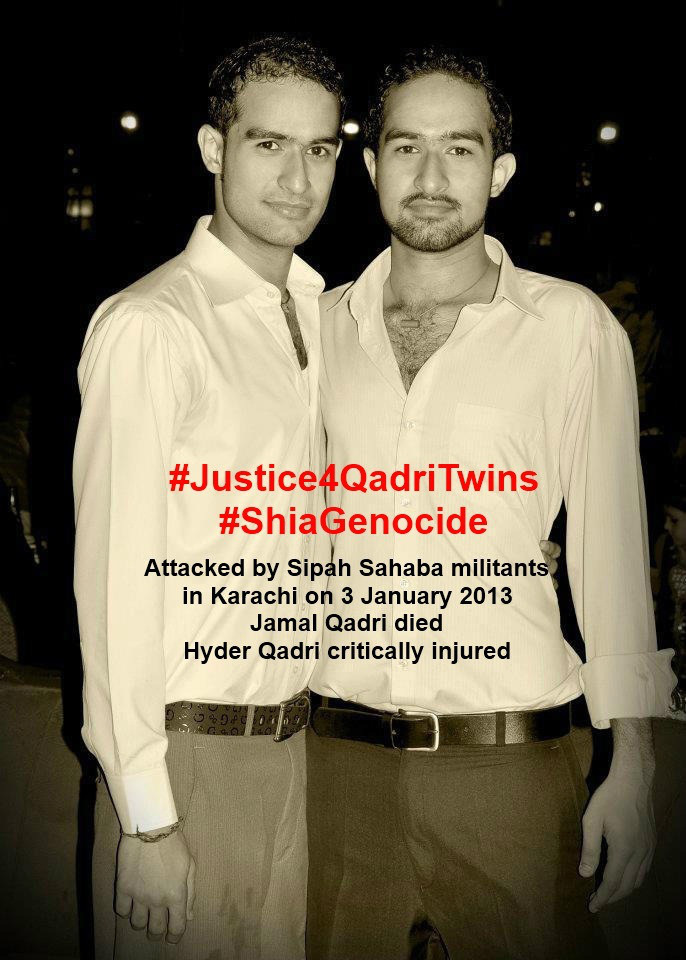 Recently on 3 January 2012, two brothers, twins, appearing for the Board exam in Karachi were attacked by the Al Qeda affiliated Deobandi militants belonging to the Sipa Sahaba Taliban (currently operating as Ahle Sunnat Wal Jamaat ASWJ). Their only crime? They were Shia Muslims.
These two twin brothers Hyder and Jamal were going to appear in exams while their car was stopped and shot in Karachi's Lyari Agra Taj area on 3rd January. Jamal died and Hyder remains in critical condition.
Unfortunately, since these twin brothers did not belong to an elite, influential background, their tragedy did not merit much attention aside from one or two obscures lines in the media. Since the tragedy of their shooting did not happen in the posh areas of Defense and Clifton, civil society did not take any notice of this.
One of the boys, Haider, survived but the family is reluctant to give any details of what state he is in as they are afraid the attackers will come after them again. According to reports, he suffered from severe internal bleeding and one side of his entire buccal cavity, his jawbone and teeth were destroyed. His respiratory tract was also affected. The boys were attacked by two shots from a pistol fitted with a silencer when they had stopped at a tyre puncture shop. Dr Qadri who is the senior resident medical officer at Lyari General Hospital has shut his private evening clinic in Bihar Colony and gone underground with the rest of his family. "I live in a war zone," he told The Express Tribune over the telephone. "Before the attack this area was safe for me but not anymore." The Kalri police registered an FIR but no one was nominated in it. The attackers were put down as 'unidentified'. There has been no investigation, the father said. At least none that they have kept him abreast of.
We request Pakistani civil society and the media to take up this case with the same passion with which they highlighted the pursuit of justice for Shahzeb Khan #Justice4ShahzebKhan.
Furthermore, we request civil society, media and online activists to awaken the attention of Chief Justice Iftikhar Chaudhry so that he takes suo moto action on Qadri Twins case in the same manner he has taken action on Shahzeb Khan's murder case.
Just like Shahzeb Khan's killers have been categorically named and are being rounded up by the Sindh police, we ask that judiciary, police and activists should clearly name and campaign for urgent arrest of Sipah Sahaba militants who attacked the Qadri Twins.
Just like activists have clearly identified names of the criminals who killed Shahzeb Khan, we too wish to give names of those Deobandi militants who have openly stated genocidal and murderous intent against Shia Muslims. They are Aurangzeb Farooqi Deobandi, Malik Ishaq Deobandi and Ahmed Ludhianvi Deobandi of Sipah Sahaba Taliban (ASWJ).
In case, Chief Justice and prosecutors are looking for evidence, we direct them to this clip: https://lubpak.com/archives/235607
Auragnzeb Farooqi Deobandi confesses that "now we no longer need to kill Shias, we will spread hatred against them in the society".
Comments
comments