Pakistani Christians demand arrest of Sister Birgitta Almeby's killers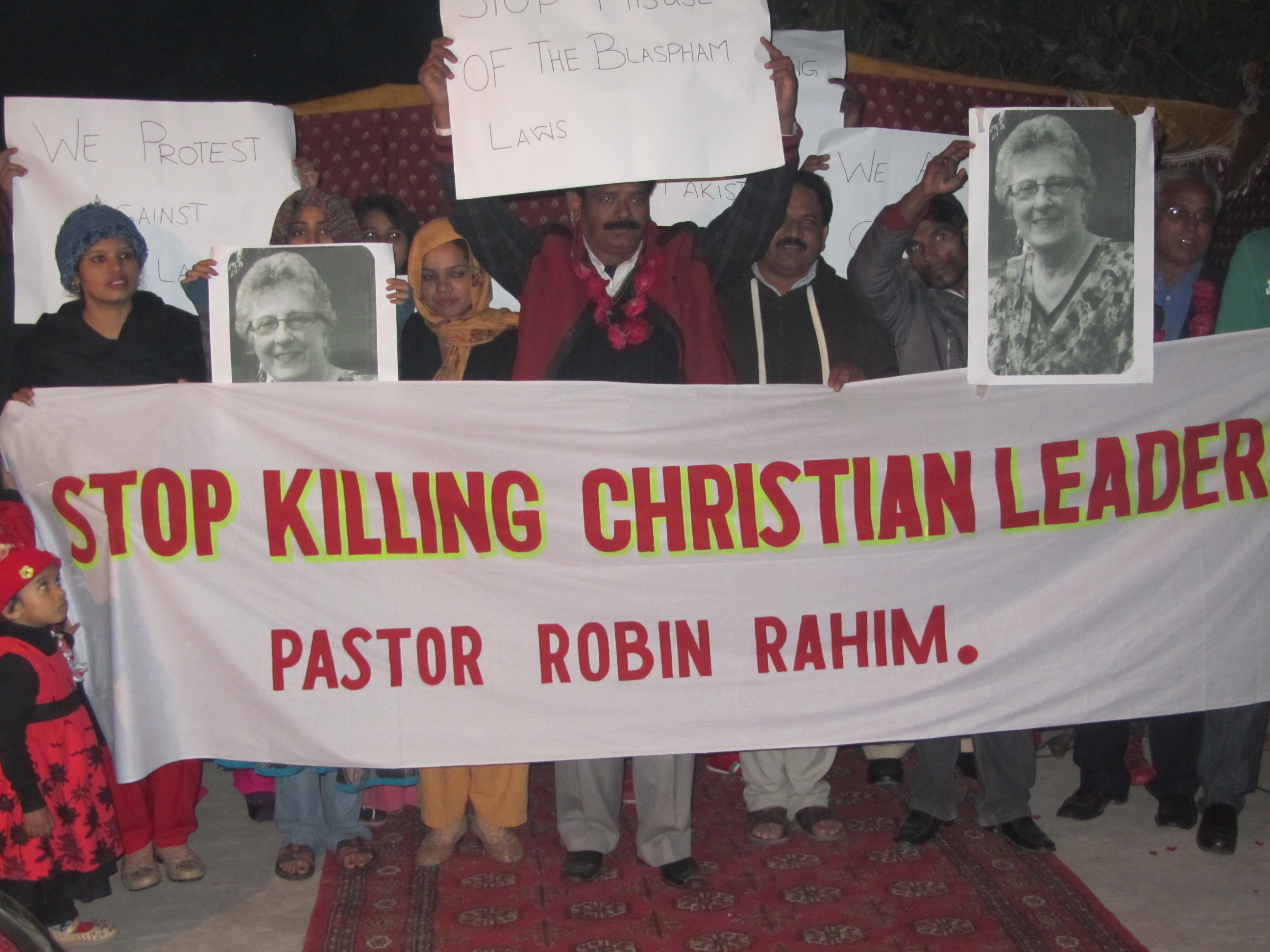 Hundreds of Pakistani Christians on Tuesday, December 25 took part in peaceful protest rallies across Christian Colonies for the murder of the Sister Birgitta Almeby. All Christians were holding banners and placards and they also chanted anti-terrorism slogans. Some Christians blocked the road and burned tires. They had banners which was written that Christians leaders are not secure in Pakistan. Pastor Robin Rahim who is Associate Pastor of Heavenly Kingdom Ministry of Pakistan said that we decided to protest for murder of Sister Birgitta Almeby on Christmas day instead of celebrating with families, relatives and friends. We want to request to Government that immediate arrest to those who are involved in the murder of sister Bargitta and chanted slogans against the extremist and terrorists. The murder of Sister Birgitta has spread fear among all Christians leaders who are serving in Christians of Pakistan and fighting for the rights of Christians people. It means that Christians are not safe in Pakistan. If tomorrow I say something that I am not agree with that so it will be not surprised if I will be killed. Our villages are being burnt and our people are killed and many people are in jail and suffering by the blasphemy law. What justice is this?
He also said that Sister Birgitta Almeby was serving in Pakistan for last 38 years and serving poor Christians of Pakistan through different projects. No doubt to say this if I will say that she was a mother Teresa of Pakistan. She was serving in Full Gospel Assemblies of Pakistan at Lahore. She was running many different projects which was very beneficial for poor people for to become a better part of the society. I knew her personally. She was my spiritual teacher. She always ready to help missionaries. She always encouraged others. She had passion to fight for the rights of the minorities. She wanted to raise the voice for the persecuted. She knew well that her life was not secure in Pakistan but she was willingly to sacrifice her life for Christians community. She dedicate her life for poor people of Pakistan and what Pakistan gave her. The situation of Pakistan give us disappointed and asking for losing hope and just suffer from it and keep sacrifice the leaders. Sister Birgitta and Shahbaz Bhatti gave their life for Christian community that we could have peaceful future in Pakistan. So now this is our duty to carry this mission with the same courage and dedication.
He also said that I want to request to Government that please immediately arrest to those extremists and terrorist who are involved in murder of sister Birgitta. And now time has come that Government should change the blasphemy law instead of waiting for more people killed because of this. We will keep raising voice and will not feel hesitation to be sacrifice our life for finish this law. Terrorist can kill people but they cannot kill the idea. Government should understand now that terrorist and extremists are misusing this law. And also make sure that every Christians will be have all human rights and fundamental rights. I pray for all Christians leaders who are serving in Pakistan that May God protect them and millions people could see the Truth through their purity of faith.
Comments
comments