Intra-Deobandi rivalry in Karachi results in attack on Aurangzeb Farooqi; Ali K. Chishti jumps in to mediate
Author: Arshad Ali
The intra-Deobandi Malik Ishaq vs Ahmed Ludhiyanvi rivalry saw its culmination in Karachi today when leader of pro-Taliban banned militant group Sipah Sahaba (currently operating as Ahle Sunnat Wal Jamaat ASWJ), Aurangzeb Faruqi Deobandi, was targeted by gunmen, killing his two guards and wounding him. Soon afterwards, organized violence was also witnessed on the streets of Karachi as Taliban-led Sipah Sahaba maddrassa students burnt cars, damaged properties and looted shops.
The attack is being seen as warning to Aurangzeb Faruqi Deobandi as he is close to Ahmed Ludhiyanwi Deobandi whose rivalry with Malik Ishaq Deobandi is simmering ever since the latter was released by Chauhdry Iftikhar Deobandi-led sovereign judiciary under a deal. Malik Ishaq Deobandi is involved in killing over 100 Shias and Sunni Barelvis himself, along with the attack on Sri Lankan team in 2009.
After his release from prison, head of Lashkar-e Jhangvi (LeJ, militant arm of Sipah Sahaba), Malik Ishaq Deobandi has manoeuvred actively to rise to the top slot of Sipah Sahaba. With backing of powerful elements within establishment, he has become the vice president of ASWJ (Sipah Sahaba). Although he wanted to directly wrest the control of party leadership, his efforts have not borne fruit yet. Thus conflict is assuming violent form.
This infighting and jostling for power was reported by Express Tribune. http://tribune.com.pk/story/438715/road-to-peace-ishaq-made-vice-president-of-banned-aswj/ It has left Ahmed Ludhyianvi Deobandi in an awkward situation. Such is the rivalry between the two that if Malik Ishaq Deobandi is to participate in a rally, Ludhyanvi Deobandi is absent from it and vice versa. As elections near and ASWJ (Sipah Sahaba) is entering in an alliance with PML-N, whoever holds the leadership of Sipah Sahaba will have power in his hands. Thus Malik Ishaq-VS-Ludhiyanvi conflict might continue.
The internal dynamics are fast exacerbating as could be seen and judged by today's attack. The intra-Deobandi conflict has in past taken the lives of great scholar Mufti Shamzai, Molana Hasan Jan and other anti-suicide bombing Deobandi scholars. All the same, when an Ahl-e Hadith prayer leader (Imam) was killed in Karachi recently, his killer was arrested red-handed who turned out to be a Deobandi member of Sipah Sahaba. https://lubpak.com/archives/232179.
However, there are embedded pro-Sipah Sahaba bloggers on media who portray this intra-Deobandi conflict as 'Sunnia-VS-Shia' sectarian violence as can be seen here:
"@alikchishti
It's official Sip-e-Muhammad versus ASWJ fighting it out on #Karachistreets. #Karachi suffers!"

@alikchishti
anyone who tried killing Aurenzaib Farooqi is no-friend of any community – this is equivalent to declaring a "sectarian war" in #Karachi"
Ali Chishti (himself a Deobandi) is a below average blogger who has through his contacts and dubious dealing has made some name and fame on social media. An inarticulate speaker and writer, he resorts to such dangerous mischaracterization and misrepresentation to put lives of millions of Shias in peril around Pakistan. Here's a glimpse into previous occasions when Ali Chishti acted as a mouthpiece and promoter of Sipah Sahaba: https://lubpak.com/archives/tag/ali-k-chishti
Even though Ali Chishti Deobandi is aware that Taliban-Sipah Sahaba (LeJ-ASWJ-SSP) do not represent Sunnis, but are rather a band of killers, he makes them as the representatives of Sunnis. He does not deliberately inform the public that over 50 Sunni leaders of Sunni Tehrik who were killed in suicide attack in Eid-Milad Nabi (SAWW) rally in Karachi were targeted by same Takfiri Deobandi-led Sipah Sahaba Taliban. https://lubpak.com/archives/71673 Likewise, when Aurangzeb Faruqi was targeted today by his own Deobandi rivals, he once again tried to misrepresent it as Shia-VS Sunni sectarian violence, endangering lives of Shias in Karachi and Pakistan. Through such tweets and writings, he tries to hide the Shia genocide as well. More than 20,000 Shias, including women and children, have been killed in Pakistan since 1963, a systematic killing that has been condemned by international community. In this effort he is helped by pro-Taliban activists of Jamaat-e-Islami, Tahir Asrhafi and Jamaat-ud-Dawa.
In times like this, those dishonest bloggers and media persons who misrepresent the intra-Deobandi conflict as 'Sunni-VS-Shia' sectarian issue are trying to divert the attention of world community from Shia genocide under way in Pakistan.
کراچی سے آنے والی اطلاعات کے مطابق سپاہ صحابہ کے اندرونی اختلافات شدت اختیار کر چکے ہیں سپاہ صحابہ کے ملک اسحاق دیوبندی گروپ نے آج کراچی میں احمد لدھیانوی دیوبندی گروپ کے سرکردہ تکفیری رہنما اورنگزیب فاروقی دیوبندی پر حملہ کر دیا جس کے نتیجے میں چار پولیس والے شہید ہوۓ جبکہ دو تکفیری دیوبندی مردار ہو گئے -اورنگزیب فاروقی دیوبندی کی ٹانگ پر گولی لگی ہے
کراچی کے علاقےگلشن اقبال میں ملک اسحاق دیوبندی گروپ کے موٹر سائیکل سواروں کی فائرنگ سے کالعدم جماعت سپاہ صحابہ المعروف اہلسنت والجماعت کے رہنما اورنگزیب فاروقی دیوبندی زخمی ہوگئے، ، مردار ہونے والوں میں فاروقی دیوبندی کا ڈرائیور اور ذاتی محافظ شامل ہیں۔ ترجمان سپاہ صحابہ کے مطابق گلشن اقبال میں موتی محل کے قریب ملک اسحاق دیوبندی گروپ نے مولانا اورنگزیب فاروقی دیوبندی کی گاڑی پر فائرنگ کی جس کے نتیجے میں فاروقیدیوبندی زخمی ہو گیا ترجمان اہلسنت والجماعت اکبر سعید نے اورنگزیب فاروقی پر فائرنگ کے واقعے کی شدید مذمت کی ہے۔ گلشن اقبال میں فائرنگ کے واقعے کیخلاف ناگن چورنگی پر دیوبندی مدارس کے طلبہ نے احتجاج کیا اور سنی بریلوی اور شیعہ مسلمانوں پر حملے کیے جس کے بعد علاقے میں کاروبار بند ہوگیا جبکہ پولیس کے مطابق عائشہ منزل پر بنوریہ مدرسے کے دیوبندی طالبان نے ایک بس کو آگ لگا دی۔ فائرنگ کے واقعے کے بعدگلشن اقبال کے علاقے میں خوف و ہراس پھیل گیا، اسٹیڈیم روڈ پر تکفیری دیوبندیوں کی ہنگامہ آرائی کے باعث ٹریفک معطل ہوگیا
Postscript: Ali Chishti and Raza Rumi's hero Maulana Tahir Ashrafi Deobandi loses control after attack on Aurangzeb Farooqi Deobandi and uses dirty language against Ahmadiyya Muslims and Shia Muslinms.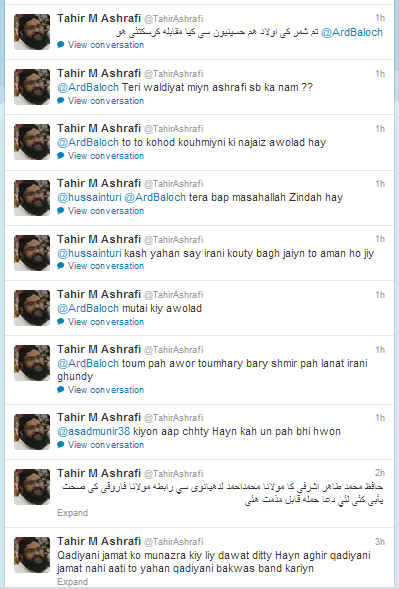 Tahir M Ashrafi ‏@TahirAshrafi
@ArdBaloch تم شمر كى اولاد هم حسينيون سى كيا مقابله كرسكتئى هو

1h Tahir M Ashrafi ‏@TahirAshrafi
@ArdBaloch Teri waldiyat miyn ashrafi sb ka nam ??

1h Tahir M Ashrafi ‏@TahirAshrafi
@ArdBaloch to to kohod kouhmiyni ki najaiz awolad hay

1h Tahir M Ashrafi ‏@TahirAshrafi
@hussainturi @ArdBaloch tera bap masahallah Zindah hay

1h Tahir M Ashrafi ‏@TahirAshrafi
@hussainturi kash yahan say irani kouty bagh jaiyn to aman ho jiy

1h Tahir M Ashrafi ‏@TahirAshrafi
@ArdBaloch mutai kiy awolad

1h Tahir M Ashrafi ‏@TahirAshrafi
@ArdBaloch toum pah awor toumhary bary shmir pah lanat irani ghundy

2h Tahir M Ashrafi ‏@TahirAshrafi
حافظ محمد طاهر اشرفى كا مولانا محمداحمد لدهيانوى سي رابطه مولانا فاروقى كى صحت يأبى كئى لئي دعا حمله قابل مذمت هئى

3h Tahir M Ashrafi ‏@TahirAshrafi
Qadiyani jamat ko munazra kiy liy dawat ditty Hayn aghir qadiyani jamat nahi aati to yahan qadiyani bakwas band kariyn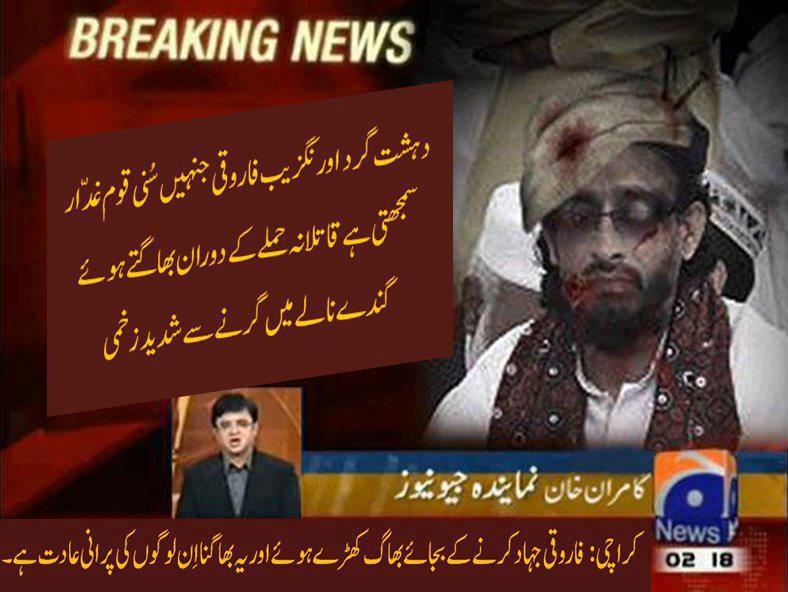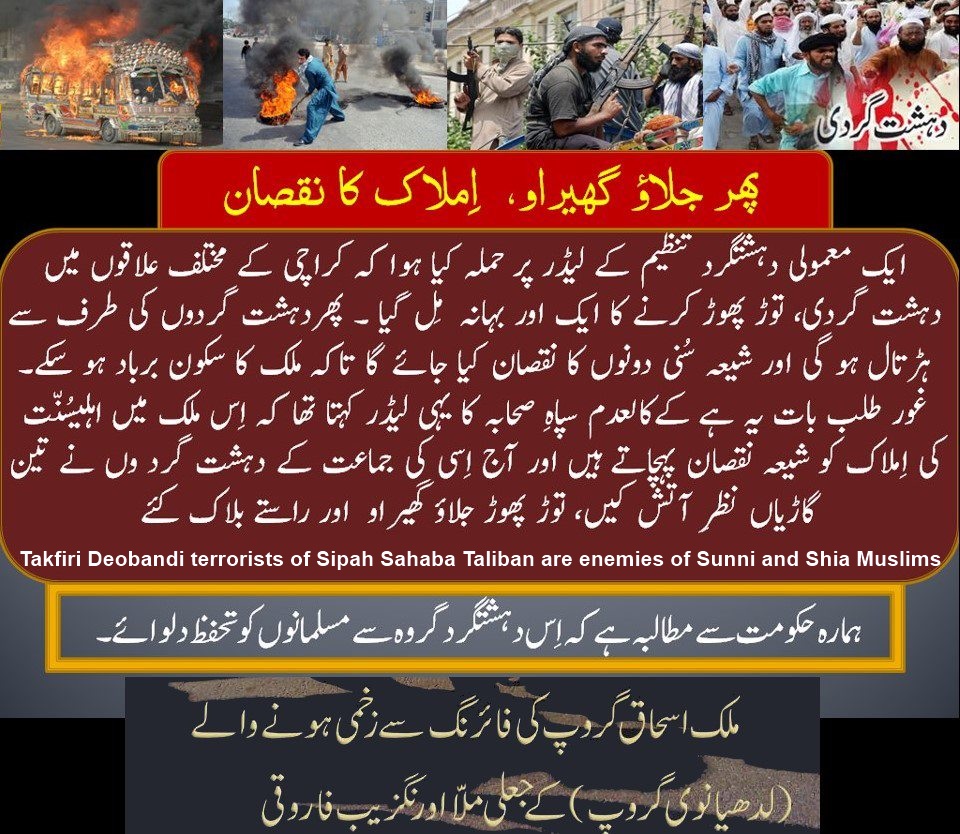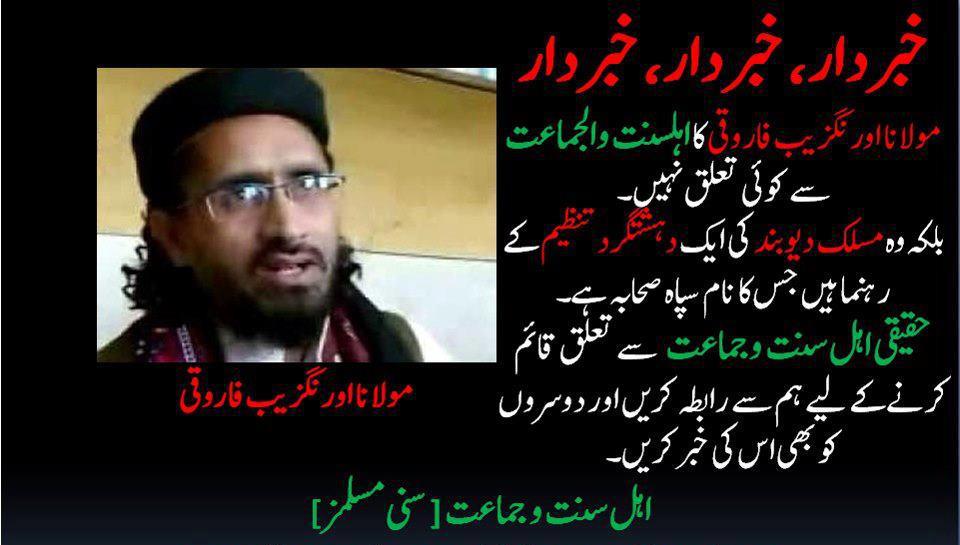 Comments
comments