Don't insult the poor donkey – by Ali Taj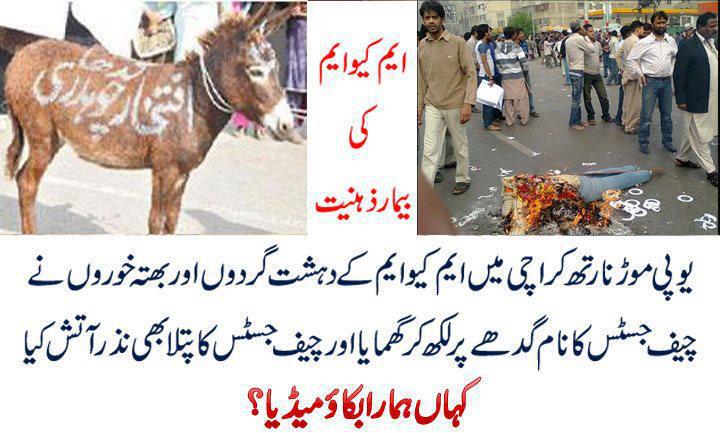 A conversation on facebook:
MS: Thats not fair, aakhir gadhay ke bhi izat hoti hai, becharay gadhay ko iftikhar chaudhry bana diya. (It's an insult of the poor donkey to resemble him to Chief Justice Iftikhar Chaudhry).
AT: It is a very cruel thing to do to the poor donkey.
AZ: A donkey is an extremely hard working animal. Comparing him with CJ Iftikhar Chaudhry is the ultimate insult to a donkey. You cannot compare "Chief Saab" to even a dog, which is a loyal animal. "Chief Saab" is a species of its own kind. I condemn MQM for making fun of the donkey.
ARL: In my humble, view this is just a propaganda against a peace loving party such as MQM. If this was a real MQM protest, the donkey would have been killed in target killing or would have some kind of indication of a drill boring in his head or worse. A typical MQM trademark they would have found the donkey all tied up in a bori! Since none of that is present here I would like the chief justice sahib to take a sumo moto action against these culprits for falsifying the reputation of a peace loving party such as MQM.
LA: Instead of blaming MQM, let's focus on the fact that the donkey in the supreme court issues notices to politicians while providing relief to LeT, LeJ and now Lal Masjid Deobandi militants.
NMZ: Kya iss donkey kay baitay nay bhee 90 crore ghaib say kamaai hain? (Has this donkey's son too earned Rs. 90 crore though dubious means?)
Previous insult: Zawar Hussain Bismal recites an insult-poem (hajv) on pro-Taliban Chief Justice of Pakistan Iftikhar M. Chaudhry. Massive applause by more than 300,000 Shia Muslims present at a mammoth rally in Lahore on 1 July 2012. The rally was organized by the Majlis-e-Wahdat-e-Muslimeen (MWM) to express Shia Muslims' protest against their ongoing massacre at the hands of Takfiri Deobandi terrorists alleged to be supported by Pakistan army and judiciary.
Source :World Shia Forum
Comments
comments