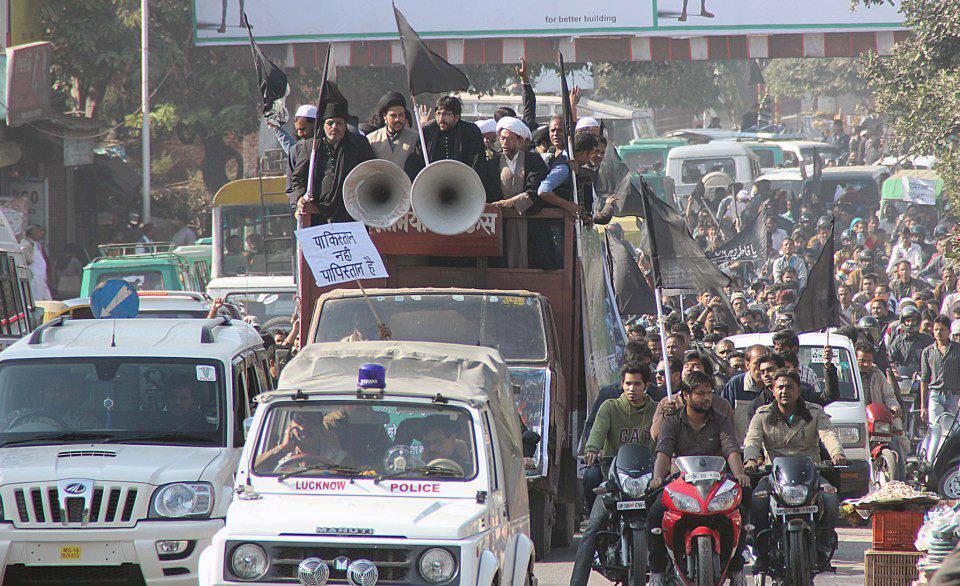 Related posts: All India Shia Board slams Pakistan government for Shia genocide in Pakistan
General Kayani and Takfiri Deobandis جنرل کیانی اور تکفیری دیوبندی
Lucknow, India (17 December 2012) Chanting anti-Pakistan slogans, thousands of Shia Muslims today staged a demonstration here against what they called ongoing genocide of members of their community in the neighbouring country, Pakistan. Protesters chanted slogans against Pakistan government and army for their failure to stop target killing of and bomb attacks on Shia Muslims of Pakistan by ISI-sponsored Takfiri Deobandi terrorists. According to an estimate, more than 20,000 Shia Muslims have been killed by Deobandi militants in Pakistan in the last few decades.
Led by noted cleric and spokesperson of the All India Shia Personal Law Board, Maulana Yasoob Abbas, Shia Muslims took out a rally in the Uttar Pradesh capital. Shia Muslims later staged a sit-in before the state assembly and burnt a Pakistani flag, and pictures of General Kayani (Pakistan Army Chief) and Ahmed Ludnianvi (top Deobandi cleric in Pakistan known for anti-Shia hate speeches and links with Pakistan army).
Speaking on the occasion, Abbas lamented that Shias were facing harassment, persecution and genocide in Pakistan and the government there was not concerned about their plight. Abbas also condemned the links between Pakistan army, spy agency ISI in particular, and Deobandi Jihadist groups (Sipah Sahaba and Taliban).
Calling for an end to the killings, he advocated stern punishment for those responsible for the same.
The protesters demanded that the United Nations should declare Pakistan a terrorist state. The rally was carried out from Nakkhas towards Vidhan Sabha against the anti-Shia and anti-minorities policy of Pakistan. The rally was also attended by a small number of Sunni Muslims, Hindus, Sikhs and Christians who condemned Pakistan army's support to Deobandi militant groups.
Videos:
Aaj Ki Khabar
http://youtu.be/1VQceizF8KA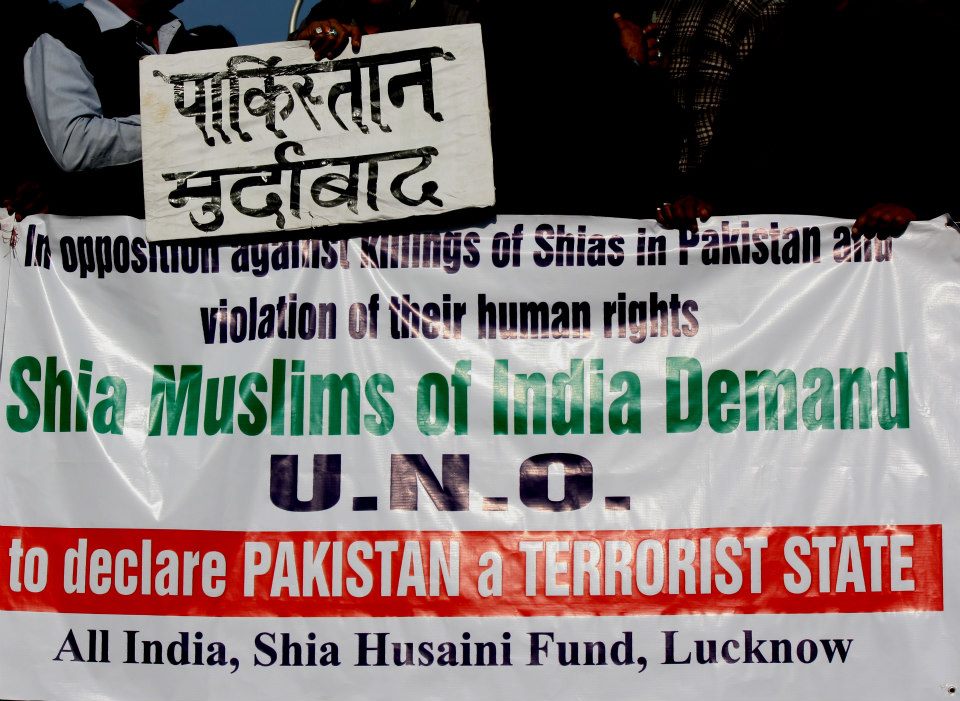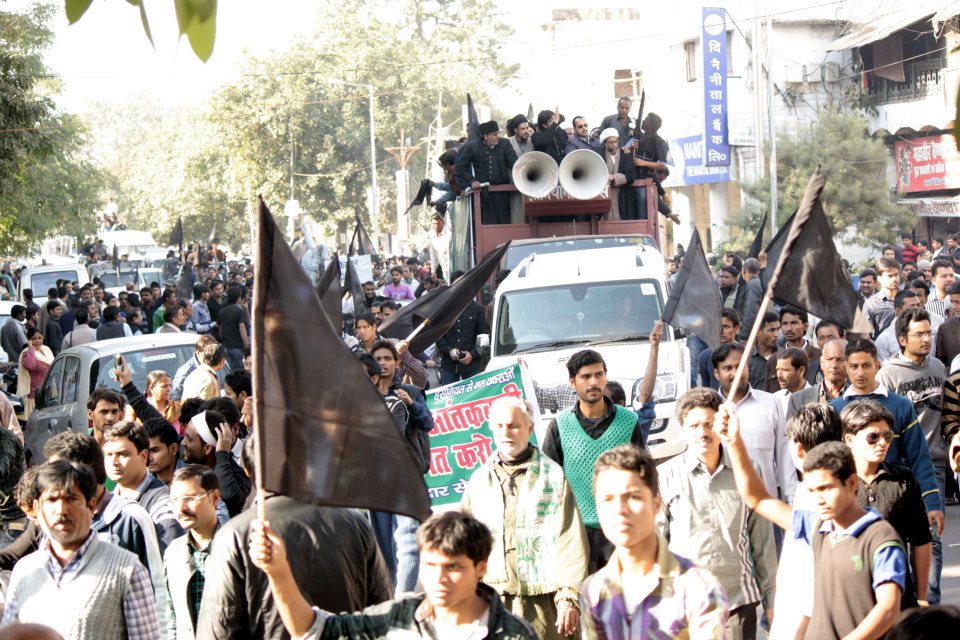 Sources: DNA India, Times of India, NDTV
Previous protests
Previously in April 2012, tens of thousands of Shia and Sunni residents of Indian administered Kashmir (Kargil District) protested against Shia genocide in Pakistan, particularly in Gilgit Baltistan (Pakistan administered Kashmir). According to an estimate, at least 20,000 Shia Muslims of all ethnic backgrounds (Gilgiti, Balti, Pashtun, Hazara, Punjabi, Muhajir, Sindhi, Baloch etc) have been killed by Takfiri Deobandi militants known as Sipah Sahaba Taliban (SST), some of whom are nurtured as strategic assets by Pakistan army for cross-border Jihadist activities in Kashmir and Afghanistan. (Source: World Shia Forum)
Video: Massive protests in Kargil and Ladakh against Shia genocide in Pakistan
Slogans during the protests:
Hukoomat-e-Pakistan Murda Baad (Death to the Government of Pakistan)
Insani Huqooq Kay Alambardaro Sharm Karo (Shame on champions of human rights)
Yazidiat Murdabad (Down with Yazid and his Deobandi followers)
Gilgit Baltistan Kay Mazloomo, Hum Tumhare Saath Hain (Victims of genocide, we are with you!)