Statements by HRW, Amnesty and HRCP on Shia genocide in Pakistan (November 2012)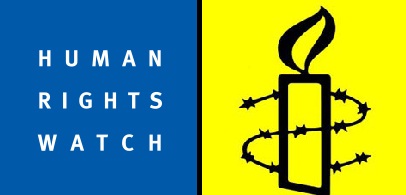 Editor's note: A number of leading human rights groups have issues statements urging Pakistani State and government to protect Shia Muslims. A couple of things are of note:
1. None of the statement clearly identifies the known and proud perpetrators of violence against Shia Muslims, i.e., Takfiri Deobandis. It is our considered opinion that presenting Takfiri Deobandi militants (of Sipah-e-Sahaba, Lashkar-e-Jhangiv, Taliban etc) as Sunni extremists is counter-productive. It serves to provide a wider base and legitimacy to Takfiri Deobandi militants and also serves to obfuscate the identity of those responsible for violence. In almost all acts of violence against Shia Muslims, not a single Sunni Barelvi (Sufi) is involved. While Saudi Wahhabis are most probably funding Takfiri Deobandis in Pakistan, no Pakistani Wahhabi group is known for orchestrating the attacks on Shias. The anti-Shia violence in Pakistan is almost entirely a Deobandi phenomenon, and should be described as such. It should also be highlighted that the same militants (Takfiri Deobandis) who attack Shia Muslims also attack Sunni Barelvi (Sufi) Muslims. Thus they dynamic of anti-Shia violence in Pakistan is Deobandi vs Shia+SunniBarelvi+Ahmadi, not Sunni vs Shia.
2. Wile 800 Hazara Shias killed in Quetta are indeed killed due to their Shia faith, easily identifiable due to their racial features, rights groups should also acknowledge at least 300 non-Hazara Shias killed in Quetta in recent years. None of these deaths (of Hazara Shia and non-Hazara Shia) in Quetta should be seen in isolation from the country-wide Shia genocide in which Shias of all provinces, areas and ethnic backgrounds are being indiscriminately killed by Takfiri Deobandi terrorists of Sipah-e-Sahaba, Taliban and other allied groups. According to an estimate, at least 20,000 Shia Muslims have been killed so far.
Despite these observations, we thank human rights groups for highlighting the anti-Shia violence in Pakistan and hope they will continue to monitor the situation and update the United Nations and international community about the pre-genocide like situation facing Shia Muslims at the hands of Takfiri Deobandi militants sponsored by Pakistan Army.
Human Rights Watch's (HRW) Statement
HRW urges govt to protect Shias from attacks during Muharram
21 November 2012
New York: The Pakistani government should urgently act to protect Shia Muslims in Pakistan from sectarian attack during the Muslim holy month of Muharram, Human Rights Watch (HRW) said on Wednesday.
Today's deadly twin bomb attacks in Karachi at a Shia Imbargah underscore the seriousness of the threat faced by the Shia community, said Ali Dayan Hasan, Pakistan director at Human Rights Watch.
Concerns are greatest for possible attacks on Shia processions marking Ashura, the 10th day of Muharram, which this year is on November 25.
"Shias in Pakistan should be able to participate in Ashura processions without fear of attack," said Hasan. "Pakistani authorities need to address the severe danger faced by the Shia population with all necessary security measures. They can start by arresting extremist group members responsible for past attacks," he added.
Pakistani and international human rights organisations, including Human Rights Watch, have made numerous calls to Pakistan's authorities to hold those responsible for the attacks to account. While authorities claim to have arrested dozens of suspects, no one has been charged in these attacks.
"The ongoing targeted killings of Shias send a chilling message to all Pakistanis that their government won't necessarily act to protect them," said Hasan. "The government's failure to break up the extremist groups that carry out these attacks calls into question its commitment to protect all of its citizens," he added.
Some Sunni extremist groups are known to have links to the Pakistani military and its intelligence agencies. Groups, such as the banned Lashkar-e-Jhangvi (LeJ), operate with impunity even in areas where state authority is well established, such as Punjab province and the port city of Karachi.
"Pakistan's civilian and military leaders should recognise that their tolerance for extremist groups is killing their own citizens," said the chairman HRW Pakistan. "They need to stop appeasing extremists and start holding them accountable," he added.
http://dawn.com/2012/11/21/hrw-urges-govt-to-protect-shias-from-attacks-during-muharram/
Amnesty International's Statement
22 November 2012
Pakistan: Shi'a killings failure of government protection
The killing of at least 25 people during religious processions yesterday highlights the continued failure of Pakistani authorities to protect the Shi'a community, Amnesty International said.
The Pakistan Taleban (Tehrik-i-Taliban Pakistan) has claimed responsibility for yesterday's bombings in the cities of Rawalpindi and Karachi, which came as the Shi'a community marked the holy month of Muharram.
"These attacks demonstrate the Taleban's utter disregard for human rights and basic principles of humanity," said Polly Truscott, Amnesty International's Deputy Asia-Pacific Director.
"Unfortunately the Taleban are just one of the groups implicated in attacks on Shi'a Muslims resulting in hundreds killed or injured in Pakistan this year."
Amnesty International has recorded at least 39 attacks on Shi'a Muslims since the start of 2012.
But despite the frequency of such violence, the Pakistani government has a poor track record of bringing the perpetrators – and those who incite them – to justice.
"From ethnic Hazaras in Quetta and communities in the Tribal Areas, to men and women in Gilgit all the way down to Karachi, people of all walks of life live in constant fear of deadly violence," Truscott added.
"The Taleban and others must cease all such attacks and the authorities must bring the perpetrators to justice through prompt investigation and fair trials."
Direct incitement by religious groups to their followers to carry out such violence must be stopped.
"In no way can such attacks be excused as an attempt to protect the religious sentiments of other faiths," said Truscott.
"Failure to act sends a dangerous message that the authorities are unwilling or incapable of protecting their citizens adding to an already toxic climate of vilification on the basis of religion that has fuelled so much violence in Pakistan this year."
http://www.amnesty.org/en/for-media/press-releases/pakistan-shi-killings-failure-government-protection-2012-11-22
HRCP's Statement
HRCP condemns sectarian slaughter
HRCP has strongly condemned the killing of about 25 innocent Pakistani citizens on the grounds of their belief
Lahore, November 22: The Human Rights Commission of Pakistan (HRCP) has strongly condemned the killing of about 25 innocent Pakistani citizens on the grounds of their belief and called for serious efforts to subdue the monster of sectarianism. In a statement issued here today, HRCP said.
No words are strong enough to condemn Wednesday's killing spree in which around 25 innocent Pakistanis were slaughtered while performing belief-related rituals nor are adequate for expressing the shame to which the whole nation has been put. It seems the new breed of religious zealots wanted to tell the D-8 dignitaries all about the mess the Islamic Republic of Pakistan has been turned into. Quite obviously the targeting of the Shia citizens has reached a new high this year and many quarters apprehend more bloodshed on Ashura. All kinds of eminent figures in government and political parties have issued condemnatory statements and spokespersons of federal and provincial governments are making tall claims above their plans to maintain peace. The virus of sectarianism that has been eating into the vitals of the Pakistan society can be exorcised neither by politicians' hackneyed rhetoric nor by the antics of ineffective law enforcement agencies. Everybody knows who the Shia-baiters are and what new theories to justify murder on account of religious or sectarian differences the latest crop of jihadists have spawned. Thus, while the administration must do all it can to deal with the crime part of the sectarian militants' agenda, and prove that their actions can match their proclamations, the leaders of the various schools of religious thought must admit their failure to keep their followers under some discipline. They must seriously work towards reviving the indigenous traditions of tolerance, for they are as much responsible for making Pakistan unlivable as anyone else.
Zohra Yusuf
Chairperson
http://www.hrcp-web.org/showprel.asp?id=330
Comments
comments