Bhagat Singh and his relevance to Pakistan – by Saad Ahmed Javed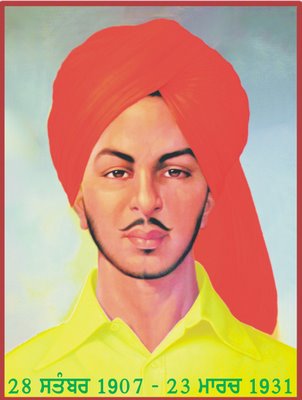 Bhagat Singh is considered to be born on September 28, 1907 in Jaranwala Tehsil in the Lyallpur (now Faisalabad), Punjab, British India (now Pakistan). He was born in a family of freedom fighters. His father and uncles were members of the Ghadar Party. Unlike many Sikhs of his age, he did not attend the Khalsa High School in Lahore, because his grandfather did not acclaim the school officials' allegiance to the British authorities. In his childhood, he was deeply influenced by the grave incident at the Jallianwala Bagh. In 1920, his anti-imperialist aspirations forced him to participate in Mohandas Gandhi's Non-Cooperation Movement but followed by Gandhi's perfidiously suspending the movement he gave up Gandhi's political philosophy of non-violence and began advancing the idea of the violent overthrow of the British Imperialism in Indian Subcontinent.
Other than politics Bhagat Singh was also well-versed in literature. He was fluent in Punjabi, Urdu, Hindi and English languages. Sir Dr. Muhammad Iqbal is believed to be his favorite poet. (We can't ignore the influence of Bhagat Singh's revolutionary movement on Iqbal's poetry-and vice versa-if we read Iqbal's poetry and history of progressive youths' movements in Indian Subcontinent). In 1923, Bhagat Singh joined the National College, Lahore, to continue his studies. The same year, his essay on 'Punjab's Language and Script' won him the essay competition organized by Punjab Hindi Sahitya Sammelan. In the essay he quoted Punjabi literature and showed a profound understanding of the problems of Punjab and also denounced making language a communal question.
Che Guevara once said, "We must struggle every day so that this love for humanity becomes a reality". Bhagat Singh's struggle for freedom was driven by this love for humanity and this love for humanity was so intense that worldly desires lost their appeal before him. In 1924, when his family pressurized him to get married, he left the house leaving behind a letter stating: "My life has been dedicated to the noblest cause, that of the freedom of the country. Therefore, there is no rest or worldly desire that can lure me now…" His jail notebook carries one of his beautiful quotes, "I am a man and all that affects mankind concerns me". He was certainly the Bulleh Shah-in-arms!
Great people leave behind great legacies and the greater is the legacy, the greater are its claimants. Thus Bhagat Singh was no exceptional. Like any other great person of Indian Subcontinent, from Dullah Bhatti to Tipu Sultan and from Muhammad Iqbal to Amrita Pritam, the legacy of Bhagat Singh is equally borderless. Nothing could confine him in this world. Like he writes in his Jail notebook:
"Every tiny molecule of Ash is in motion with my heat
I am such a Lunatic that I am free even in Jail"
On 8 April 1929, Bhagat Singh and Batukeshwar Dutt, dropped two bombs in the Central Legislative Assembly and shouted slogans of "Inqalaab Zindabad!" (Long Live the Revolution!) and showered leaflets. The leaflets contain the notice from Hindustan Socialist Republican Army signed by 'Balraj' (Chander Shekhar Azad), Commander-in-chief of the Hindustan Socialist Republican Army. It is widely believed that the notice was primarily written by Bhagat Singh. The notice commenced with the statement, "It takes a loud voice to make the deaf hear, with these immortal words uttered on a similar occasion by Valiant, a French anarchist martyr, do we strongly justify this action of ours." (The message was so profound and influencing that the eminent historian and researcher Irfan Habib authored a book on Bhagat Singh and his comrades with title "To Make The Deaf Hear".) Since they didn't escaped from the scene thus were easily captured by the police, as planned.
On 23 March 1931, Bhagat Singh along with his two comrades, Rajguru and Sukhdev, was hanged at the Central Jail of Lahore. He was accused of killing a British Police Official that was in fact the response by the revolutionaries to the brutal beating, followed by death, of a noted leader Lala Lajpat Rai by British Raj Police during a non-violent protest against the Simon Commission.
The trial of Bhagat Singh, as Syed Sharifuddin Pirzada writes, 'was held under the special Law, which permitted the trial in absentia'. Very few Pakistanis knew that "Jinnah made the most forthright statement in his defence of Bhagat Singh from amongst the leading politicians of the time." I. A. Rehman writes, "in his coolly logical and convincing manner he [i.e., Jinnah] played a major role in foiling the attempt to make trial in absentia unlawful". While speaking in the Central Assembly on September 1929, Muhammad Ali Jinnah said:
I say that no judge who has got an iota of a judicial mind or a sense of justice can ever be a party to a trial of that character and pass sentence of death without a shudder and a pang of conscience. This is the farce which you propose to enact under this procedure. I say this, that if ever there was a conscientious judge and he was strong enough, if he had a judicial mind, and if he had any independence, let me tell you, that in spite of the provision of yours, he would say, "True, the law has to be administered; I am obliged to make the order that the trial shall proceed ex parte; but I realize and I feel that it will be a travesty of justice and I cannot be a party to it; and I shall, therefore, adjourn this case until further orders."
In 1929, when Bhagat Singh went on his historic hunger strike in the jail for the rights of prisoners, M. A. Jinnah stated in Assembly that "The man who goes on hunger-strike has a soul. He is moved by the soul and he believes in the justice of his cause; he is not an ordinary criminal who is guilty of cold-blooded, sordid, wicked crime…What was he driving at? It is the system, this damnable system of Government, which is resented by the people."
March 23 is a historical day in both India and Pakistan. It was a day when Bhagat Sing was hanged some four decades back in Lahore. The day is celebrated in India for remembering the martyrdom of Bhagat Singh, Rajguru and Sukhdev. Though in Pakistan, the day is officially celebrated as the 'Republic Day' however, the progressive individuals and organizations in Pakistan commemorate the martyrdom of Bhagat Singh and comrades by lighting candles and holding portraits of the martyrs at the Shadman Chowk, Lahore. Quite ironically, 'Shadman' means the adobe of happiness or, one can say, happiness! It's the place where Bhagat Singh and his comrades shed their blood for the freedom of their motherland! Since years progressives of Pakistan are demanding the government rename Shadman Chowk to Bhagat Singh Chowk but their efforts has not bring fruits so far. Kuldip Nayar, Indian journalist, writes in one of his books on the martyr, "the cells that housed these three martyrs are falling apart. The scaffold on which they were hung is now a traffic roundabout…The road between the mosque and the ruins of the jail leads into the gateway of a mental hospital. It is almost as if the establishment does not want any sign of them to remain". What can be more pathetic that in Pakistan several roads and roundabouts can be found named even after foreign invaders who looted our motherland but when we demand renaming some of our roads and roundabouts over the names of freedom fighters of our soil we only experience silence from the establishment! Certainly, we know promoting anti-Imperialism freedom fighters isn't in the interest of establishment of Pakistan but how long they can repress the wishes of its people?
However, Bhagat Singh is no more irrelevant to Pakistan, today, despite no text book ever mentioned him not even in the chapter on independence movement. As Younas Chowdhry writes, "Bhagat Singh's legacy of liberty and social justice is being invoked by Pakistani civil society to fight for their rights". Pakistan is currently passing through the hardest times of its history with extremism, intolerance and communal conflicts spreading in the country like forest fire and hyper-inflation and escalating poverty callously annihilating homes of downtrodden masses. Under such conditions Bhagat Singh's political philosophy can not only strengthen us fighting such socio-economical evils but can also help us build strong relations with our neighbors, especially with India, and thus bringing peace and prosperity to home.
About the author: Saad Ahmed Javed is a Lahore-based freelance contributor, blogger and a social activist, who graduated with a science degree from the Punjab University, Lahore and is currently pursuing his Masters in Business Administration from UET Lahore. He is deeply involved in carrying out humanitarian and welfare endeavors for the betterment of oppressed ones of the society. He can be reached at saadhumanist@gmail.com
Comments
comments