Deobandi militants of Sipah Sahaba printing books against Sahaba to implicate Shias

Related post: Takfiri Deobandi militant of Sipah Sahaba caught red handed in Karachi after killing a Salafi (Ahle Hadith) cleric
سپاہ صحابہ اور طالبان کے تکفیری دیوبندی دہشت گرد حضرت ابو بکر، ، حضرت عمر، حضرت عثمان اور حضرت عائشہ رضی الله تعالیٰ عنھم کے خلاف غلیظ کتابچے شایع کرتے ہوۓ پکڑے گئے – تکفیری دیوبندی دہشتگردوں کا مقصد شیعہ اور سنی عوام میں فساد پیدا کرنا تھا تاکہ زیادہ سے زیادہ لوگ سپاہ صحابہ اور طالبان میں شامل ہو کر شیعہ مسلمانوں کی نسل کشی میں حصہ لیں یا شیعہ نسل کشی کے جواز کوثابت کیا جا سکے
پشاور پولیس نے پشاور کے محلہ لالہ رخ کے رہائشی دیوبندی مولوی قاری عبد الصدیق کے گھر میں موجود ایک خفیہ پرنٹنگ پریس کا انکشاف کیا ہے جس کو سپاہ صحابہ کی سر پرستی حاصل تھی، اس پریس میں نامور پاکستانی اور ایرانی شیعہ علما کے نام سے صحابہ کرام کے خلاف نہایت غلیظ کتابیں شایع کی جا رہی تھیں – قاری صدیق نے انکشاف کیا کہ اسے فی کتاب پانچ لاکھ روپے ملتے تھے اور یہ کہ اب تک بارہ سو کتابیں چھاپ چکا ہے اس کو مالی امداد دینے والوں میں سپاہ صحابہ کے ملک اسحاق کا نام بھی شامل ہے
تکفیری دیوبندیوں کے خوفناک حربے
سنی بریلوی اور اعتدال پسند دیوبندی و اہل حدیث علما کو شہید کر کے الزام شیعہ مسلمانوں یا دوسری پارٹیوں جیسل کہ ایم کیو ایم، پیپلز پارٹی یا اے این پی پر ڈال دینا
صحابہ کے خلاف غلیظ لٹریچر خود شایع کر کے شیعہ علما کے نام منسوب کر دینا
پاکستان میں سنی شیعہ فساد بھڑکنے کی کوشش کرنا
تمام سنی شیعہ، بریلوی دیوبندی، اہلحدیث احمدی، مسیحی ہندو پاکستانی طالبان اور سپاہ صحابہ کے تکفیری دیوبندی دہشت گردوں سے ہوشیار رہیں اور ان کو جہنم رسید کرنے میں بھر پور کردار ادا کریں
Source: Edited version based on Political Shia – Pakistan (Facebook Page)
A printing press recovered from a house in Lalarukh Colony Peshawar was used to print books abusing companions of Holy Prophet (pbuh) using names of Shia scholars. Qari Abdul Siddiq Deobandi who ran the printing press has admitted that he has been doing this work for a long time and felt no regrets. He has told that he was paid Rs. 500,000 for every book he printed. He has printed over 1200 books so far and another 100 were in the pipeline. He further told that he wasn't alone in publishing these books and such printing presses existed in almost all big cities of Pakistan. He added that the chief of Lashkar-e-Jhangvi (and now Vice President of Sipah-e-Sahaba/Ahle-Sunnat-wal-Jamaat) himself pays him the money as well as the book supposed to be tampered.
These books are being published in order to turn the moderate Sunnis against the Shias. The books being published use extremely filthy language against the companions of the Holy Prophet (pbuh) and aimed at creating an environment in which all Sunnis hate Shias and the terrorist groups find it even easier to kill the latter with impunity.
The government should take notice of the issue and ensure that it cracks down against Lashkar-e-Jhangvi/Sipah-e-Sahaba/Ahle-Sunnat-Wal-Jamaat for killing of innocent Shias as well as conspiracy of production of hate material against companions of the Holy Prophet (pbuh) through which it aims to brainwash people against Shias.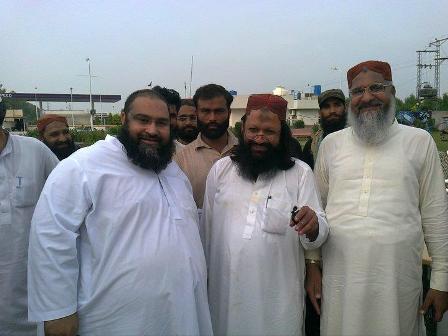 امین شہیدی کا انکشاف غلیظ لٹریچر شیعہ مسلم کے نام سے چھاپا جا رہا ہے
علامہ امین شہیدی نے طاہر اشرفی سے سوال کیا کہ دیوبندی عالم دین مولانا حسن جان نے کون سا غلط لٹریچر لکھاعلامہ سرفراز نعیمی شہید نے کیا غلط کہا تھا جو ان دونوں کو شہید کیا گیا تھا قاضی حسین احمد نے مولانا فضل الرحمان نے کون سا غلط لٹریچر لکھا تھا جو ان پر حملے ہوئے
علامہ امین شہیدی نے یہ بھی کہا کے قاضی حسین احمد ان سے کہ چکے ہیں کے یہ غلط لٹریچر ایک جماعت چھاپتی ہے اور شیعہ مسلک کے نام سے پبلش کرتی ہے
http://www.facebook.com/photo.php?v=341371252626901
Sipah Sahaba's vice president (founder of Lashakr-e-Jhangvi) Malik Ishaq circulates self created anti-Sahaba literature to incite violence against Shias:
Comments
comments