Displaced families of Rimsha case demand resignation of Dr. Paul Bhatti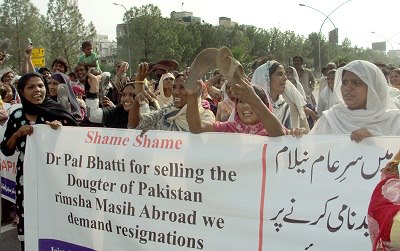 Our suffering community of displaced families are in an extreme sad situation without food and shelter, wandering on Islamabad roads and nearby jungle to save their lives while Dr. Paul Bhatti, Advisor to the Prime Minister for Harmony, is sleeping in his home peacefully with plenty of food.
When Allama Tahir Ashrafi reminded him of his duty, he started fighting with Maulana that he cannot take risk of his life, while on the other hand he collected Rs 10,00,000 from one organization of Italy for the bail petition of Rimshah Masih. Christian community took out a big rally demanding the resignation of Dr. Paul Bhatti.
In this critical situation,Government of Pakistan should replace Dr.Paul Bhatti with some dutiful and responsible capable person who could perform his duty in the best way.
Agnes Massey (Pakistani Canadian)
Lawyer, High Court,LHR,Pakistan
Islamabad, Pakistan: September 18, 2012. (Shamim Masih): Displaced families of Rimsha case held protest rally against Dr. Paul Bhatti, Chairman All Pakistan Minority Alliance (APMA) and advisor to Prime Minister of Pakistan.

The protesters started the rally from St. Thomas Church, Blue Area to Green Towers Blue Area office of the minister in-charge of National Harmony Islamabad. They claimed that chairman APMA had dishonestly gathered huge funds on the name of Rimsha case but didn't deliver.

On 16th August, 2012, a Christian girl of 14 years was arrested in blasphemy case and angry mob was attacking Christian's houses. Most of the families had to run in the midnight to save their lives. Since then hundreds of the families are living under stress and fear of their lives and properties.

Earlier these displaced families held a protest rally and demanded substitute place for living. According to the protesters today, they were promised by in-charge minister national harmony, Dr. Paul Bhatti. They were promised, since then neither Chairman APMA nor his representative has contacted them. Instead APMA arranged funds raising events in different countries for the rehabilitation but didn't deliver, they claimed.

Protesters were holding banners and were claiming his resignation. Hundreds of men and woman and children were sitting on the road out the ministry building, they were shouting and asking him come in to answer their questions.

Aster Bibi, 36 years, said that they were selling their household goods and buying food stuff for her children.

Waris Masih, living there for three years, said that due this incident my family is totally disturbed and we could sleep peacefully since then. We could hardly manage food one time a day.

Baba Sajin said, "putter bohit buray halat ney" means, son, we live in pathetic situation.

Arif John said, Minister sb had promised us to provide a piece of land and provision of food until the situation is calm.

Until then, in charge Minister of National Harmony didn't come out of his office, but when I called him on his cell phone, he said I have done a lot for them, even my brother has given life for the sake of community. They were just trying to black mail and I am not answerable to them, this rally is preplanned against me. He will unveil the faces very soon, he added.

Source: Pakistan Christian Post
Comments
comments