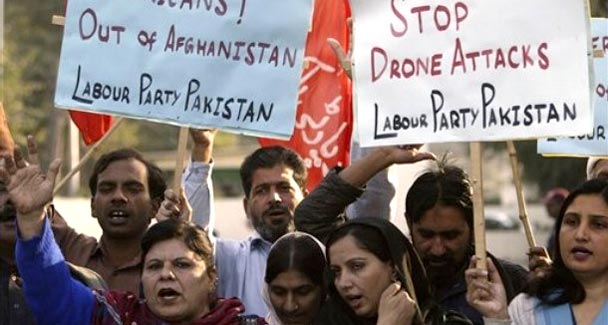 We have previously highlighted how various right-wing and (pseudo-)liberal analysts in Pakistani media and society remain silent or, worse, misrepresent Shia genocide in Pakistan at the hands of State-sponsored Takfiri Deobandi-Salafi militants by dishonestly giving it Hazara ethnic or Sunni-Shia sectarian colour.
We published a series of articles to name and remind those silent on genocide of Shia Muslims, the most target killed community of Pakistan – more than 19,000 killed and still counting.
In this post, we highlight how a leading Marxist intellectual, trade union leader and columnist Dr Lal Khan continues to ignore, in fact misrepresent, Shia genocide.
First a brief introduction:
Dr. Lal Khan is a political activist and trade unionist. Together with Alan Woods, he is involved in International Marxist Tendency, an organisation which is active in more than 30 Countries worldwide. Dr. Khan's political theory and struggle are based on the ideas of Leon Trotsky and he is International Secretary of Pakistan Trade Union Defense Campaign (PTUDC). He is the editor of the quarterly Asian Marxist Review journal and also writes regular columns in the Daily Times. Dr. Khan has written widely on class-struggle and conflicts in South Asia and the Middle East and is the author of several books including those on the possibility of revolutionary struggle in Kashmir leading to a united South Asian socialist federation, Pakistan's revolution of 1968-69 and on the history of revolutionary struggle in the Arab region. (Source)
Here are a few examples of Dr. Lal Khan's discourse on Shia genocide.
Lal Khan presents false binary and false neutrality of violence between Sunnis and Shias completely wiping out the fact that Takfiri Deobandis do not represent Sunnis, they only represent their sponsors in Pakistan Army.
The oppression of the national groups, discrimination against women, the abhorrent treatment meted out to religious minorities, and the bloodletting going on between the Shias, Wahabis, Sunnis, and other fundamentalist sects craving to cut the throats of rival Islamic sects, hardly makes this a viable nation.

It is not a 'national' tragedy — Lal Khan
September 16, 2012
http://www.dailytimes.com.pk/default.asp?page=2012%5C09%5C16%5Cstory_16-9-2012_pg3_6

مذہبی اقلیتوں کے ساتھ نفرت کا برتاؤ، مخالف اسلامی فرقوں کے گلے کاٹنے کو تیار شیعہ، سنی، وہابی اور دیگر بنیاد پرستوں کے مابین خونریزی، یہ سب ایک قوم ہونے کی علامات تو نہیں

http://www.struggle.com.pk/karachi-factory-fire-%E2%80%93-not-a-%E2%80%9Cnational%E2%80%9D-tragedy-but-product-of-class-exploitation/
Lal Khan condemns Shia genocide by the LeJ-Taliban and drone attacks on the LeJ-Taliban hideouts in the same breath.
From the air crash to the soldiers who perished under an avalanche; the killing fields of Karachi; cold blooded murders in Baluchistan; the targeted, sectarian slaughter of Shias in Gilgit and Quetta; the bestial terrorist attacks by Islamic bigots; drones spewing hellfire, mauling and killing innocents in Pashtun areas — the list of tragedies in this land seems to be infinite.

Theatre of the absurd — Lal Khan
6 May 2012

http://www.dailytimes.com.pk/default.asp?page=2012%5C05%5C06%5Cstory_6-5-2012_pg3_4
He misrepresent Pakistani state-sponsored Shia genocide in Balochistan in false neutral terms (proxy war between Saudi Arabia and Iran).
The Saudi, Omani and other reactionary Gulf Sheikhdoms have their own colonial stakes in Balochistan. There is a substantial portion of Balochistan under Iranian control. The Iranian mullah aristocracy has its strategic and economic designs. Apart from the nationalist dimension of these hostilities, there is a proxy war being waged on the basis of religious sectarianism between the Saudi monarchy and Shia clergy in Iran. The Indian bourgeoisie to has its imperialist ambitions.

Balochistan: apologies won't do! —Lal Khan
February 19, 2012

http://www.dailytimes.com.pk/default.asp?page=2012%5C02%5C19%5Cstory_19-2-2012_pg3_4
We hope that Lal Khan will reconsider his discourse and position on Shia genocide.