Imran Khan explains the reason for foreign-sponsored Shia genocide in Pakistan at the hands of Takfiri footsoldiers
Related post: Sleeping with the Enemy: US Partnership with Saudi-Wahhabis – by Rusty Walker
Comparing Imran Khan's and President Zardari's statements on Shia massacre at Babusar Pass
I have now had a chance to review two most recent statements by Imran Khan on the ongoing Shia killings in Pakistan, i.e., a press conference and also his talk in Geo TV's Capital Talk programme.
In my view, both of these statement, when seen together, are very important. Let me explain:
– For the first time, any party head in Pakistan has used the word "Shia genocide". (Altaf Hussain is perhaps the only other leader to have used this term.) This is a departure from the false 'sectarian violence' or sectarianism discourse used by the PPP, PML-N, many right wingers and Pakistani media.
– Imran Khan clearly admits Shia genocide is a country-wide phenomenon, from Gilgit Baltistan to Quetta etc, not limited to particular area or ethnicity.
– He explains in detail the impunity with which well equipped Takfiri militants in military uniforms identified and killed Shia bus passengers (along with two Sunnis who resisted Shia genocide at the Babusar Pass) without any fear of the State. This shows that he is aware of the support available by at least some elements in Pakistan's security forces to the Takfiri militants.
– When he refers to foreign conspiracy, he points towards the artificial manufacturing of Sunni-Shia sectarian violence (and discourse) in Syria, Iraq, Bahrain, Lebanon, Yemen etc. We all know who are the key sponsors and beneficiaries of the Sunni-Shia sectarian violence in these countries and also in Pakistan. Most importantly Imran Khan says foreign forces want to build pressure on Iran and its nuclear programme through Shia genocide because they want to manufacture Sunni-Shia sectarian violence in Pakistan. In other words, the manufacturing of Sunni-Shia civil war in Pakistan could pave way for the attack on Iran. By remaining united against foreign-sponsored (and of course aided by Pakistan's military establishment) Takfiri terrorists, Sunnis and Shias of Pakistan could foil such plans. Sunni Shia unity is the key!
Imran Khan's reference to foreign sponsorship of Shia genocide in Pakistan is not without merit, given that Saudi Arabia is a chief sponsor of LeJ, Taliban in Pakistan and also given that the US and Saudi Arabia are on same page with regards to Iran and also Syria, Bahrain etc. Other foreign agencies too are using local footsoldiers to safeguard their own interests and agenda. For example, a series of CIA memos describes how Israeli Mossad agents posed as American spies to recruit members of the terrorist organization Jundallah to fight their covert war against Iran.
According to a secret memo dated 20 March 2009 sent by Bryan D. Hunt of the US Consulate in Lahore (released by Wikileaks, published by Dawn):
A well-placed Deobandi religious leader told (US Consulate) Principal Officer in a meeting on March 18 that extremist group Sipah-e-Sahaba (SSP) was increasing its activities in the central Punjab city of Faisalabad, the province's second largest, in collaboration with elements of the Tehrik-e-Taliban Pakistan (TTP) and a splinter group from the banned terrorist group Jaish-e-Mohammad (JeM). The cleric reported that SSP had recently launched a pamphlet campaign across the city in which it called for people to take steps to enforce Islamic law….. The pamphlet states that it comes from SSP with support from the TTP and specifically praises ""the enforcement of Sharia in Swat"" and recommends it as a model for Faisalabad. According the religious scholar, a number of girls' educational institutions in Faisalabad have received letters stating that if they fail to observe purdah, they could be attacked by suicide bombers. The cleric surmised that SSP activities would increase in Faisalabad on the return of its leader Maulana Ludhianvi from a Libyan-government sponsored trip to that country. XXXXXXXXXXXX noted that SSP leaders had long-standing ties with JeM, as both were Deobandi organizations that had collaborated in the past in anti-Shia and anti-India activities. In one case, Maulana XXXXXXXXXXXX claimed that he learned that leaders of the recently banned al-Rashid Trust were coming to address a March 8 SSP conference. Maulana XXXXXXXXXXXX shared that he had received reliable information that SSP leader Maulana Ludhianvi was on a fundraising trip to Tripoli sponsored by the Libyan government. XXXXXXXXXXXX claimed that Ludhianvi had made contact with Libyan officials in the guise of working against Iran and Shia agents in Pakistan. (Note: SSP was originally founded as a violent anti-Shia organization and has, in the past, received extensive foreign funding from a variety of Sunni states, including Saudi Arabia. End Note). According to XXXXXXXXXXXX, Ludhianvi was scheduled to return to Pakistan in ""a few days"" and was bringing with him a ""donation"" from the Libyan government valued at nearly 25 million Pakistani rupees (approximately $312,000) that XXXXXXXXXXXX was certain would be used to increase further SSP activities.
While I could do some nitpicking here and there, overall I think Imran Khan's stance is improving (from denial or silence to condemnation of sectarian violence to condemnation of Shia killings to condemnation of Shia genocide to the acknowledgement of possible complicit role of the State and foreign agencies), and that further encouragement may be useful so that he completely dissociates himself from the Takfiri Taliban and Lashakar-e-Jhangvi (aka Ahle Sunnat Wal Jamaat ASWJ).
It's high time that Imran Khan should openly condemn Takfiri terrorists (murderers of Shias and Sunnis) and their local sponsors in Pakistan just as Faisal Raza Abidi should stop praising Army and ISI (Pakistani sponsors of Takfiri terrorists) and condemning Shia genocide in the same breath.
It's equally important that the USA and other Western governments stop acting as convenient promoters of Saudi-sponsored Takfiri militants who are not only a threat to Sunni and Shia Muslims of Pakistan, Syria, Bahrain, Iraq etc but also to millions of innocent Christians and other non-Muslim communities in South Asia, Middle East and the West.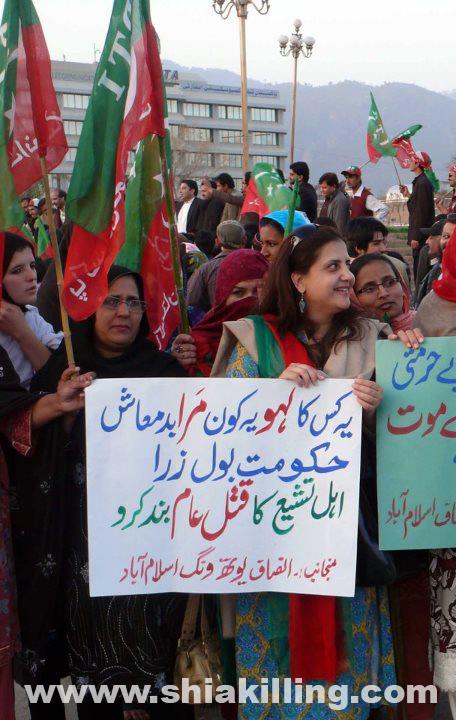 Comments
comments