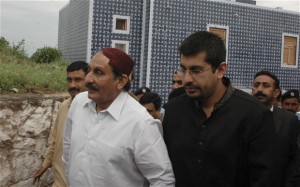 LUBP pay aati hai dua bun kay tamana meri
Zindagi Abbu ki soorat ho Khudaya meri
Dosto aao karo tum bhi dua sub mil kar
Chaudhry aur Arsalan ki bahali hojaiy
Dear Ghairatmand and those liberal fascist "scum" who are stewing in the bitterness of being on the wrong side of His Holiness Highness Hazrat Iftikhar Chaudhry (RA), Chief of the Supreme League of Justice Party,
I have written about how our Daddy-e-Pakistan aka Chief Justice of the Supreme Court of Pakistan has watched out for his son, the brilliant Doctor-Bureaucrat-Venture Capitalist, Dr. Arsalan Iftikhar aka Ibne Iftikhar. Liberal fascist "scum" should take note of this example of great parenting.
Now see the (probable) prayer supplication of this great son of Pakistan: ay khuda mere abbu salamat rahen – by Nazir Naji and Asma Jahangir
This is how a son should treat a father.
Only then will his Chief Justice Pappa arrange a good investigation which will exonerate the son Dr. Arsalan. As a compensation, I suggest that the Supreme Court should declare the Quaid's mauseleum as a subsidiary office for Dr. Arsalan's business interests. This way, both Chief Justice house and Quaid's mauseleum will be connected by being the office address of Ibne Iftikhar. Minar-e-Pakistan should be relocated to the Chief Justice's official residence to remind the people of the power of the illustrius political clan of Hazrat Iftikhar Chaudhry (HIC). As a true representative of the electorate of Pakistan, HIC and Ibne Iftikhar should also be awarded the following in the next budget
1. Use of Bullet proof Mercedes for attending rallies, Jalsas, speeches and weddings
2. Fleet of regular Mercedes, BMWs and security entourage for when Ibne Iftikhar needs a coffee break from his exhaustive and legitimate business interests
(Wait, I have just been informed that first 2 conditions have already been somewhat fulfilled. Jazakallah!)
3. Free italian coffee for the staff of Ibne Iftikhar's firms and companies courtesy of Riaz Thekedar aka Malik Riaz -no relation to me especially after his press conference.
This way, Ibne Iftikhar will not have to waste time and go out in the heat to Gloria Jeans everytime he feels the need for a caffeine break.
4. A third residential-cum commercial plot (atleast 30 acres like HIK's tiny house) for HIC and Ibne Iftikhar and other Uncle Judges and especially Registrar Legend Faqir Hussain.
5. Full use of the Parliament House, Raiwand, "90", Bani Gala Hut of Hazrat Imran Khan, Karachi University campus, Punjab University campus, LUMS campus, and other public and private locations for the various companies, trusts, shell companies and subsidiaries of Pakistan's greatest businessman, Dr. Arsalan Iftikhar.
6. Fully paid up 2nd, 3rd and 4th weddings for Dr. Arsalan to be provided in the next budget so he does not have to feel embarassed when he goes to Monte Carlo Scientific Forum without Nikahnama.
7. Free stationary to all Petitioners who can lodge petitions against Bhutto Zardari Party (BZP)
All facilities to be provided tax free ofcourse – just like Ibne Iftikhar's recent NILL tax declarations of travel expenses. This is why real Pious Patriotic Puttar (PPP) like PML N and PTI are fully supportive of HIC, Ibne Iftikhar, Uncle Judges and Legendary Registrar Faqir Hussain.
It has just been three weeks since HIK shared the stage with another Ghairatmand Hunk, Sheikh Rashid. Please see this video where hunky and potential PTI partner, Sheikh "The Tully" Rashid calls Mullah Omar Amir ul Momineen (1:57 sec in to the clip). In this mamouth PTI and Sheikh Rashid rally, the two Ghairat Hunks-with-Real-Hair addressed an infinite crowd of 2,500 people. Sheikh "The Tully Rashid" also requested Chief Justice to "Keel the B–t–d" in referring to Zardari (4:19 sec & 6:16)). He then talks to COAS General Ashfaq Pervaiz Kiyani (7:17) on Swat and North Waziristan. He words this very diplomatically by saying that our Pak Fauj does not support this.
http://www.youtube.com/watch?v=_LYKnFKEh-A
I am also pleased to report the Bonhomie between PTI (Hazrat Imran Khan Group) and Aalim-on-Line Aamir Liaquat:
"The situation turned interesting when a woman present in the audience questioned Imran on joining of Dr Aamir Liaquat to the PTI during the discussion between Dr Aamir and Imran Khan in Shehr-e-Ramazan. Imran Khan said some announcements were made in the future. On this occasion, he offered Dr Aamir to join the PTI and on it both side exchange laughter."
On this note, I want to leave you all with the thought of the simplicity of HIC in celebrating Ibne Iftikhar's wedding. The budget was meager Rs. 37,000,000. The food was Spartan and there were just a few functions in only three different cities and towns. Poor HIC had to take out a loan of Rs. 10,000,000 from the House Building Finance Corporation to supplement the simple wedding of Dr. Arsalan Iftikhar aka Ibne Iftikhar. If someone needs a witness to verify the simplicity of this wedding please call Dr. Shoaib Suddle. He is the officer who has been tasked to prove Ibne Iftikhar's innocence and as an alleged family friend of Pappa HIC, he will do the needful, Inshallah! He was there at all the simple functions of Ibne Iftikhar's wedding so no call his appointment a conflict of interest.
Please don't Watch Senator Syed Faisal Raza Abidi  Live in fresh episode of 11th Hour on Ary News with Host Waseem Badami at 11 pm Today at 04 September 2012. Seeing is believing and if you don't see it, it never happened.
Syed Riaz Bin Al-Malik Hujjaji
PTI Supporter and Protector of Dr. Arsalan's innocence