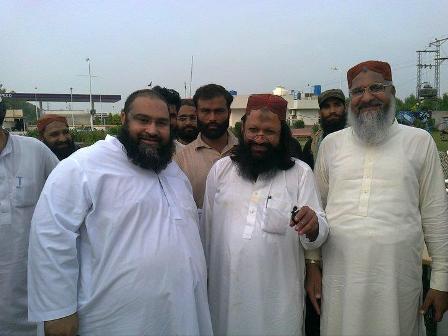 Usual suspects are once again glorifying yet another false prophet of peace. This time it is Maulana Tahir Mahmood Ashrafi, a Deobandi cleric with close links wit Takfiri Deobandi extremists.
Maulana Tahir Mahmood Ashrafi was one of the first people, along with ASWJ Chief Ahmed Ludhianvi, to meet and greet the LeJ Chief Malik Ishaq after his release from Kot Lakhpat Jail. Malik Ishaq is the same man who has candidly confessed of killing at least 100 Shia and Sunni Barelvi Muslims.
Here's a video of Malik Muhammad Ishaq being released from Kot Lakhpat Jail on 14 June 2011 on orders of Pakistan's pro-Taliban Supreme Court.
To understand the ideology of Maulana Tahir Ashrafi, watch this video (uploaded by Sipah-e-Sahaba's internet wing HCY i.e, Haq Char Yar); this will help in understanding how Tahir Ashrafi justifies and rationalizes Shia genocide in Pakistan by (a) blaming Shias for insults of the companions of the Prophet Muhammad; and (b) by stereotyping all Shias as Iranians.
http://www.youtube.com/watch?v=xEiNJdXGDIU
In this tactic, Tahir Ashrafi is not much different from Tarek Fatah, a Pakistani Canadian activist, who uses similar discourse to stereotype Shias (and also Sunnis) and rationalize Shia genocide.
We have previously explained that the Shia-Sunni proxy war term and the Iranian sterotype is often used by Takfiri terrorists and other ShiaPhobes to enable and rationalize Shia genocide.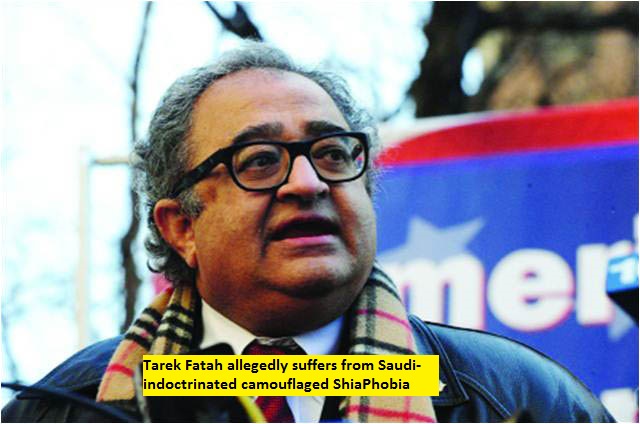 In recent past, Tarek Fatah apostatized the Prophet Muhammad's beloved uncle Hazrat Abu Talib (father of the fourth Muslim Caliph and first Shia Imam Ali). Tarek Fatah also distributed a highly inflammatory video about Shias to thousands of his followers on facebook and Twitter. Only two days after Tarek Fatah distributed the hateful video, a Shia Judge was killed in Quetta, and the next day 6 Shia vegetable vendors were slaughtered. Their only crime in the eyes of their killers: all of them were stereotyped as Shias "who insult the companions of the Holy Prophet and are Iranian puppets."
Refer to this clip of Al Qaeda/Lashkar-e-Jhangvi leader Malik Ishaq spreading hatred against Shia Muslims in Kabirwala, Pakistan (19 June 2012) using the same arguments as offered by Tahir Ashrafi and Tarek Fatah:
http://youtu.be/8ZXuWocTPB4
Here's another video clip of Malik Ishaq's hate speech on 9 August 2012. He says he will always say Shia Kafir (Shias are infidels). Is that why Maulana Ashrafi played a key role in his release?
http://youtu.be/milmwgYOc9Y?t=15m
Tahir Ashrafi is also a key proponent of the ISI-sponsored Difa-e-Pakistan Council comprising two banned organizations: ASWJ (LeJ) and JuD (LeT). Ahmed Ludhianvi explains (January 2012) his two aims of joining the Difa-e-Pakistan Council: (1) to bring the ASWJ-SSP in the mainstream politics; and (2) to defend Pakistan from USA, Israel, India and Iran. Did you notice the commonality of discourse, 'the Shias are Iran proxy' allegation, jointly used by Tarek Fatah and Ludhianvi?
http://www.youtube.com/watch?v=zVj9TKzFtkk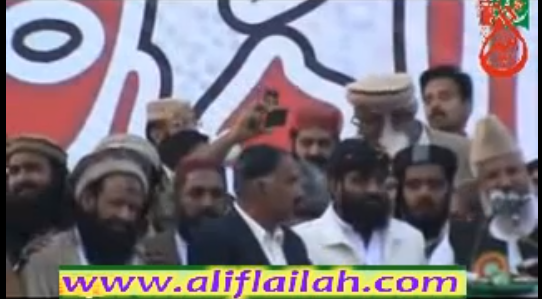 In the following clip, Maulana Ahmed Ludhianvi is speaking to the Difa e Pakistan Conference in Multan (Jan 2012). Malik Ishaq is standing next to him.
http://www.youtube.com/watch?v=ZgCA3AN5m5w
Together Malik Ishaq, Ahmed Ludhianvi, Tahir Ashrafi and Tarek Fatah (and of course their promoters and apologists) represent and explain all what is wrong with Pakistani society today: intolerance, sectarian hatred and hypocrisy.
Malik Ishaq and the Pakistani State

The scourge of Pakistan's Shia community, Malik Ishaq of the banned Lashkar-e-Jhangvi (LeJ) — an offshoot of  'renamed' Sipah-e-Sahaba Pakistan (SSP), which is in a legal penumbra of state ban — has beenarrested upon his return from Saudi Arabia, where he could have gone to perform a religious ritual but could also have touched base there with the 'donors' who finance the massacre of the Shia in Pakistan. The charges against him of hate speech followed by sectarian killings are quite serious. He was acquitted of the same category last year and let out of jail after remaining there for 14 years.

He was wanted in connection with a case at a housing colony under Section 295-A (deliberate and malicious acts intended to outrage religious feelings of any class by insulting its religion or religious beliefs) of the Pakistan Penal Code. The speech was against the Shia sect in Kamahan village on August 9 and he had avoided arrest by going underground. He had done this in many places in the country; in Chiniot, an incident of firing on a mosque followed a speech by Ishaq.

Police officers don't want to be named when they offer information about Ishaq, even the bit about Ishaq leaving the country without informing the police — in violation of the Anti-Terrorism Act. Clearly, the officers are scared of getting killed by SSP activists as well as the state hierarchy, which is alleged to have a 'special relationship' with him as a warrior of the sectarian organisations based in Punjab. One officer let it be known that "Ishaq had remained in touch with a couple of provincial ministers". The man was involved in over 40 cases relating to sectarianism and terrorism in which 70 people, most of them Shias, were killed.

He is now being reported as a member of the SSP, probably to remove him from the heat produced by a recent video released by his LeJ gang announcing that almost all of the Shia killed so far in the length and breadth of the country were its victims. The LeJ proudly claims affiliation with the Afghan Taliban led by Mullah Omar — who the world says is living in Karachi — and al Qaeda, whose Egyptian leader Aiman al Zawahiri the world suspects could also be living somewhere in Pakistan. This means Ishaq is a part of the elements that have blown Pakistan's internal sovereignty to smithereens and could be ruling the streets of Karachi.

In February 2012, a spokesperson for the Jamaat-ud-Dawa (JuD), Yahya Mujahid, told this newspaper that Ishaq was present on the stage of a Difa-e-Pakistan Council (DPC) rally in Multan. An ex-ISI boss, Hamid Gul, who attended the rally denied that Ishaq was present on the occasion and charged that a photo revealing the truth was actually a 'doctored one'. The DPC held long marches at great expense to the JuD's chief Hafiz Saeed — with American bounty on him — to protest against the reopening of the Nato supply route and was rumoured to be supported by elements within the 'deep state'. After the final retirement of ISI chief General Shuja Pasha and after the excessively threatening posture of the non-state actors in the DPC, the policy of fielding the extremists was modified, throwing the DPC in an eclipse which could actually be a lull before a big terminal storm in luckless Pakistan.

Malik Ishaq is today the symbol of the state's surrender to terrorists. He has re-embraced the SSP because it represents one of the centres of power spawned by the state policy of proxy jihad. Provincial governments are vying with one another to reach a modus vivendi with these power centres to save their politicians from being assassinated. In Punjab, where such a new 'relationship' has been set up to 'sanitise' the elections in south Punjab, police chiefs are in the habit of blaming terrorism committed by these centres of power on Israel and India. Malik Ishaq is a challenge to Pakistan's sovereignty that Pakistan may be reluctant to face.

Published in The Express Tribune, September 3rd, 2012.
Mohammad Hanif's comments about Malik Ishaq in Sana Bucha's talk-show (Geo TV):
——-
Update (courtesy @ijattala): Hafiz Tahir Mahmood Ashrafi was recently dubbed as a 'moderate' and allegedly working to better the wrongs done by Pakistan's infamous blasphemy law because of his recent statement on Rimsha Masih's case (11 yr old Christian girl wrongly implicated in a blasphemy case). In the following video, Maulana Ashrafi blasts and promises to teach lessons to anyone, who would want to change the blasphemy related laws and the laws concerning Ahmadis. Ironically, Ashrafi threats the then Minorities Minister in Pakistan, Shahbaz Bhatti who was later murdered for trying to change the blasphemy laws.