Will the silent club in ANP and PPP take courage from MQM's bold stance on Shia genocide?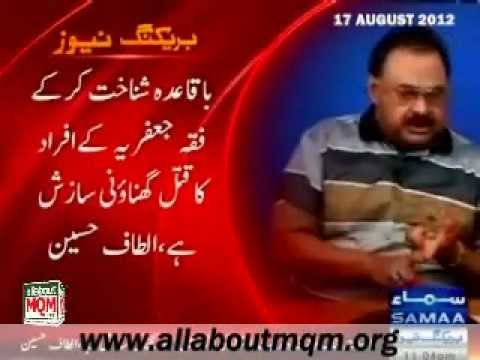 We appreciate and laud the Muttahida Qaumi Movement's (MQM) leader Altaf Hussain and other leaders and party workers on their clear, bold stance against the Taliban, Lashkar-e-Jhangvi (aka Ahle Sunnat Wal Jamaat ASWJ) terrorists who are responsible for massacres of not only fellow Muslims (Shias, moderate Deobandis, Sunni Barelvis) but also Christians, Hindus etc. In particular, the LeJ-ASWJ-Taliban terrorists have killed at leat 19000 Shia Musilms in the last few years in what can be described as a slow-motion genocide.
For its unambiguous condemnation of the Taliban-LeJ-ASWJ terrorists, MQM and its leaders deserve our special gratitude.
We also take this opportunity to remind ANP and PPP leaders to break their criminal silence on Shia genocide by the LeJ-ASWJ-Taliban terrorists and unconditionally support MQM in its bold stance on this issue.
We suggest ANP, MQM, PPP must set aside all political and minor differences and unite against their common enemy.
Given that all three parties are secular in their politics and reject religious exploitation and extremism, and also given that all three parties have suffered at the hands of the LeJ-ASWJ-Taliban, they should unite to eliminate the threat posed by terrorist to all citizens of Karachi and other areas of Pakistan.
We have come to know that MQM intends to bring out a rally in support of Shias and other target killed and persecuted groups. This is, indeed, good news. We hope PPP, ANP and other parties will support this call.
Not unlike MQM, ANP leaders and workers too have suffered. ANP leaders and workers, not only in KP but also in Karachi, have been killed by Taliban-LeJ terrorists. We request ANP to purge its areas of SSP=LeJ terrorists, who have direct confrontations with Pakhtun Shias as well as secular ANP workers.
PPP leaders including Benazir Bhutto, Shahbaz Bhatti and dozens of workers have been killed by the Taliban and ASWJ-LeJ Deobandi-Wahhabi terrorists. It's ethical and moral duty of PPP's current leaders to take tough stance against LeJ-Taliban terrorists which killed Shaheed Benazir Bhutto.
Let there be no doubt. MQM is far ahead of ALL political parties in its condemnation of the LeJ-Taliban terrorists.
Will the "silent club" in ANP and PPP leadership take courage from MQM's clear stance on Shia Genocide?
The workers and office-bearers of Muttahida Qaumi Movement (MQM) are being targeted in Karachi because of the party's stand against rising sectarian violence, said party leader Raza Haroon during a coordination committee press conference on Friday.

Haroon said that it was only MQM chief Altaf Hussain who had raised his voice against all sorts of violence, extremism and terrorism taking place across the country and also helped the victims. "He was the only leader who condemned the genocide of Shia community and stood against it," Haroon said.

The party leader maintained that criminal elements in the country who are set to destroy Pakistan did not approve of MQM's stance against sectarianism and therefore, started targeting its workers and office-bearers.

Citing incidents from the past week in which MQM workers were killed, Haroon questioned what their crime was for being targeted. "Their only crime was that they were going door to door spreading Altaf Hussain's message of peace and promoting Sunni-Shia harmony," Haroon said.

He added that the city has been given at the mercy of criminal elements, who are openly carrying out killings on the roads and no one is catching them. "It seems that it is not the responsibility of the government to protect the lives and properties of the citizens… Police, Rangers and law enforcement agencies are always patrolling every area of the city, then how is the violence rising?"

Appealing to the president, prime minister, interior minister, governor Sindh, chief minister Sindh and all other government officials, Haroon requested them to take action against the criminals in order to restore peace in Karachi.

http://tribune.com.pk/story/429134/mqm-being-targeted-for-standing-against-sectarian-violence-raza-haroon/
Comments
comments