After killing a Session Judge in Quetta, Lashkar-e-Jhangvi threatens all judges and journalists
According to a news report, banned Deobandi-Wahhabi militant group Lashkar-e-Jhangvi (LeJ, also operating as Ahle Sunnat Wal Jamaat ASWJ) has accepted responsibility for killing a Shiite Session Judge Zulfiqar Naqvi in Quetta. The LeJ is known for its close links with the Al Qaeda and Taliban and has killed thousands of Shia Muslims, Sunni Barelvis and dozens of Christians and Ahmadis in Pakistan in the last few years.
In its latest statement, the LeJ threatened all judges including the Chief Justice to refrain from sentencing of the LeJ-ASWJ-Taliban terrorists currently in police custody. Th LeJ threatened the judiciary to refrain from issuing any verdict against the arrested Deobandi-Wahhabi militants.
In the same statement, the LeJ also threatened journalists demanding them to publish its press releases in full and refrain from painting LeJ-Jihadi's militant/terrorist operations in bad light.
It is important to recall that LeJ's threat is only to the non-complying judges and journalists. The pro-LeJ judges such as Chief Justice Iftikhar Chaudhry, Justice Asif Saeed Khosa etc and the pro-LeJ journalists such as Hamid Mir, Ansar Abbasi, Ahmad Noorani etc were clearly not a target of the threat.
For all practical purposes, it its the lower court judges and their families who continue to receive severe threats from terrorists when their cases are taken up in lower courts.
According to Dr. Hoodbhoy:
Newspaper reports say Ishaq was freed last year after frightened judges treated him like a guest in the courtroom, offering him tea and biscuits. One judge attempted to hide his face with his hands. But after Ishaq read out the names of his children, the judge abandoned the trial.

What does the Pakistan Army think it will gain tolerating — or perhaps encouraging — such violent forces once again? Its jawans pay an enormous price in fighting them, and their offshoots, elsewhere in the country. But perhaps the notion that extremists are Pakistan's 'strategic assets' for use in Kashmir and Afghanistan has captured the military's mind. Or, post-OBL, perhaps a miffed leadership seeks to show anger at the US through such rallies. Whatever the explanation, Pakistan's minorities face catastrophe.
Watch this painful video in which father of the target killed Shiite judge Zulfiqar Naqvi expresses his grief and concern over the failure of Pakistani State, army, government and judiciary in protecting innocent citizens:
However, the majority of pro-Jamaat-e-Islami, pro-PML-N judges in the Supreme Court keep releasing notorious terrorists including Malik Ishaq (LeJ Chief), Hafiz Saseed (LeT Chief), Molvi Abdul Aziz (Lal Masjid mullah) etc.
LeJ also claimed it knew more than 15 reporters going to work on motorbike, and threatened they would b killed if the newspapers did not publish its press releases. Ironically, the that CJ Balochistan High Court Qazi Fayez Issa had ordered the print and electronic media not to publish the press releases of the banned outfits (LeJ, SSP etc). This leaves journalists in a very precarious position. They will be punished by the court if they report, and are likely to be killed by the LeJ if they don't.
Pakistani State's total inability to defeat the LeJ-Taliban also lies in the fact that the judges, jailers, prosecutor and police officers can be directly threatened by the LeJ and indirectly pressurized by the intelligence agencies which keep supporting and protecting their Jihadi assets.
The LeJ is playing havoc with the Pakistani State and society, is on killing rampage, its leaders such as Ludhianvi and Malik Ishaq are allowed to operate openly pursuing their hate agenda.
Army is complicit, media is threatened, government is absent. Either the political government should boldly lead like Benazir Bhutto or quit.
LeJ is openly threatening anyone who stands against their 'heavenly cause'. Cowards are emboldened due to the support they enjoy from Pakistan army. Their constant violence and threats certainly implies they have powerful backing and let off from agencies otherwise these small thugs of Mastung and Jhang cannot exist for a single day. Certainly the 'machinery' which is all-so-important is not bothered pulling LeJ's strings back, otherwise hyenas always eat the dead
And our principled hero Chief Justice Iftikhar Chaudhry is more concerned with Indian films springing obscenity. Dude: Cut the crap out, there is blood being spilled.
Source: Based on various comments on facebook/Twitter
Update: Further threat to journalists after killing 8 Shia Hazaras on 1 Sep 2012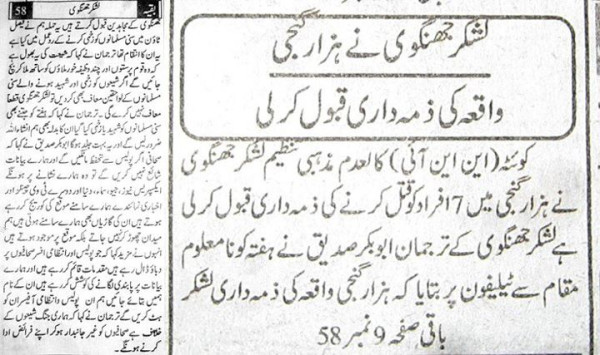 Comments
comments