Dr. A.Q. Khan should stay away from hate speech against Ahmadis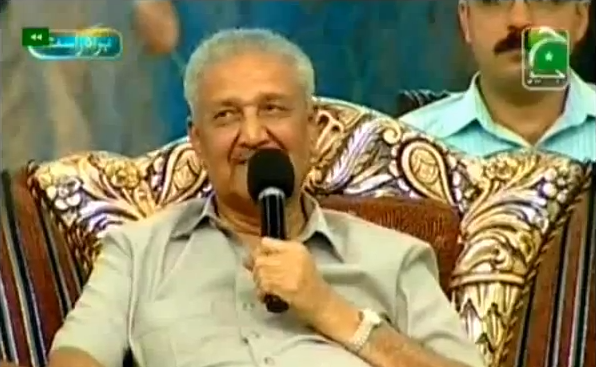 On 14 August 2012, Dr. Abdul Qadeer Khan said the following words on Geo TV (part of Jang Media Group) which can be legitimately described as hate speech against Ahmadiyya Muslims, Pakistan's most persecuted minority sect.
Sitting on a throne in Geo TV's grand Ramzan show set, Dr. Khan said (in Urdu): "Hum Bhopalion ko do cheezon per fakhr hai, aik tau ye ke humaray haan aaj tak koi ghaddaar peda nahin hua, aur humain iss per bhi fakhr hai ke humaray haan aaj tak koi Qadiani peda nahin hua"
Loose translation: "We, the people of Bhopal origin, are proud of two things: first, Bhopal has never produced a traitor. Second, Bhopal has never produced a Qadiyani"
Q khan degrading Ahmedis on Geo TV.37:00 mins onwards:
http://youtu.be/_Za_CguGwbk?t=37m
Ironically Dr. Khan used these words against Ahmadis on the occasion of Pakistan's independence day (14 August), which was an event to respect and include Pakistanis of all ethnic and religious backgrounds, instead of dividing them into traitors and patriots, pure and impure, Muslim and non-Muslim etc. Unfortunately, Dr. Khan insulted not only Ahmadiyya Muslims but also violated the spirit of Pakistan's independence day. No wonder, only a day before Dr. Khan's hate speech, General Kayani in a public speech in Pakistan Military Academy, Kakul (the OBL last hideout) said that Islam and Pakistan are inseparable. In other words, Pakistan's most powerful man, the army chief, conveyed the following message: non-Muslims are separable from Pakistan!
Points to note in Dr Khan's hate speech:
1. Dr. Khan described Ahmadis as Qadianis, a derogatory term for Ahmadis used by religious fanatics (e.g., Aamir Liaquat Hussain, Hamid Mir, Orya Maqbool Jan, Munawar Hassan etc) and terrorists (e.g., Malik Ishaq, Hafiz Saeed, Ahmed Ludhianvi, Taliban etc)
2. Dr. Khan felt proud of "the fact" that no Ahmadi was ever born in the land of Bhopal. Now consider the fact that the population of Bhopal district is 2368145; it has nearly 56% Hindus and 40% Muslims, while 2-4% include Christians, Jains, Buddhists and Sikhs. In other words, Hindus, Sikhs, Christians, Buddhists etc, everyone is acceptable but Ahmadis are not. This approach is consistent with Hamid Mir and other fanatics' line of thinking that Ahmadis are worse than Kafir (non-Muslim infidels). Such approach has in the past enabled further persecution and massacre of Ahmadi community in Pakistan, such as the May 2010 Lahore massacre in which at least 100 Ahmadiyya Muslims were killed in ASWJ-LeJ terrorists attacks on two Ahmadi mosques in Lahore. The Lahore massacre was enabled by none other than Hamid Mir, another presenter of Geo TV and columnist of Jang newspaper.
3. Dr. Khan uttered his hate speech in the TV show of controversial televangelist Aamir Liaquat Hussain, who himself is notorious for hate speech against Ahmadiyya Muslims. Dr. Aamir Liaquat has in the past directly incited to violence against Ahmadis which resulted in death of at least two innocent individuals in Sindh.
4. Last but not least, the single major source of hate speech against Ahmadiyya community is none else than Pakistan's largest media group Jang Group under the leadership of Mir Shakil-ur-Rehman. Mir Shakil is the snake who is the nurturer and promoter of snakelets such as Hamid Mir, Dr. Aamir Liaquat Hussain, Dr. A.Q. Khan who are responsible for spreading hatred against Ahmadiyya community.
Here's our call for joint action to all like minded activists and campaigners.
We demand the following:
1. All human rights organizations and civil society groups must protest not only against Dr. Aamir Liaquat Hussain, Hamid Mir etc but more importantly against Jang Group (including Jang, The News, Geo TV) and its CEO Mir Shakil-ur-Rehman.
2. United Nations, EU, USA, UK, other democratic organizations and governments must stop all forms of funding to the Jang Group or any of its media outlet (newspaper, TV channel etc). Names of Mir Shakil, A.Q. Khan, Hamid Mir, Aamir Liaquat etc should be placed in list of persona non grata, not eligible for visas or foreign travels. Their assets in foreign countries should also be monitored, frozen or confiscated as per laws of terrorism and hate speech.
3. A police report (FIR) be lodged against Mir Shakil, Dr. A.Q. Khan, Dr. Aamir Liaquat etc for inciting to violence against Ahmadis, Pakistan's equal citizens.
We urge PEMRA (Pakistan Electronic Media Regulatory Authority) to take notice of hate speech against Ahmadis. We also urge Pakistan's Supreme Court to take due notice of this incident which is clearly a violation of basic human rights of Ahmadis. Given that Supreme Court claims itself to be guardian of constitution and fundamental rights in Pakistan, this is high time it must prove its sincerity and integrity.
Comments
comments