PML-N, Judiciary, ISI and LeJ gang-up in Punjab; 100 Shias arrested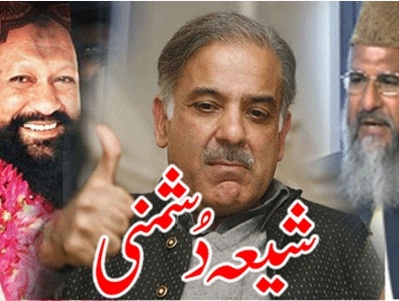 Malik Ishaq, the head of al-Qaeda affiliate notorious terrorist organization Lashkar-e-Jhangvi visited Chiniot, Punjab, on 7th August (Tuesday) and ranted against Shias from the Siddiq Akbar Mosque while his terrorist supporters (belonging to Lashkar-e-Jhangvi, Sipah-e-Sahaba also known as ASWJ) fired upon the houses of Shias living close to the mosque.
Malik Ishaq was recently released as a result of a covert deal between PML-N's Punjab government, terrorist-freeing courts and its secret agencies, and the terrorists.
After Malik's Ishaq's rants and his cohorts' firing, instead of taking action against the terrorists, Punjab Police raided the houses of Shias living near the mosqueand tortured men and women taking into custody around 100 Shia men. Police has also registered a case against Shia scholar Allama Amin Shaheedi, and the innocent who have been arrested.
Punjab Government and in particular its law minister Rana Sanaullah are known for patronizing Malik Ishaq and his banned Sipah-e-Sahaba and banned LeJ. Shia leaders have asked the Punjab government of PML-N to stop running its election campaign with the help of Sipah-e-Sahaba and Malik Ishaq and put an end to its anti-Shia policies.
Shia leaders and organisations have demanded immediate release of Shias, registration of cases of attack against Malik Ishaq and his accomplices, and punishment for those police officials who tortured women in the houses and arrested innocent men.
It may also be noted that the upcoming Youm-e-Ali (a.s) procession in Chiniot will be highly sensitive in the wake of this incident, and terrorist might attack the Shia procession with the help of Punjab government and police.
Comments
comments