PPP's Hukoomat Jaa Rahee hay – A wish more than analysis
I was looking forward to the program called the "Great Debate" on Geo News last evening. The debate was to be moderated by Iftikhar Ahmed and Hamid Mir. Karachi Chamber of Commerce and Industry's President Saeed Shafiq was the first participant who talked about the problems of power generation and how that is hindering business and investment in Pakistan. After that, KESC's Zulfiqar Ali had started speaking about the backlog of projects that couldn't be started and how much capital intensive nature power generation projects are. He had only spoken this that Geo's most sought after man was at work. No, it was not Hamid Mir or Kamran Khan, it was the graphics designer who does the "Breaking News" graphics with all the sound effects. Hamid Mir and Kamran Khan join only later. Off course, the news was that MQM has decided to sit on opposition benches. I just smiled and watched the live version of "Indiana Jones and the Temple of Doom".
Firstly it was Hamid Mir who said that "We had said so" and that "Monday's National Assembly Session will be make or break for the government". Then it was turn for chief antagonist of the last two decades, Kamran Khan. He was like all hell has broken loose and that Prime Minister Yousuf Raza Gilani's "hukoomat toot gayee hay" and "Unn kay paas koi akhlaqi jawaz nahee hay hukoomat karnay ka". When he said "Akhlaqi Jawaz", I could understand the game plan for the night. Let's not talk about the numbers, but hit on the "moral authority". Off course, moral authority is only applicable when the PPP is in power. Then came Iftikhar Ahmed, a known leftist. He tried to knock some sense into the
mindless newscasters who were just asking "Ab aap ko kya hota nazar aa raha hay?". He kept repeating that it is the opposition which has to move a no-confidence motion and that too with a 20% signatures. Off course, Iftikhar was effectively dumped within a few minutes. Then came another famous "tajzia nigar" and "Mahir", Irfan Siddiqui. He harped the same tune: "Akhlaqi Jawaz" with off course a lot of "ifs" and "buts". Almost an hour had passed and in the meanwhile the PM was shown speaking to media with Qazi Hussain Ahmed (!!!) standing next to him in a "taqreeb" in Lahore. The Prime Minister played cool like always and said "koi buhraan nahee hay!". It made sense to me because he has always responded in the same manner whenever there is a "buhraan" in a "chai kee pyali". Then again came Kamran Khan, analyzing what the Prime Minister said. He said golden words which are repeated by him "Mehngai 200 guna barh gayee hay" (200 times and not 200%!!!!), "Har saal hazar arab rupay kee corruption ho rahee hay" and so on.
The temple of doom was hot. Pakistan was about to be in turmoil when Faisal Sabzwari and Haider Abbas Rizvi addressed media men outside Nine-Zero in Karachi. They were very clear that they left the government to sit on opposition benches in the National Assembly only to protest against the increase in fuel prices and that a decision will be taken later to quit the Sindh government. Amongst the responses was a shikayat as well, which was quite right. Haider Abbas Rizvi said that the MQM was not given its due share in the Ministries and Committees keeping in view our share in the government coalition. MQM had two ministries which they call one and half. Ministry of Ports and Shipping and Ministry of Overseas Pakistanis. On the other hand, JUI-F, which had only seven seats, had three full ministries! The other point that is very close to the MQM is the local bodies system. The LB system has traditionally been the PPP's Achilles Heel. PPP in Sindh is demanding the return to the commissionarate system (meaning the bureaucracy takes over) whereas the MQM wants the retention of the Local Government system headed by a political representative. Sadly, the PPP in Punjab is happy with the Local Government system!
After Faisal Sabzwari and Haider Abbas Rizvi had spoken to the media, off course a lot of expectations were dampened. When I returned back home after a walk, the Omer Sharif Show was on, on which I assumed things are getting back to normal.
Now coming to the analysis, let's simplify things:
The "opposition" needs 20% signatures to call a no confidence motion. 20% would make is 69 members. MQM and JUI-F have combined 32 members. You need to have PML-Q or PML-N to wholeheartedly support the motion. Till now MQM and JUI-F have not talked about a no confidence motion.
After the submission of the no confidence motion, there will be time of 3 to 7 days to vote on it. Off course, there will be wheeling and dealing and horse trading.
In case the PM doesn't get the required 172 members, he will resign. PPP being the largest parliamentary party will again be asked to nominate a PM who will have to seek a vote of confidence. If that doesn't happen, the PML-N being the number two party will be asked to form a government.
If PML-N is to form a government, it will have to nominate one as PM. Chaudhry Nisar as PM and MQM voting for him? That will be the u-turn of the century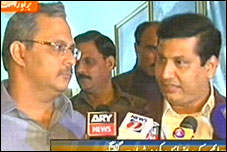 I had given reasons why Nawaz Sharif will not rock the boat in my post yesterday. I still hold my points that nothing is going to happen. I also feel that the President has to play an important role in pacifying the MQM and rationalizing their demands. After all, it is in the interest of all that the present system continues to work.
Another important thing that requires attention is the current issue: increase in fuel prices. Assume that the PPP is thrown out of power and PML-N forms a government. Can they guarantee that the prices will not increase in the near future? If they can, then they can have the government. Just read what people are expecting in 2011 with fuel prices:
Oil's surge in2010 paves the way for $4 Gasoline and No-trust move unlikely
All the best guys!
Comments
comments